How to improve product monitoring & reviews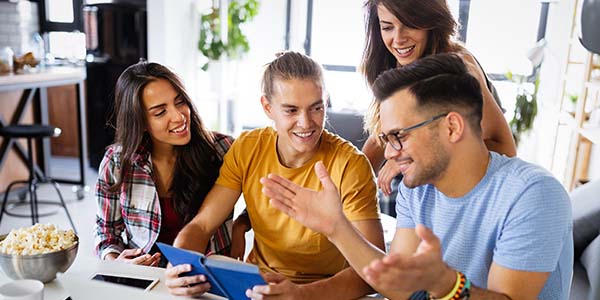 Why product monitoring and reviews are the biggest untapped opportunity for growth for product leaders....
Product monitoring and reviews are shaping up to be a major focus .
Product monitoring and reviews are the most valuable and essential tool to:
assess the health and performance of your product.

improve current and future product differentiation and commercial outcomes.

obtain insights and understand the current competitive and regulatory landscape.

make data-driven decisions around the changes needed to the product strategy.

improve the product strategy based on the insights gathered and track and monitor.

course correct, risk mitigate, pivot, or consider sunsetting or exiting of the product.

meet regulatory obligations around product governance framework, and regular product monitoring such as annual product reviews.
Now let's break down what product monitoring or product lifecycle monitoring means and why it's vital for product leaders.
Right now, we are seeing the outcomes of the pandemic redefining the importance of product lifecycle monitoring even more than before the pandemic.
Product teams in start-ups, high growth and mature businesses have had to rethink their portfolio forecasts. In all roles, conventional lifecycle management and financial analysis are no longer enough to set future growth strategies and keep up with new regulatory rules.
What is product lifecycle monitoring?
Product monitoring is when you collect information, analyse, and track the progress of a product towards meeting its strategy. Monitoring focuses on the review of your product in a structured manner.
Monitoring is used to assess the health and performance of your product - its goal is to improve current and future product differentiation and commercial outcomes and the overall product strategy.
Product monitoring is conducted post-launch and throughout the product lifecycle. Regular product monitoring and reviews help identify opportunities for improvement and early warning of risks for course correction.
It is also an essential step in your regulatory rules, such as monitoring your design and distribution obligations as is the case for financial services in Australia and the UK.
When scheduling your product monitoring, the review frequency should consider the complexity of the product and its value to the portfolio. It makes sense to review high value or risky products more frequently. Likewise, newly launched products benefit from an initial review after launch and before product scaling. An initial assessment enables product managers to refine customer experience, remove any friction points and work with customer success teams to onboard customers.
In more than 20 countries around the world, legislations have been put in place requiring organisations in highly regulated industries such as finance and insurance, to implement a comprehensive product governance framework and conduct annual product reviews. The need for regular product monitoring and reviews also enables organisations an opportunity to be more strategic and give their products a competitive edge and drive product growth and success.
The biggest challenge we are seeing for product leaders is how to operationalise their product governance framework and product monitoring and reviews in a manner that makes them compliant, whilst helping them deliver product growth.
To make lasting improvements to your product monitoring, you can't approach it as a quick fix. Lifting the standard is an ongoing journey. We recommend using best-practice monitoring to move beyond financial metrics and see the big picture by including assessments against key product health domains that encompass both financial and non-financial metrics.
Skyjed's 5-D Framework for best practise product monitoring and reviews
Skyjed's 5 domain framework (5-D framework) gives product leaders a strategic and holistic view of a product's performance and health. The 5 domains are:
Revenue: A traditional lifecycle metric

Value: Includes everything from margin contribution to supply chain analytics

Customer: Most product governance regimes around the world are centred on getting a better outcome for the consumer

Regulatory: How to assess your product compliance against the relevant regulatory regimes

Innovation: How to continually iterate the products in the market to get a better outcome for both the customer and the organisation.
Assessing your products performance against key drivers across the five domains using Skyjed's pre-built platform review templates and workflow for example enables product managers to understand the lay of the land and make smarter decisions. It also means you can compare your product performance over time - and against each other - from design to end-of-life.
The real value in the Skyjed 5-D framework and platform is that you also receive real-time strategic insights, product health scores with areas of growth and risk highlighted. There are also automated workflow trigger notifications for key metrics that need attention. Furthermore, there are a plethora of automated built-in smarts that make product monitoring seamless and easy for users to create new and as many templates / workflows with no custom coding. The platform has been designed to allow for organisational flexibility to meet evolving business goals.
When conducting product monitoring reviews its essential for teams to have a collaborative tool and platform with smart features that make product monitoring effective. This ensure less time is spent on manual repetitive tasks that take time away from important strategic thinking time.
What can Chief Product Officers do to lift the standard of product monitoring and reviews?
DRIVE A CULTURE OF REGULAR PRODUCT MONITORING REVIEWS
Driving a culture of regular product monitoring is key and a must. It needs to be a priority for everyone, starting from the Chief Product Officer.
It also does not have to be a huge overwhelming task.
Often, performance or growth can be framed in the context of tracking feature enhancements on a product roadmap and delivering these. It is not to say these are not important because they are important and can bring revitalised forms of revenue generation as part of your growth strategies. However, the key is that these growth strategies amongst others are formed because of your regular product monitoring.
MAKE REGULAR PRODUCT MONITORING REVIEWS A PRIORITY
For existing products in the market, the first fundamental to driving a high-performing team around revenue and growth is to make it a priority and to really enable your teams to implement regular monitoring reviews with priority and focus.
I use the word really in the previous sentence and the reason for this is because I often hear from product leaders that they want to do this but, it doesn't move from the To-Do list or when it does, it is inconsistent in practice. A key tip is to build the framework slowly and incrementally and consider digitised tools to make it even easier.
As markets evolve in these testing times, product leaders can play a major role by leading the review of key product health indicators with their teams. In my many years of working in the product space and in talking to many product leaders, professionals, and customers some of the biggest pain points I often heard were:
"We just don't get or make the time to do the deep dive analysis and reviewing of our key product health indicators".
"Yes, we track the numbers or delve into customer analysis, or experiment but we don't do the all-encompassing review of the key factors that can make an impact or do it consistently".
The biggest factor is that product leaders and teams are busy dealing with the day to day of business as usual. I agree it can seem like a big task especially the first few, but I can assure you it will be rewarding. It will build your team to cohesively get onto the same page and work together towards the common goal.
ONE STEP AT A TIME AND PLAN WITH THE TEAM AHEAD
The other key consideration is to identify if we are looking at this with the view that a review must be huge and significant? My answer is that it doesn't have to be – you can aim for this as your north star to do once per annum incrementally. Often when working with our customers, we work on small incremental product business performance goals within a broader strategic goal one step at a time.
The first step is to set up a regular monthly or quarterly, and annual monitoring review cadence in the product team's diary and calendar of events.
Set up your product monitoring reviews and communicate it to all so that the whole team is on the same page.

Next, define the drivers of product health and metrics for your first review cycle and build from there in incremental stages.
Begin with the basics and build on this- we have seen customers start with as little as 3-5 information drivers of product health metrics in their first monthly review and build on this in quarterly increments until the finale of an all-inclusive annual product review.
Allow your team to present the product review findings and drive open discussions around the insights, gaps, risks and agreed improvement plans.
Having regular reviews is a fundamental practice to course correct early and enable the ultimate product success pathway. It also helps you see emerging risks with the product, the marketplace, or customers collectively with your team. It brings everyone on the journey, and reduces working in silos of knowledge or understanding.
Skyjed's Product Review Planner with Automated Notifications & Reminders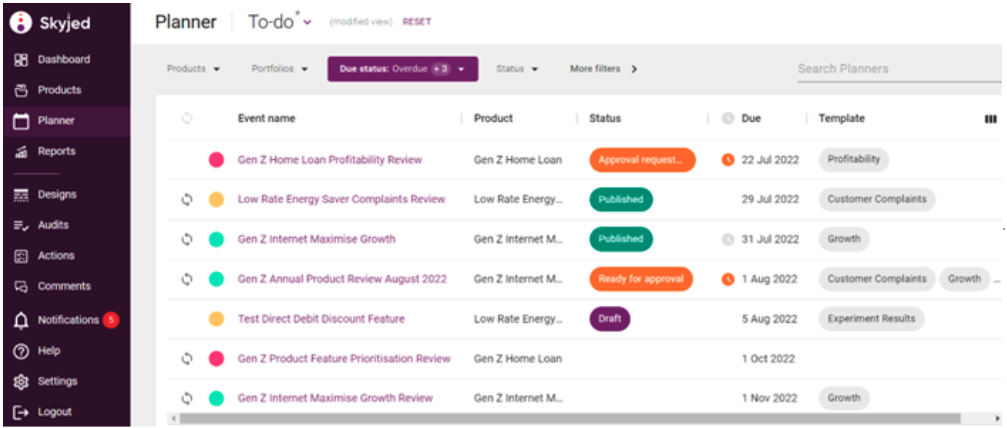 FACTOR PRODUCT DESIGN FOR COMPLIANCE SUCCESS
When it comes to monitoring products it's essential to get design requirements, including regulatory obligations stated and monitored. You can simplify this by adding an artefact into your product discovery to capture product obligations so then you know what you need to monitor. For example, in financial services you can use a Target Market Determination template - it is like a Lean Canvas for regulatory requirements.
DIGITISATION IS KEY
At Skyjed, we are big fans of enabling digitised product monitoring and reviews with our customers to build a high-performing team and culture with a growth mindset. We have collaborated with customers to set them up seamlessly and quickly and help to define their incremental business goals.
As product portfolios get more complex and market changes or regulatory obligations get thrown your way - product managers need a way to monitor financial and non-financial areas effectively. Regularly conducting product monitoring and reviews of the underlying drivers of product health will not only dig you out of hot water but digitising this with automation and AI smarts will make it easier, faster and more effective.
Just tracking your agile feature backlog and product roadmap digitally is no longer enough. If customer complaints are up, sales and revenue or product margin is down or on a declining trend, then it is a flag to tell you it's time to reshape your product strategy and start consistent product monitoring reviews of yours products health. This will then also enable you and your team to set 30/60/90-day improvement plans for example.
Skyjed's Annual Product Review Example
With the right tools and framework, you can make substantial changes quickly. Skyjed's product design and monitoring workspace can be set up in a few hours and puts data analytics and insights at your fingertips. Another benefit with the continued use of Skyjed is that the information for your next review / audit is automatically populated with the data from the last review. This means you are only looking for what has changed since your previous review. The process gets faster and faster over time, and you will be able to immediately recognise key changes that have occurred which makes for even faster strategic action.
Download our guide: How to Choose Your PLM & Governance Tool for Optimal Collaboration.
AUTOMATED WORKFLOW TRIGGERS
With digitisation, product monitoring automated workflow triggers are a game changer and a new way to monitor the strategic events in your product.
Product monitoring starts with understanding the strategic events in your product strategy that can impede growth or performance.
Done right, automated workflow triggers are an effective tool for product leaders to keep on top of their product strategy and receive early warning on emerging customer issues. An automated workflow is where you set conditions and thresholds to monitor your product data which trigger automated actions if they occur every time data is provided or uploaded in your product monitoring reviews.
The benefit of automated workflow triggers is that when these events occur it allows for early risk identification and course correction for strategic advantage. They are valuable to improve your customer experience and avoid regulatory issues. That's precisely why setting 3-4 product workflow triggers, with thresholds can be so helpful.
They make the entire product management process faster, strategic, and more efficient. The value is that its automatic and you can set up as many workflows for your product.
Automated workflow triggers are ideal for example for tracking of customer complaint thresholds, sales cancellations, margin decline etc and help proactively pinpoint potential product issues for further investigation and action. Skyjed's workflow feature will send you a workflow notification if the parameter or threshold is met. You simply need to check your inbox for an action notification every time product data is uploaded.
IN SUMMARY
Implement regular monitoring and forecasting reviews with priority and focus.

Set it on the product calendar event schedule and communicate it to all.

Make regular product monitoring reviews a priority objective and enable open dialogue of results, analysis, and next steps.

Build your product review framework and capabilities one step at a time.
SUGGESTED PATHWAY FOR REGULAR PRODUCT MONITORING
We recommend selecting groups of metrics / drivers most important to your organisation and building on these incrementally to address your business goals for product monitoring:
Track your actual monthly, quarterly, and annual sales/cancellations and revenue, and product margin performance compared to the budget or forecast for the period

Prior-year product performance - Know your actual performance for the prior year (by month, quarter) and compare it with the current period. The reason to look at this is it helps you see trends, understand seasonal highs and lows, and if your year-on-year growth rate is achievable

Product growth rate and scenarios - Know if your growth rate from the prior year is the same, better, or lower than your budget for the current year. Watch out for significant changes in growth in month-on-month revenue. By comparing each period, you can also work out any seasonal changes e.g., slowdown of sales in the holiday period for consumer products or an increase in sales at the end of a financial year for business products

Market growth and competitors - Know how fast the market is growing or declining and which competitor is getting the best revenue results and why.

Regulatory – review, track and monitor your product and regulatory obligations and performance. Also note any upcoming changes and how this may impact the product strategy or product offer

Price and volume variance - If your revenue performance is less than budget or your latest forecast, try work out the reason for the variance. My tip here is to do a price or volume variance analysis quickly. This highlights that revenue may be down because of sales discounts (price variance) or you have just sold less than anticipated (volume).

Cost areas and budget - Product expenses should be carefully reviewed. Know the critical chunks of cost for your product and break down and label these cost items as fixed or variable costs. It is important to know the essential areas of cost even if it's just estimates. Product margin performance is an important metric.

Track your key customer health indicators – complaints, net promoter score or customer satisfaction, contact centre spikes and enquiry categories, order fulfilment lead times, and support tickets are just a few examples

Mitigation plan - Detail your next 90-day plan - Our final tip is to make sure you and your virtual team are prepared to outline what you are doing to mitigate any variance in your product numbers and the course-correction plan for the next 90 days.
About Skyjed
At Skyjed, collectively we have launched many new products, but the most significant success is from enabling high performing product teams. If you would like to experience how Skyjed can help your team build for product success, contact us for a demo or a start a free trial today.
Starting a free trial and using the platform to see how easy it is to use is highly welcomed with no obligations or credit card needed. Talk to us about your business goals and we can provide an overview on how flexible Skyjed is to meet changing and evolving business needs and challenges.
Skyjed's AI-powered end-to-end product platform brings together every data point across the entire product portfolio and lifecycle into a single source of product truth. Design, launch, optimise and win with our product lifecycle management platform.
Experience the unique features of Skyjed:
AI-powered modern product lifecycle management and governance solution

Flexible to achieve different business goals

Pre-built design, monitoring and review templates or easily build your own

Automated workflow triggers so you can identify opportunities as they emerge or monitor risks before they take hold

Access boardroom-ready product governance and product insight reports and dashboards

Team collaboration with review and approval workflows, actions & comments management, version control and record keeping

Integrated workspace with product planning and scheduler capability
To learn more: Download our Whitepaper: Future Management & Governance Whitepaper