How to use data to create actionable insights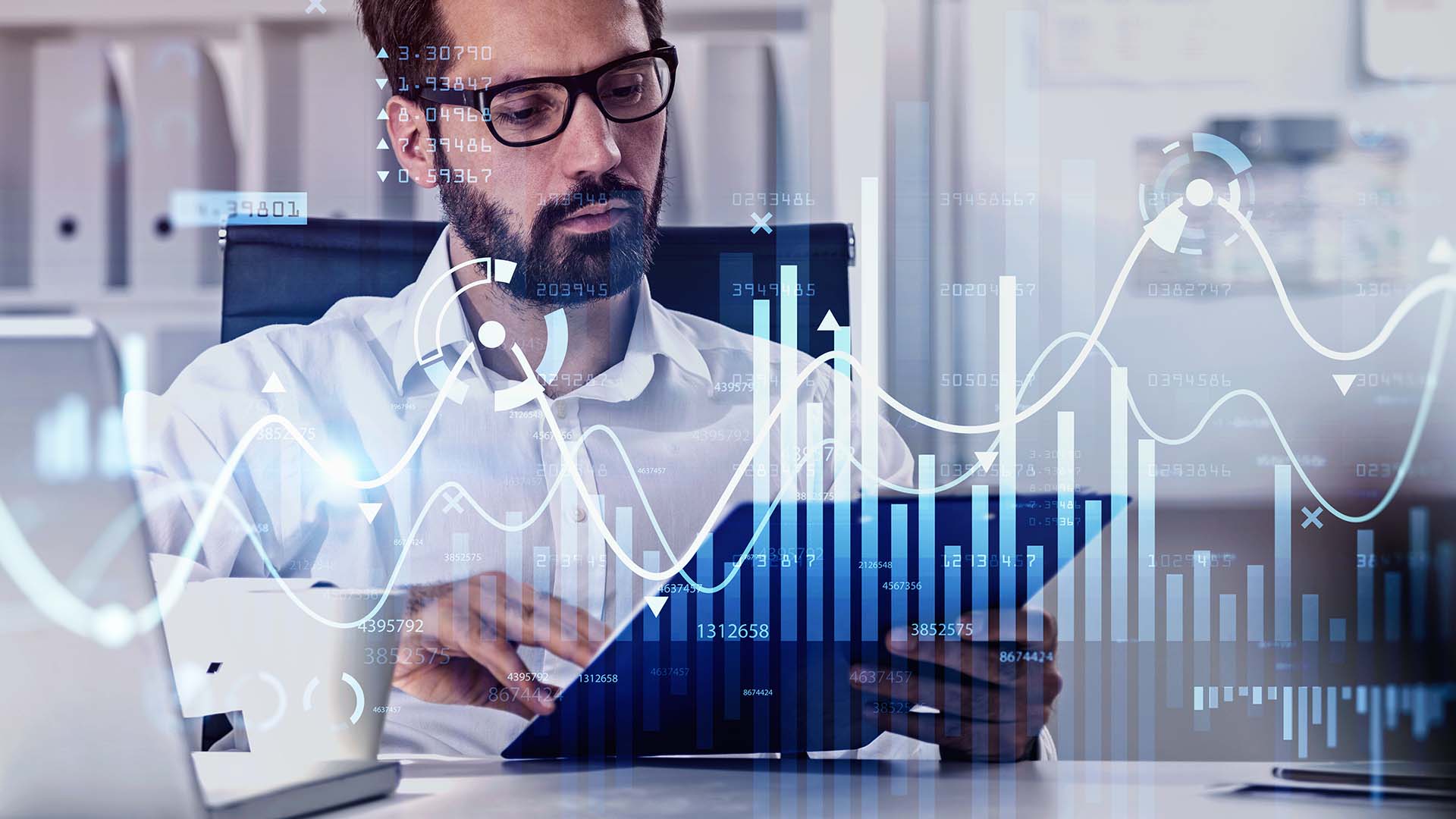 We often hear the importance of using data to make data-driven decisions or actionable insights. In practical terms, what does this really mean? You can have all the data and reports in the world, but without insights, these are just numbers and words in a document. Effective use of data transpires to better and more informed decisions. The key is to use the data you have to alert you of wins or issues relating to your performance objectives; you need triggers around key patterns or warnings emerging related to compliance obligations or risk mitigation strategies.
Whether your focus is on product, users, or compliance, it's important that you have access to data and use it to alert or trigger you when you need to make decisions or explore changes that may require a measurable impact.
With the rapid growth of data and technology, organisations today have access to more data than ever before. Often, the problem is that there is too much data; the struggle for product leaders is analysing it to turn them into actionable insights and identify the benefits.
This is especially important since we don't have hours and hours to trawl through endless data sources – we need to find ways to turn that data into something that is immediate and actionable (something that is important to measure and when to become aware of it).
As a Product leader, I need to be alerted when key focus areas are not tracking or are tracking on the right trajectory. I need to understand what are the possible reasons or factors that are contributing to this path.
What are actionable insights?
Actionable insights represent finding meaningful results that are derived from analysing data for a given metric.
For example, there is value in knowing that complaints increased by 20% in Victoria in the three weeks following a notification of a price increase and then stabilised to previous levels. However, if the insight or the run rate for complaints was to continue at the same rate then this would be of greater concern. How do you ensure you are notified proactively if this were to continue?
Actionable insights drive actions to achieve a result. They can help you identify a problem that requires further investigation, or answer questions that enable you and your team to make better and informed decisions and guide the path to meet your objectives. Another equally important factor is that they do aid in improving the customer journey and improve customer satisfaction as a key result which is of utmost importance and can deliver great value.
How to use data for the purpose of developing actionable insights?
Sometimes using data to develop actionable insights is not always easy or obvious however we believe the easiest way is to keep your eye on the prize and to start is determine measurable business results.
1. Defining your objectives or goals.
This is essential so you can ensure you have access to the right data to track your objectives. There is no point analysing data if it is not in relation to your objectives – sometimes having too many reporting metrics that don't mean anything towards achieving your objectives looks great, but they are not going to help or add much value.
Ask yourself – what are the key metrics regarding revenues, costs, expenses, and risks for your product that you need to track. These answers are the areas where you need to access data to make the biggest impact.
2. Using the data you have…and build on it
Work with the data that you have now but always ensure it is accurate – see how you can consistently access or receive the data and automate as much as possible. If you don't have all of the data you need to monitor your objectives, look to developing the data sources as part of your plan. Not having all of the right data means you could be unaware of any considerable issues around your objectives until it may be too late to make any measurable impact.
When developing your data sources, it's important to take a holistic approach and identify financial and non-financial metrics. Today, non-financial metrics such as product governance play a critical role in product growth.
3. Invest in the right tool so you can work faster, smarter and better

Having the right tool to develop actionable insights is essential – this is the catalyst for turning mounds of data into meaningful insights or actions.
Your tool should be able to ingest the data and enable you to create triggers or alarms when certain parameters are met. It should also be able to create dashboards at a glance of all of your key metrics so you can always be kept in the loop at any point in time.
There is an abundance of analytic tools available in the market so this can make it hard to know what is best for your organisation however in its simplest form your tool should be able to take data and create reporting and triggers according to your key objectives and metrics such as complaints, cancellations, sales, number of active users.
One key criteria is that your tool is best to be cloud-based so access is not restricted and is accessible by a defined group. The tool needs to differentiate between different users and the actions of the users. For example, C-level executives will only care about the big picture, senior product leaders or compliance/risks managers will need to investigate specific business objectives and product managers, or compliance officers will want to investigate and deep dive into the data and insights they are measuring
A cloud -hosted platform like Skyjed is not only your source of product truth but it houses all your documentation, and actions, is accessible by your team, and enables automated product risk reporting and triggers with your data feeds suitable for different users in an organisation.
There is no second-guessing or having to analyse results – all of these are available in insights and dashboards reports, in addition to being able to set up automation triggers or action workflows when you need to be notified.
Product monitoring trigger workflows are a new way to monitor the strategic events and objectives in your product and will significantly improve your product lifecycle management.
The triggers can be automated in a workflow to make the entire product management process faster, more strategic, and more efficient. Triggers are ideal for customer complaints, sales data, cancellations, margin decline, market share decline. Each strategic trigger can be viewed on the insight's dashboard with a trends line.
There are 2 elements to getting started with Trigger Workflows, setting the trigger and deciding on the threshold.
Below is a screenshot of Skyjed Trigger workflow dashboard and an example of the various insights and reports that our powerful AI-engine calculates.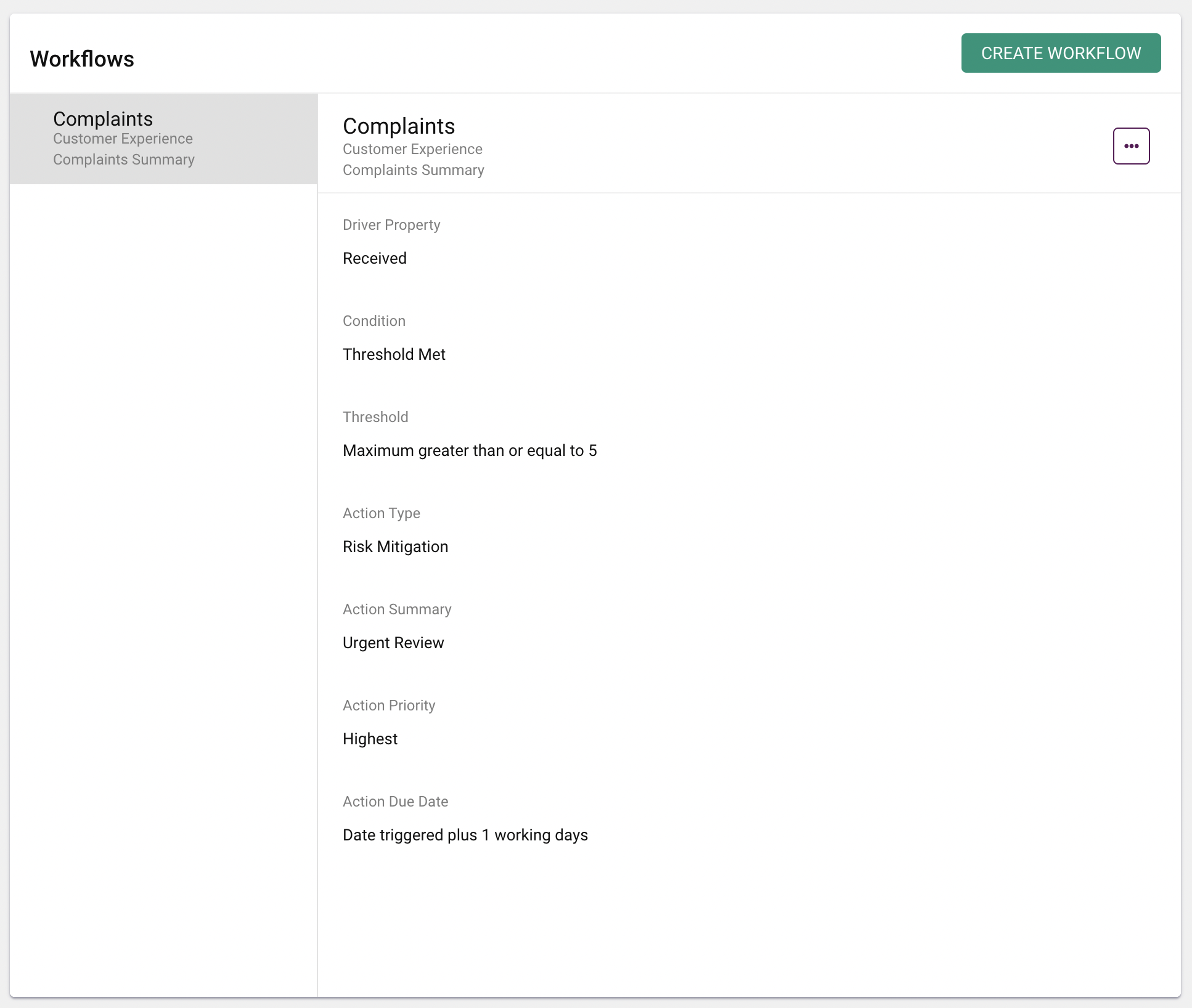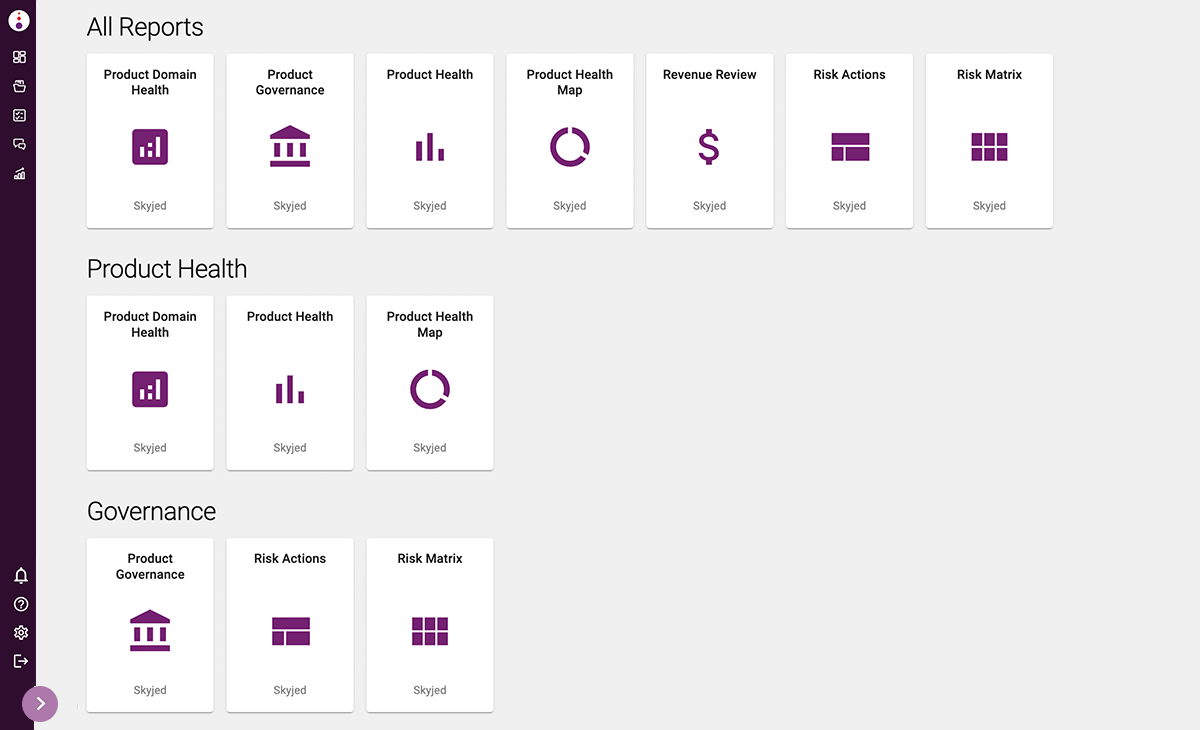 To get a glimpse of our platform in action, check out our video below.
About Skyjed
Skyjed is an all-in-one lifecycle management and product governance SaaS solution that helps you manage your products from launch, sunset to exit.