Leverage lifecycle monitoring and automation for product growth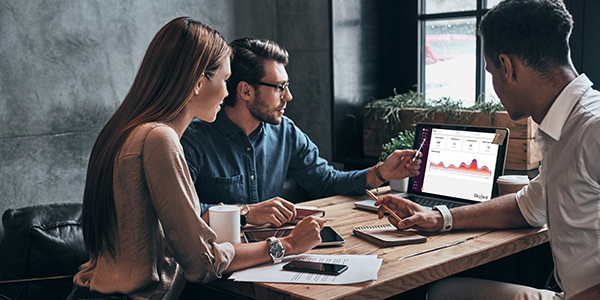 Product monitoring is fast becoming a critical priority for 2022 for businesses that want to grow revenue from product-led growth.
Today, there are many tools available to help product managers develop and launch their products into the market; before Skyjed, there had traditionally been no single platform to empower product managers to proactively monitor, iterate and manage the lifecycle of their products post-launch.
To enable growth, product teams from small to medium and large enterprises need to move away from time-consuming, manual and tactical lifecycle monitoring, and towards strategic automated tools in order to optimise your product strategy.
Adopting a digital-first lifecycle monitoring approach will be a crucial enabler of growth strategy and governance.
Gartner highlights the lagging transformation of product management. "The majority of CEOs expect to change business models in the next two years, requiring product managers to rethink how value is perceived, created and consumed fundamentally ... Efforts to modernise parallel and related business aspects through product strategy and product management are lagging". Gartner, 2019, Print Application, Innovation Funding Service, accessed 13/1/22.
This blog will share how you can quickly and easily move to an automated solution for lifecycle monitoring, and set a strategic foundation for your product team. The key steps are outlined below. You can also download our latest playbook on how to automate up to 90% of your product monitoring and reviews via the link below.
How to monitor and measure your product lifecycle.
Optimising your product strategy and quarterly plans is core to growing revenue and improving customer engagement. Product teams can increase revenue by adding lifecycle monitoring and annual product reviews for products at scale. The set-up process doesn't need to be time-consuming or complex. Skyjed allows you to set up lifecycle monitoring for each product in the portfolio and drive more effective product optimisation decisions for product differentiation, revenue and customer retention.
Here are three foundational ways to anchor your product-led growth strategy:
1. Automate your product growth management
Product teams are more strategic and save time with Skyjed. By bringing together product design, lifecycle monitoring and compliance in one seamless workflow, Skyjed provides product teams with access to holistic reporting and includes the strategic elements of lifecycle management.
PM teams can use Skyjed to set, govern, monitor product metrics and targets, make improvements, identify risks and opportunities and create reports for stakeholders. While other product management tools and standard dashboards focus on new product development or customer engagement; tools like Skyjed add other vital areas to lifecycle monitoring, templates, reports, and regulatory requirements to help you make more strategic decisions.
You can access design and lifecycle insights and reports for your annual, quarterly business reviews, monthly updates and more. Our powerful automation features mean you can release stakeholder reports in minutes and spend more time on strategic discussion about what is working, emerging issues and critical trends to leverage, which will drive more strategic decisions, instead of spending time on manual reporting, pulling data from different areas, platforms, and switching from multiple programs.
2. Set and approve a product design
All product teams have the 'Why' a product is created and critical design choices for customers, business goals like revenue or differentiation. Few teams have a tool to manage the version control and approval of the product design, like commercial assumptions and legal and regulatory requirements.
Skyjed's Design workspace is where you use a collection of Design Drivers to build out your product's design, set sale conditions and identify product review warning triggers. Ready-made templates streamline mission-critical design processes and improves productivity.
You can easily collaborate with your agile teams to identify and document your Lean Canvas product design, product strategy, revenue goals, and design and distribution obligations from one intuitive product design workspace.
3. Monitor and measure your product lifecycle
After setting your annual product strategy, executing is essential and managing your quarterly plans to track progress using a holistic set of metrics.
Skyjed helps you track the essential metrics using two new features that save time - a governance schedule, product triggers and product review reports - all straightforward tools that can be set up in minutes.
Product Triggers
AN AUTOMATED WARNING SYSTEM | Using Skyjed's Trigger monitoring workflows, you can set up an automated warning system that alerts you when a trigger threshold has been met, and a product review is required.
Product Review Preparation
READY TO REVIEW IN UNDER 30 SECONDS | Annual product reviews no longer mean downing tools for 3 weeks and late nights pouring over spreadsheets and sales reports.
By choosing Skyjed's Annual Product Review Driver module to conduct your annual product review, you are automatically presented with a comprehensive set of information input drivers that guide you through the process end to end. No more figuring out what data you need to find.
Approvals and Keeping Records
SAY GOODBYE TO EMAIL TRAILS | Long emails trails to prove product approvals are a thing of the past with Skyjed. Approval gates can be built into the design and audit (monitoring and review) workflows that will not allow an item to be published until it has been reviewed and approved by a designated approver or group of approvers.
It's a wrap: Digital-first product growth and governance
Product teams have a unique opportunity to start 2022 using digital technologies and be empowered like never before. Product monitoring and lifecycle governance are becoming a point of differentiation for businesses and product managers to lift the standard of their strategic decisions and growth.
If you are setting your 2022 strategic product growth plan and want to set the year up for success, save time and learn tips to be a better product leader, Skyjed's guide will help.
Download our latest guide so you can discover how Skyjed can help you save time and focused on product-led growth.
About Skyjed
Skyjed is a product lifecycle and governance platform for growth and compliance. Skyjed's Ai-powered end-to-end product platform brings together every data point across the entire product portfolio into a single source of product truth. Skyjed was founded in 2017 and is headquartered in Sydney, Australia and London, United Kingdom. For more information, visit Skyjed