The Tide is Turning for Female Founders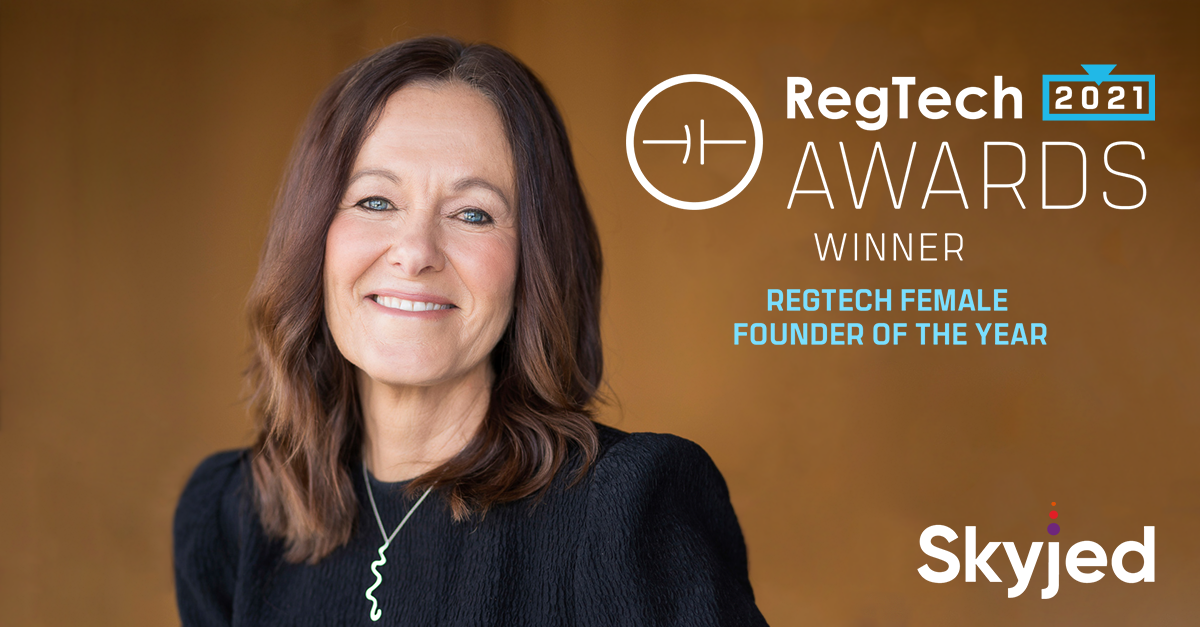 Five years ago, I set a milestone for myself to step out of the corporate world. I had the vision to create a global software company, one with a strong social sense.
Last night, I won the Female Founder of the Year, an award I am incredibly grateful to win.
I'd like to recognise the RegTech Association – the Board, management, the Judges. The goodwill, support of diversity and celebration of female founders is crucial, particularly given the past 18 months where it has been touched to get exposure into global markets.
My journey all started with 100 interviews with business leaders in Europe and the United States. I took time out from the corporate world and set myself to creating the best product lifecycle and governance solution. My hope was that this solution would disrupt the global market. It has.
I wanted to transform how product leaders design great products and track and measure sustainability – truly implement ESG across the product lifecycle.
I am grateful to have a team that loves the big vision as much as I do and have helped to build Skyjed from the ground up.
I'd like to congratulate the other female founders who were finalists in the RegTech Awards – | Rachael Greaves from Castlepoint Systems, Jacqui Nelson from Dekko Secure, Megan Lee from Regtank Technologies, Julia Markiewicz from Silent Eight. We should celebrate each of these fantastic founders and their businesses, a valid showcase of emerging technology companies. They should be celebrated as founders and for their contribution to the RegTech community.
For other founders, here are my 10 tips to help grow your business idea into a global software company (and enjoy the journey as well!)
Invest in customer validation –

Cement your concept and idea by undertaking research or talking directly to potential users of your product

.

Bring together a diverse team

- Add a co-founder with a skill set complimentary to you to build a global business.

Build out your business plan assumptions and 3-year financial model early

- Hire an Advisory Board to support/challenge your expansion plans.

Begin with early assumptions

- Cash flow and a business plan is a challenge, but beginning with early assumptions helps with monthly cash flow decisions.

Develop a routine

- Start-ups are hard, really hard. Often your personal life also throws in unexpected challenges so, develop a routine that helps manage stress and health and well-being to move through challenging times.

Bring in sales capability early to the business

– Product and technology skills are essential. Still, nothing happens until you can sell your product

.

Invest in building up social media following

– Platforms like LinkedIn are unique in providing a global audience hungry for good quality content.

The purpose is essential

– Take the time to work out what that means for you include diversity and inclusion metrics as you build your business.

Make team culture a core priority

- As your business starts to grow, experiment with cost-effective ways to build company culture, reward great teamwork and commitment to customers.

Build a network

– Use social media platforms and join groups, like RegTech Association, for support, access to global resources and, social community.
About Skyjed
Skyjed is a product lifecycle and governance platform for growth and compliance. Skyjed's Ai-powered end-to-end product platform brings together every data point across the entire product portfolio into a single source of product truth. Skyjed was founded in 2017 and is headquartered in Sydney, Australia and London, United Kingdom. For more information, visit Skyjed