Solving Product Data Challenges in Distribution Channels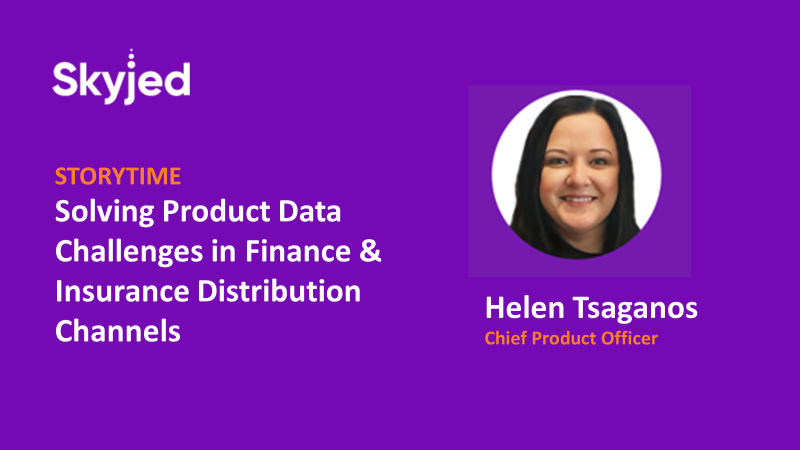 Watch our webinar recording here
The Financial Services and Insurance industry operates in a dynamic and highly regulated environment, where the management of product data is crucial.
Distributing financial products efficiently, while ensuring compliance and staying competitive, poses significant challenges. It's often a case of death by spreadsheet as many of our customers share resulting in increased overhead challenges, increased errors and risks and record-keeping and version control problematic.
In this blog, I'll explore how Skyjed Connect is transforming the way the Financial Services and Insurance industry manages product data within distribution channels and with partners by:
Saving at least 50% of the time spent on sharing and collecting data through secure automated data exchange and streamlining your information and communication workflows.


Completing reporting and product triggers in minutes instead of hours with real-time dashboards and insights, enabling quicker decision-making.


Reducing errors with automated data collation, version control and audit trails, ensuring data integrity and compliance.


Increasing productivity by at least 30% by automating routine administrative tasks, allowing your team to focus on strategic activities and insights analysis.


Allowing time real-time insights and analysis, enabling data-driven decisions and improved business performance.
Background
First, let's set the scene and outline a typical story being experienced by many of our customers….
The Financial Services and Insurance Industry: A Complex Landscape
The financial sector is characterised by a multitude of complex financial products, rigorous compliance requirements, and an array of distribution channels and partners, including banks, brokers, insurance agents, and digital platforms. To succeed, companies must navigate this labyrinth while ensuring data accuracy, security, and regulatory compliance.
Product Data Challenges in Distribution Channels
Data discrepancies across channels and partners lead to confusion, errors, and reputation damage.





Regulatory compliance in the financial industry requires constant monitoring, updating, and communication of changes.





Manual product data management processes are inefficient with higher operational costs, error-prone, risky, and costly.
Storytime
Once upon a time in a bustling insurance brokerage firm, there was a diligent insurance broker team led by Sarah. She was a seasoned professional who managed a team of 10 product managers with 65 products and 200 brokers, and they prided themselves on delivering top-notch service to their clients. However, there was one task that consistently tested the teams patience and efficiency – requesting and managing product complaint data every three months.
The Process of Requesting Data
Every quarter, the insurance broker team is required to gather product sales and complaint data from their broker network. This data is essential for monitoring the performance of various insurance products and ensuring that the company is meeting regulatory reporting and compliance standards. However, the process is far from seamless.

To begin, the team send an email to each of their 200 brokers, reminding them to submit their product complaint data within the next two weeks via a spreadsheet attached.

Manual Collation and Record Keeping
As the submissions trickle in, the team access a shared drive and start to manually collate the data, combining various spreadsheets, documents, and emails ticking off who has and has not replied. The data is often inconsistent, and it is problematic to compare the performance of different products effectively. Additionally, some brokers forget to send their data, leading to frustrating record-keeping gaps that Sarah had to track down. Saving information sent by brokers is difficult or not always consistently followed by the team.

Follow Up Requests
The most challenging part of the process is following up with brokers who have not submitted their data. The team often have to send numerous manual reminders, making phone calls, and even visiting some brokers in person. The frustration of having to chase down the necessary information is time consuming for the team and a drain.
Tiresome Manual Work
After weeks of manual work, the team have finally managed to compile the product complaint data into a usable format. It is a process that takes up a significant chunk of the teams time and energy, and the quality of the data often suffered due to the rushed nature of the compilation. The team now spend time to produce reports and insights and actions for each of the products and conducted product reviews with actions to address areas of concern and or strategic areas of opportunity.
The Consequences
The consequences of this cumbersome process at times is far-reaching. The organisation's ability to complete reporting and identify problematic products promptly is compromised, and the risk of regulatory non-compliance loomed. The team's time and effort where they can focus on more strategic and productive tasks.
A Light at the End of the Tunnel
One day, while attending an industry conference, Sarah heard about a game-changing software solution that promised to streamline data collection and management in the insurance industry. This technology was designed to automate data requests, ensure timely submissions, and provide real-time data insights.
Excited about the potential, Sarah returned to her office and introduced the new system. With the help of this innovative software, the cumbersome process of requesting and managing product complaint data became a relic of the past. Now, her team's submissions were automated, streamlined, and consistent, allowing her to make informed decisions more efficiently.
With the burden of manual data collection and chasing down submissions lifted, Sarah and the team finally had time to focus on what they did best – providing exceptional service to clients, addressing areas of concern faster and strategizing for the future. The dark clouds of the tiresome manual process had cleared, leaving behind a brighter and more efficient future for the firm.

Skyjed Connect
Revolutionising Product Data Management with Distribution Channels
Skyjed Connect is a game-changing solution that enables oversight and seamless collaboration between Distribution channels and Partner organisations. It enables the ability to share and request product information with automated product data collation, insights and reporting.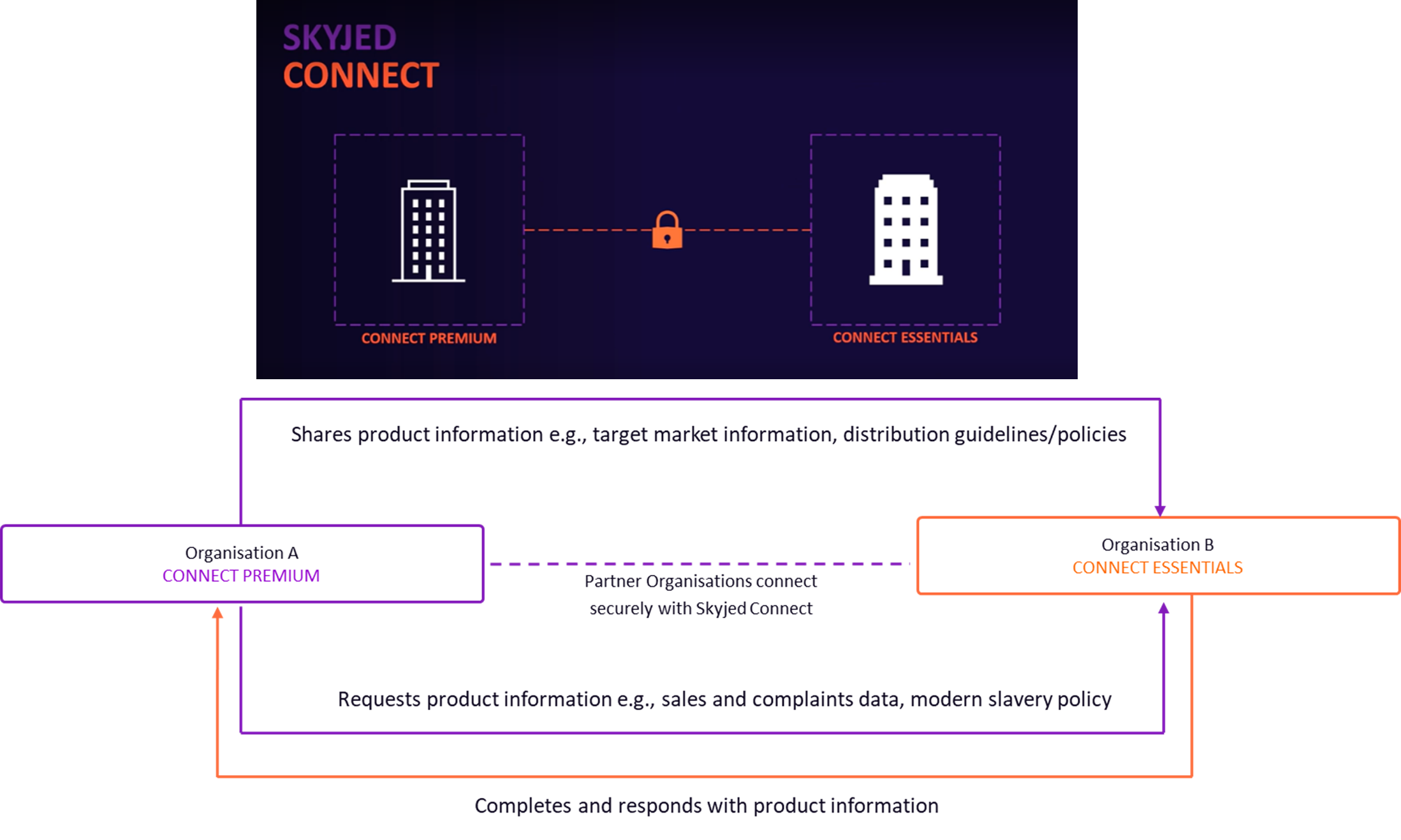 Watch 30 second Skyjed Overview
Skyjed Connect Benefits
Secure Automated Data Exchange & Controls
Facilitates secure and seamless automated data sharing and version control/audit trails between organisations, reducing errors, saving time, and ensuring regulatory compliance and record keeping. Skyjed platform is enterprise grade and ISO27001 certified.

Automated Product Governance & Performance Dashboards
Proactive management with real-time dashboards and insights into risk management, strategic alignment, product governance, health checks, partner information requests, and product performance metrics.

Effortless Collaboration
Enhances and fosters internal and partner collaboration, streamlining product lifecycle management, active governance oversight, and risk management resulting in synergy and mutual success.

Proactive Management of Risk & Strategy Actions
Empowers organisations to create, manage and track risk and strategic actions, automated reporting, and governance.

Automated Audit Trails & Record Keeping
Automatically generates audit trails, maintains comprehensive records, approval controls and automated version control, simplifying compliance and tracking requirements.

Actionable Scheduling & Notifications
Automates action reminders, event scheduling and completion of defined product governance frameworks with actions and notifications, ensuring proactive oversight. Automatically reported in Product Governance Dashboards.

Enhanced Productivity Through Automated Administration & Proactive Alignment
Streamlines communication and action tracking, including automated product trigger review workflows, resulting in active proactive alignment. By automating many of the routine administrative tasks, valuable time is recovered, allowing teams to focus on more strategic initiatives.


Contact us to learn more or for a Skyjed Connect demo.
In the Financial Services and Insurance industry, Skyjed Connect offers a comprehensive product data management solution that centralises data, automates tasks, and facilitates compliance, empowering companies to navigate the complex landscape successfully and drive growth.

Skyjed's AI-powered end-to-end lifecycle and governance platform is mission control for product management. Bringing together every data point across your entire product portfolio and lifecycle into a single source of product truth, it gives our clients a new perspective to make more strategic lifecycle decisions to launch, monitor, optimise, and win with brilliant products.
Our industry-leading platform has received numerous awards and recognition from clients and industry bodies, demonstrating our commitment to innovation and excellence.
If you want more information Contact the Skyjed team.