Streamlining Product Management for Profitable Growth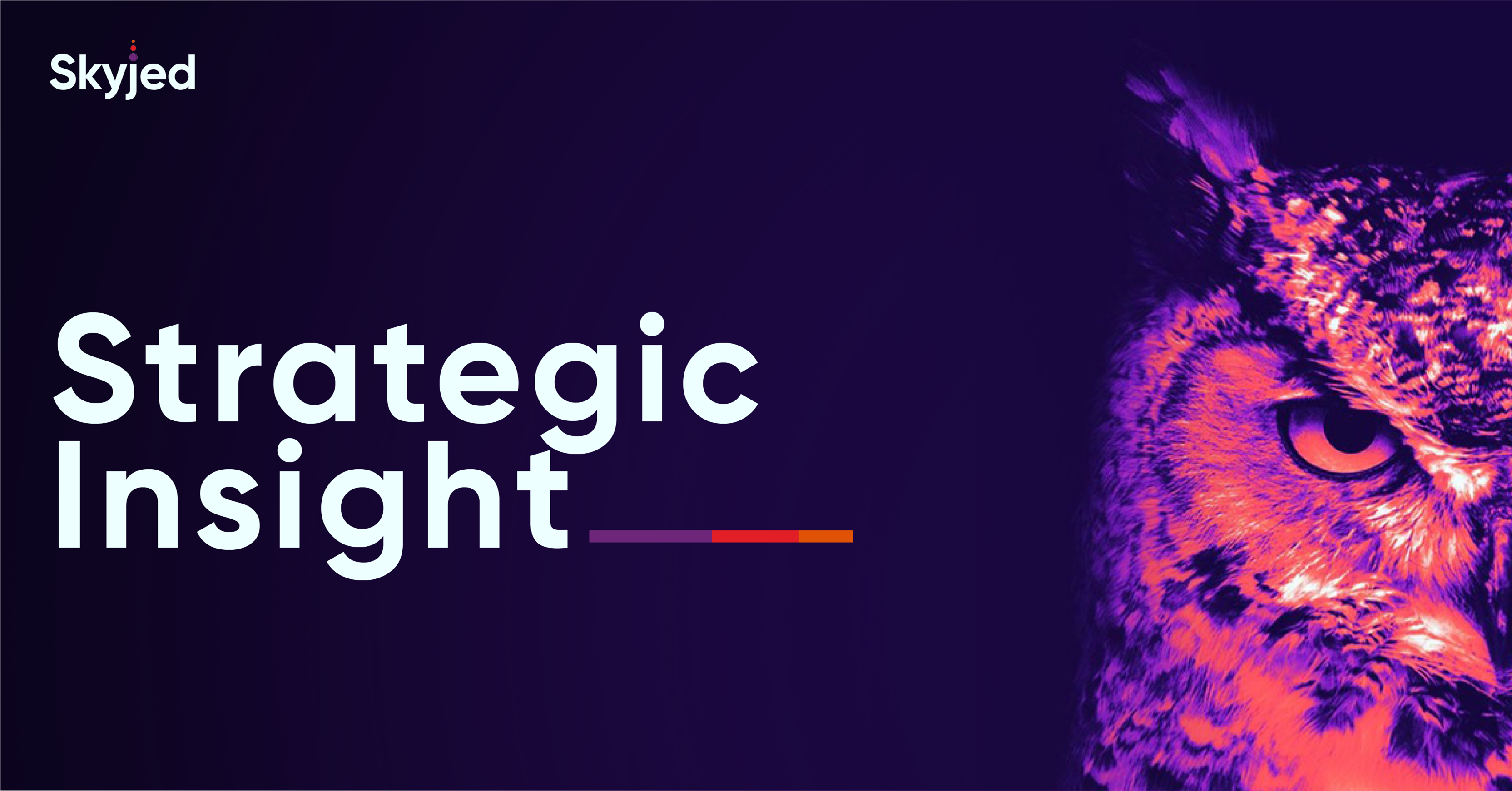 As a product leader with years of experience, I've realised that investing time and effort in establishing transparent governance for product management is crucial for success. This includes conducting regular 90-day and annual product reviews to ensure that your product portfolios align with your business objectives, strategy, and risk appetite.
By establishing a clear governance framework, you can allocate capital dynamically across your product portfolios based on their performance, market trends, regulatory changes and customer needs. This helps your product leaders make informed decisions about product lifecycle health, where to invest your resources and when to course-correct to ensure that you are always moving in the right direction.
Regular product reviews provide an opportunity to assess the performance of your products against their goals and make necessary adjustments or emerging risks to improve their performance. It also helps you identify emerging trends and opportunities that you can leverage to enhance your product offerings and stay ahead of the competition.
In short, setting up product management with transparent governance and conducting regular product reviews is an essential investment that enables you to make informed decisions, allocate resources effectively, and drive business growth. As a product leader, I highly recommend this approach to any organisation looking to build and grow successful product portfolios
Here are some ways to understand how product management affects a company's cash flow.
Facilitating Top-Line Growth: Effective product lifecycle management can help promote top-line growth for a company. By monitoring product health, you can optimise the product portfolio mix and ensure that products align with the company's strategy. For instance, companies can generate more revenue and gain a competitive edge by investing in new products or expanding existing ones. I find quick wins in reviewing the health of existing products and looking for strategic actions to refine marketing campaigns, reduce customer complaints and therefore operating costs and sweat the assets by putting development capital into quick wins in existing products.
Reducing Operational Costs: Implementing effective product lifecycle management can help reduce operational costs associated with products. By analysing the product lifecycle stages, companies can identify areas where costs can be reduced. For example, reducing the cost of production, customer experience, or complaints can drive costs, and sales distribution or marketing can increase profits.
Minimising Regulatory and Legal Intervention: With effective product lifecycle management, companies can minimise regulatory and legal intervention, which can be costly. By embedding product governance at each stage, you can set legal and regulatory requirements at the product design stage and then monitor post-launch to ensure your product, sales and marketing teams are keeping up to date and aligned with changes in development and requirements. If you aren't consistently monitoring, these areas can quickly become out of sight, lost on the shared drive, and misselling can be costly.
Increasing Product Manager Productivity: Effective product lifecycle management can increase the productivity of product managers. Product managers can focus on critical areas and make informed decisions by streamlining the product lifecycle. This can lead to more efficient use of resources and faster time-to-market; for example, a recent case study highlighted that the product team saved 40 hours per month they were previously spending pulling together PowerPoint decks to update management and risk teams on product health and risk assessments.
Optimising Investment and Capital Expenditures: Effective product lifecycle management can optimise investment or what I call 'dynamically allocating capital'. Companies can maximise their returns on investment by regularly reviewing products post-launch every 90 days and investing in the right products. This can help reduce financial risks and improve cash flow.
Dynamically Allocating Capital: Dynamic capital allocation across product portfolios is a crucial benefit of effective product lifecycle management. With 90-day strategic and annual reviews, companies can allocate capital quickly with data-driven hypotheses. This can help companies be agile and strategic, keeping up with the dynamic market, regulatory, customer, and competitor dynamics.
Over my career, I've invested time in lifecycle reviews and governance with my team however its been incredibly time consuming and wasted manual effort.
One digital tool that can help CEOs and Chief Product Officers streamline product management is Skyjed. Skyjed is an innovative cloud-based platform that effectively helps organisations manage their product lifecycles. With Skyjed, you can get a single source of truth for lifecycle decisions, making organising products across different stages easier. This tool lets you track and manage products, assess risks, and identify opportunities to optimise your product portfolio.
Skyjed's comprehensive product lifecycle governance platform is designed to provide complete transparency, insights, and automated workflows that reduce product management costs and improve compliance. It helps companies make informed decisions, mitigate financial risks, and maximise the value of their products.
By leveraging digital tooling like Skyjed, companies can automate processes and workflows, freeing up time for product managers and streamlining product management. This can help reduce compliance costs and allow for faster time-to-market, ultimately leading to increased profitability and improved cash flow.
Take a peek at an example of a Annual Product Review in Skyjed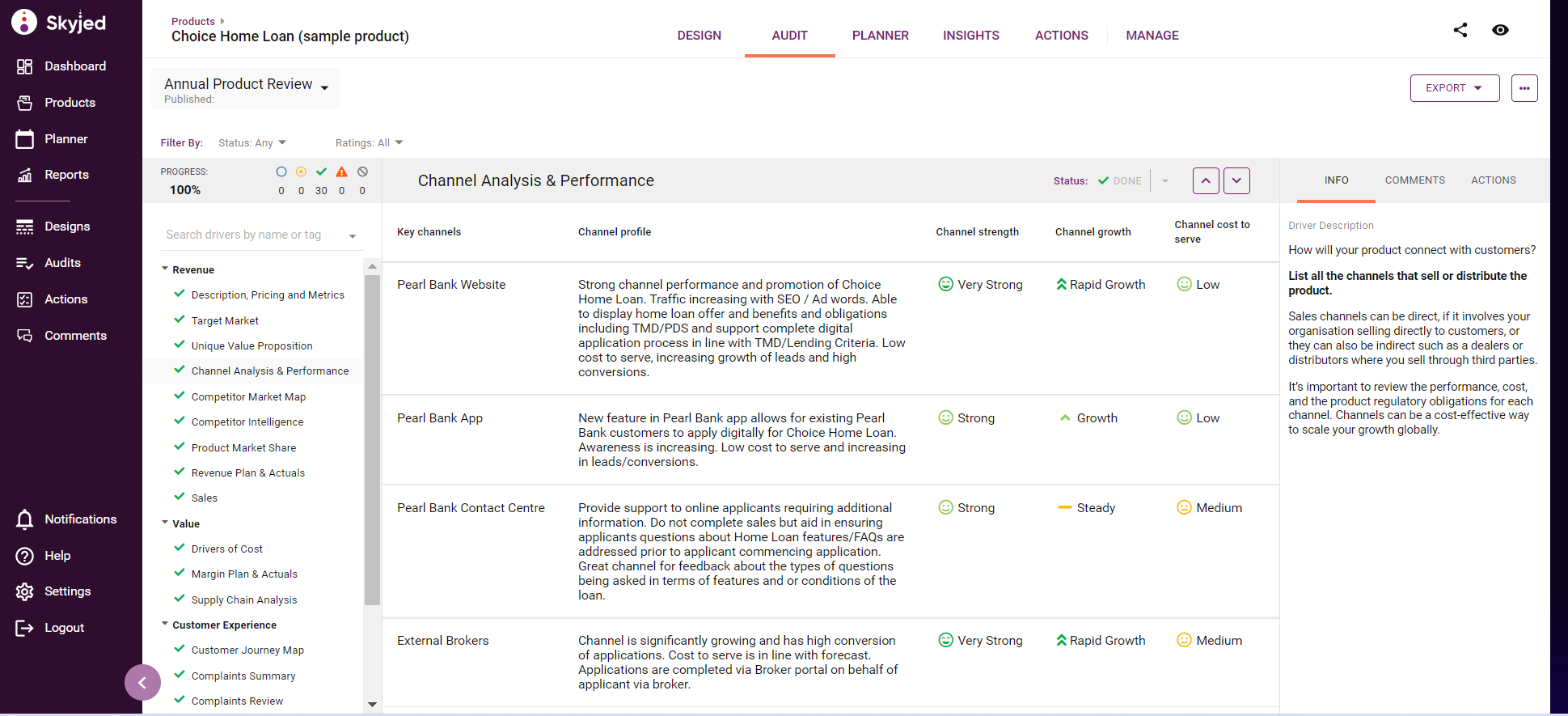 When you sign up to Skyjed on any of our tiers, you get access to our best practice Product Design and Audit Templates.
These templates have been created using input from product leaders around the world and are designed to help you meet your specific business goals whilst helping you drive towards product success.
Below is the list of our carefully curated:
Product Design Templates.
Launch Ready Checklist – assess the launch readiness of your product in early design / test phases.

Lean Canvas – proven 1 page business plan template that helps deconstruct your product concept into its key assumptions and then export it into the one-page Lean Canvas template or standard word/ PDF format.

Product Strategy – outline your high-level plan describing the vision and objectives for your product and how to achieve this.

Target Market Design – versatile template to define your target market, triggers and review cadence.
Product Audit / Review Templates:
Annual Product Review - This review is an extensive end to end 360° review of your product's performance across all 5 of Skyjed's domains of product health. It delivers deep insights into where you have opportunities for growth as well as risks to mitigate and is the gold standard in comprehensive in market product reviews.

Customer Experience Review - Assess the strengths, opportunities, and shortfalls of your product as you put your customer's experience first.

Launch Ready Review - Assess the readiness of your product in this all-encompassing launch review process before you go live on your next product or product feature.

Lite Product Review - This is a high-level 360° review of your product that you can conduct half yearly or with a more regular cadence.

Product Growth Review - Focus on Product Growth, Revenue and Innovation to drive success for your product objectives.

Target Market Review - Conduct regular monitoring reviews for consistency and compliance to regulatory obligations
So in summary implementing a comprehensive lifecycle monitoring and assessment framework and a tool like Skyjed can help you stay on top of product performance and make informed decisions to drive success. With its easy implementation and consistent monitoring and assessment processes, Skyjed can help you achieve your goals and take your products to the next level.
Don't let a busy schedule hold you back from maximising your product's success. Implement a comprehensive lifecycle.
.
About Skyjed
‍Skyjed is product lifecycle and governance platform. Skyjed's Ai-powered end-to-end product platform bring together every data point across the entire product portfolio into a single source of product truth. Skyjed was founded in 2017 and is headquartered in London and offices in Sydney and Melbourne, Australia. For more information visit Skyjed