When was the last time you completed an AI-powered 360-degree assessment of your product's health?
When was the last time you completed a 360-degree assessment of your product's health? When we talk about health, we're talking from a holistic point of view. Not just financial or performance metrics, but also including non-financial metrics across a broad range of key domains.
A product health check is a powerful tool to reduce risk and meet your customer needs but imagine if you could automate this with AI-powered reports, automated triggers and actions? AI, that sounds pretty fancy for us product managers who often don't always have the right tools of the trade to enable us to work smarter. So why would we need an AI-powered health check tool?
The obvious answer to me is that there is an overload of data. With so much data available to us to analyse, the longer the path to insights will be if analysed manually. This is where AI technology can help. AI can analyse a lot more data, in a shorter period of time and can make identify connections, correlations, causation, and trends much faster than the human mind.
Identifying your product's performance and risks is often unknown or limited for many product managers and product leaders. This is often due to not having all the information in one location and having an easy way to assess all the different inputs and metrics to develop strategic action plans on the key areas of risk when it comes to your product's health. You may be thinking, how can AI-powered reports focus on product health help here? Is this really practical? The short answer is yes, it can help in a big way. Let's first start by understanding AI in a generic sense and why it's so valuable.
Why AI?
Artificial Intelligence (AI) is a collection of technologies working together to enable different machines to understand, compute, sort, act, think and work like humans in an automated manner. AI and automation aren't just one thing. It can take various forms and paths. For example, machine learning is one part of the AI landscape that coupled with data, analytics and automation creates human outputs. This can be applied in many different businesses or product/service applications to help with improving processes, customer service, or creating new ways of achieving objectives.
Why does AI matter?
AI has opened new possibilities. When done right it can provide a plethora of insights. How these insights are used can help with prediction or help to improve performance. AI can improve processes to be significantly much faster and help to increase scalability, quality, personalisation, productivity, and reduce costs.
AI adoption is growing faster than ever due to the explosion of data and maturity of cloud processing coupled with the value it can provide to businesses in the form of driving growth or reducing costs.
AI is not only about efficiency gains or reducing costs. The biggest value lever AI produces is due to machine learning where data and analytical learning and outputs are available in real-time or near real-time which is invaluable to continually drive strategic priorities or core business objectives.
In summary, when AI is done right, it is an enabler for:
Efficiency and productivity gain via the automation of processes

Improved speed of operations or running of a business or a product/service

New capabilities and innovation opportunities

Enhanced customer service and engagement activities

Improved monitoring and alarming capabilities

Enhanced insights and automation of actions to help with improved capabilities and knowledge.
All of these can result in productivity and efficiency gains, cost reduction or increased growth/revenue, and customer loyalty and stickiness.
What is Skyjeds AI-powered Product Health Check?
Skyjed's AI-powered Product Health Check is an indicator or measure of the health of your product/s. It encompasses product managers following a process to review and assess their product which results in an AI-generated health rating of the product from 0% to 100% with areas of risk highlighted across 5 domains – Revenue, Value, Customer Experience, Innovation, and Regulatory.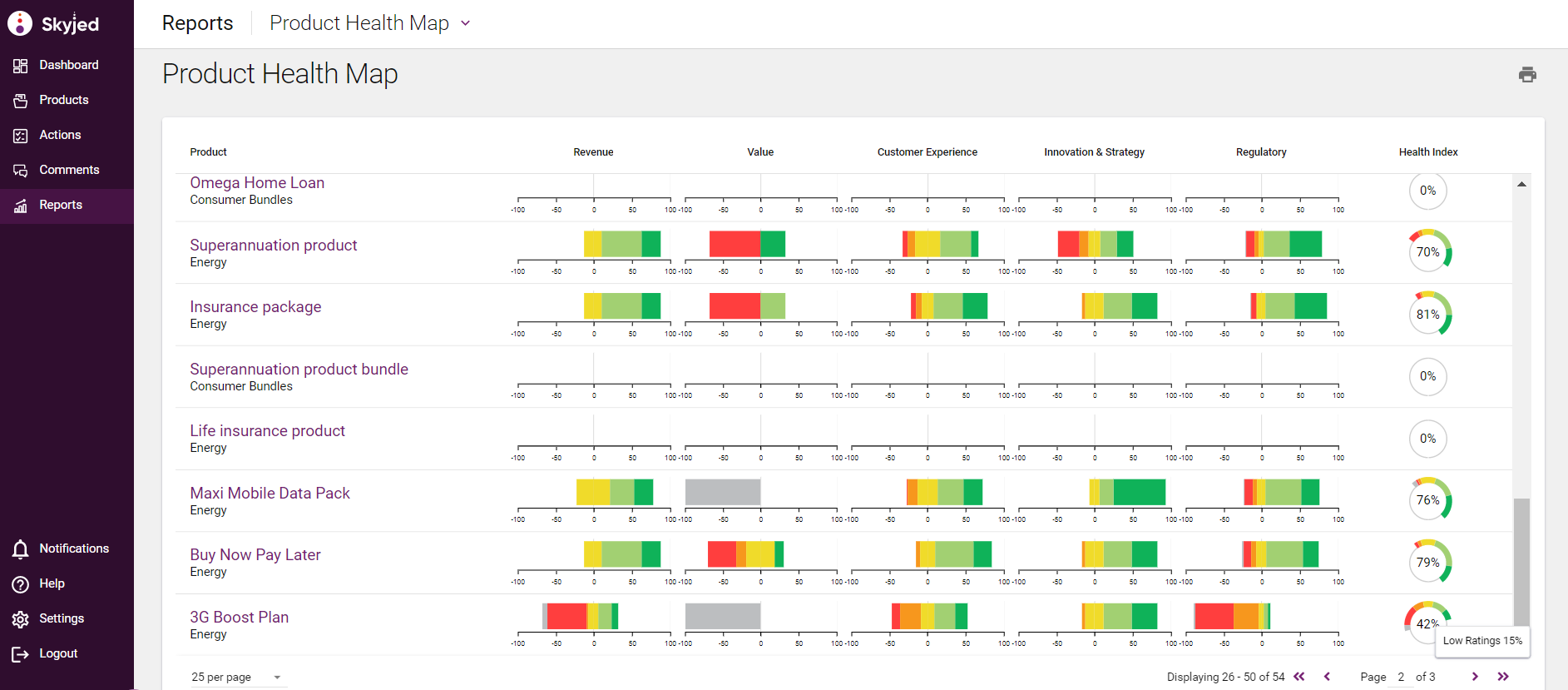 Regular health checks can identify early signs of risks or opportunities. The AI analytics interprets all the available data to indicate how successful the product strategy is in the current competitive, market, social, environmental, and regulatory landscape.
Skyjed was created to help create the framework to aid product teams to track the performance of their products across more than financial metrics.
The collection of data includes both financial metrics and a plethora of important non-financial metrics such as the market landscape, competitors, operations, the customer, and regulations to name a few.
The most successful companies will adjust their product strategy using a product health check. The Skyjed product health check rating is an instant way to manage and focus on the right areas with your new and existing products.
While most organizations monitor the financial performance of their products and portfolios, most do not have a robust way to control non-financial risk, and still, fewer consistently assess a product health strategy to surface risk exposure into pragmatic action plans. This can often result in many product leaders having to make decisions based on gut feel or experience or in isolation of all important metrics.
How can a health check rating and indicators help me focus on the right areas?
The Skyjed health check includes a rich selection of metrics designed to help you become a more effective product leader. Strategic product decisions are all about timing. Completing regular health checks enables you to monitor your product strategy with action plans to improve in areas requiring attention.
The Product health check presents two things:
and a health meter with colour coding
The colours represent high growth potential, neutral growth, negative growth or significant negative growth. The maximum product health score you can get is 100, and the minimum you can get is 0.
A low product health score can often mean that your product is subject to increasing competitor activity, regulatory compliance, cost pressures, technology disruption, or rising customer expectations. It is not a bad thing to have a low score. What is most important is that you track your product health over time and put in place action plans to improve or consider sunsetting/ exiting the product at the right time.
The Skyjed algorithm does all the work for you by searching your product domain data and ratings, then assigning a rank to each factor. Each rating has its own calculation. In most cases, the relative change of the product rating is more important than the actual numeric value representing the rating. Skyjed's product health function is similar to a Google keyword search algorithm. The algorithm is doing all the analysis for you so that you can make better product lifecycle decisions in real-time.
Make this real for me….
If your product rating is at 43%, it's indicating that the product strategy is at risk and requires new decisions or action plans. If the previous product rating was 70%, a fall of 27%, it tells you that your last action plans require adjustment or course correction.
The Skyjed health check uses advanced technology – artificial intelligence and machine learning to provide timely product insights and analysis. The health check is based on an algorithm and derived from the domain and driver data in your product health audit.
Why is it useful?
Product health rating scores are often used as benchmarks. In the case of the Skyjed product health score, it is used to measure the performance of products or product portfolios over the life of the product or for product leaders to conduct comparisons with products or portfolios.
It is also useful to update senior executives and board members in a transparent manner. Today company governance requirements mean that boards and senior product leaders need to monitor non-financial risk and environmental and social measures. You may want to proactively brief senior management when the health rating score falls below 50% for all products in the company and put them on a so-called product watch list.
In summary, AI has enabled us to focus on the areas in your product's health where it matters most and where you have the most risk, and where you can also celebrate.
About Skyjed
Skyjed is an all-in-one product lifecycle management and product governance solution that can support your product teams with a digitised product lifecycle and monitoring framework. Contact us for a free demo or trial today.