ASIC calls for DDO target market determination improvements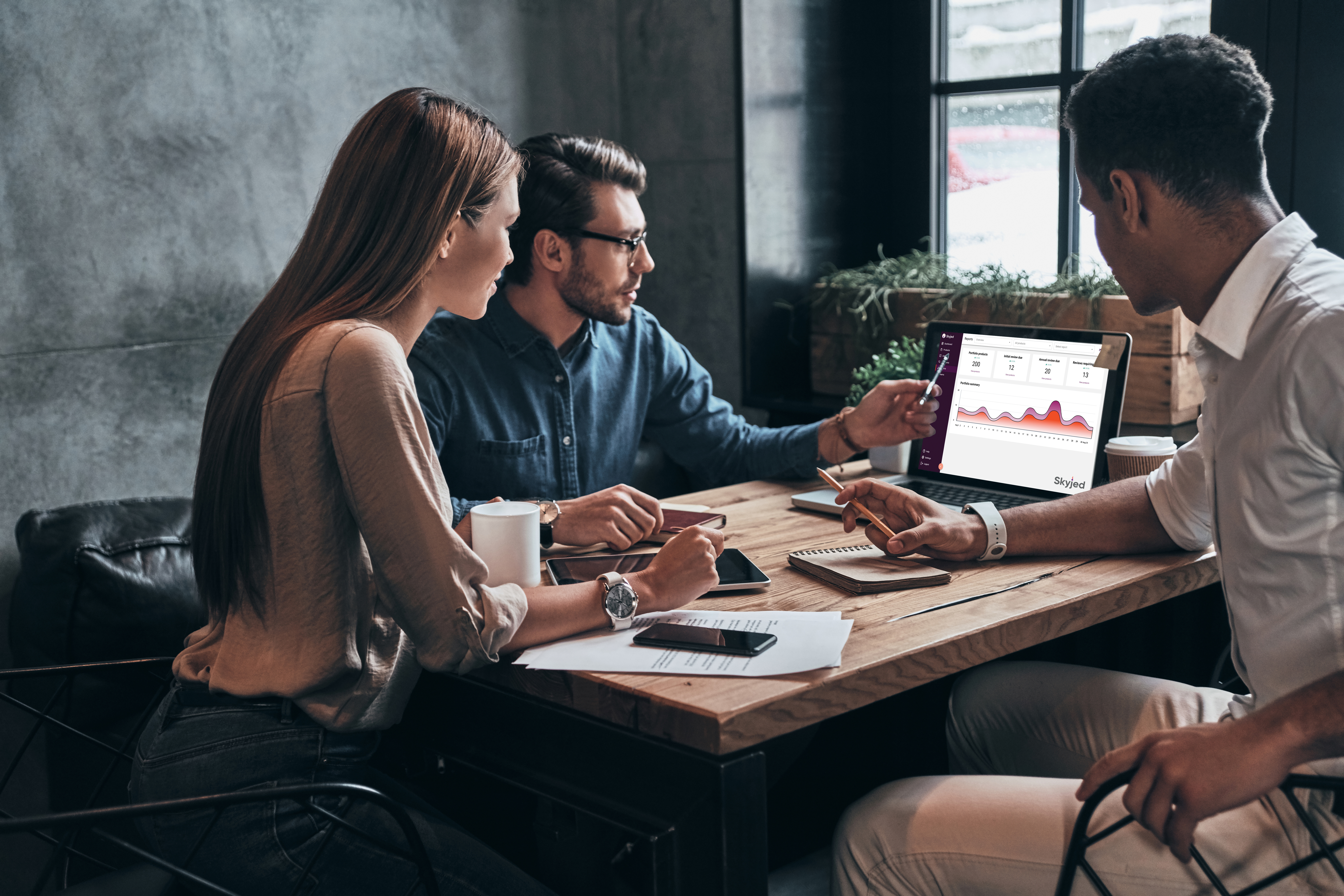 Learn more about Skyjed's Tool Kit for effectively managing the Australian Securities and Investments Commission Design and Distribution Obligations or the Financial Conduct Authority's new Consumer Duty.
The Australian Securities and Investments Commission (ASIC) is calling on industry with heightened attention recently for superannuation trustees to improve the effectiveness of target market determinations (TMDs) after a sample review found poor practices.
The regulator reviewed a sample of 55 TMDs prepared by 27 superannuation trustees across the industry for both accumulation and retirement products.
TMDs are an important requirement for all financial products under the design and distribution obligations (DDO) which were introduced in October 2021. DDO has been designed to ensure that a customer-centric approach is embedded into every financial organisation as part of a Product Governance framework and to ensure the protection of consumer and product trust.
"The design and distribution obligations were introduced to improve consumer outcomes," said Danielle Press, commissioner at ASIC. "As product issuers, it is the fundamental responsibility of trustees to know their product offering and who it is right for."
Under DDO, financial organisations (product issuers) are required to create a Target Market Determination (TMDs) in relation to their financial products. A TMD is a mandatory and important public document that sets out the class of consumers (the target market) a financial product is likely to be appropriate for.
When a TMD is created for a product, financial organisations/issuers need to ensure they consider the design of the product and the product's key attributes in determining and defining the applicable target market for the product. The product's key attributes is expected to be consistent with the likely objectives, and the financial situation and needs of the target market.
A TMD also defines the product settings relevant to how the product will be distributed, monitored, and reviewed to ensure there are measures and controls to reduce the risk of consumer harm. This involves setting review triggers as early indicators for further investigation. Regular monitoring and reporting need to also be in place to ensure that if products digress from the target market determination, product issuers have a way to monitor this and take action.
Reducing the risk of consumer harm through product design and distribution obligations is one of the top priorities included in ASIC's corporate plan for the next four years from 2022 to 2026. ASIC will continue to take the action required to prevent consumer harm and cease poor conduct through continual surveillance and reviews.
It's not all bad news as ASIC also highlighted organisations are taking the steps to ensure a governance framework is in place and working which is reassuring but it seems more work is also required to ensure consistency across the industry.
"Some of the target market determinations that we looked at gave us comfort that they may be part of a well-designed and comprehensive governance program. However, others by their lack of specificity raised questions about the underlying arrangements that trustees have in place to ensure their products reach the right consumers" Ms. Press said.
Skyjed's product lifecycle management and governance tool can help organisations set, monitor, review, record, and meet DDO obligations. It can also assist organisations/product issuers in securely sharing and automating the collection of information from their distributors for monitoring and reviewing target market determinations, and their metrics and obligations. Skyjed's solution automates your product review triggers, review cadence, monitoring, and record keeping.
At the time of implementing DDO, Head of Strategy & Product, Michael McCormick validated that "Skyjed has reduced the amount of time spent on manual processes and implementation by 50%. They make ongoing management and monitoring of the Product Governance Lifecycle Framework and DDO very easy. The Skyjed solution will do most of the work for us..."
ASIC Key Observations
Review of 55 TMDs prepared by 27 superannuation trustees across the industry for both accumulation and retirement products.
Defining target markets
All the TMDs reviewed by ASIC described target markets however there were key differences.
The TMDs that indicated better product insights and provided definitive target market definitions for the intended target market used additional demographic parameters such as age, occupation, industry, and other specifics such as minimum investment balance.
When specific information is provided in a TMD it makes the process clearer for distributors to confidently determine if a product is appropriate when considering products for their customers.
However, there were also TMDs that used descriptions of consumer classes that were too broad to be meaningful or understood in the context of being suitable for a target market, e.g., 'those wishing to save for retirement.
ASIC recommends that issuers:
clearly define the intended target market against the product and its key attributes.
when describing classes of consumers sufficiently cover the factors indicating product suitability for the relevant consumers.
clearly articulate the target market for each product and the differences between the products in TMDs that cover multiple products.
Describing investment sub-markets
Over 80% of the TMDs described elements of the submarkets for their investment options, including objectives, risk level, and minimum timeframes.
There were however some broad objectives and non-numerical timeframes used, e.g., 'high-growth' or 'long-term' which are too broad and need to be more specific.
In this example, objectives should be specific and comparable, with the use of quantifiable investment objectives or identifiable benchmarks and commonly adopted measures (e.g. the Standard Risk Measure), with the minimum timeframe for each investment option expressed in years.
These should also be consistent with other product documents, such as the product disclosure statement.
Setting review triggers
There were trustee examples that implemented consumer-centric review triggers that were specific and comparable over a set period such as:

investment switching or insurance cancellations.
members moving in or out of the product; and
investment performance, including APRA's Choice Heatmap.

However, there were also review triggers that were too broad and not specific enough to determine when a review of the TMD would be triggered, e.g., 'persistent' level of complaints or 'significant' member movement.
ASIC recommends for example:
super trustees consider how insights from complying with their Member Outcomes (MO) obligations are incorporated into their product review triggers.
Setting review periods
Most trustees nominated the initial TMD review period of up to one year.
Greater attention and importance is needed to address ongoing review periods as almost 50% of trustees set two or three-year periods for ongoing reviews.
Review periods are an additional prompt for trustees to check if their TMDs are still appropriate.
ASIC recommends:
trustees use annual review periods to utilise the insights obtained from their MO obligations.
Distributor complaint reporting
Regular complaint reporting allows trustees to stay informed about their product and to assess whether the TMD remains appropriate.
ASIC found 82% of the TMDs required distributors to report complaints in periods of three months or less.
The remainder had reporting periods of either six or 12 months.
'Trustees must not adopt a 'set and forget approach to their target market determinations. Failure to review them regularly and take corrective action can result in harm if the product is inconsistent with the objectives, financial situation, and needs of consumers in the target market. ASIC is now focussing on compliance with the design and distribution obligations, and we will move to enforce the obligations where necessary,' Ms. Press said.
ASIC DDO interim stop orders and targeted surveillance to continue and a key focus in the ASIC corporate plan for 2022 -2026
Recent ASIC stop orders in July 2022 and September 2022 show the importance of having appropriate TMDs and DDO-centred product governance and monitoring solution in place before distributing financial products.
ASIC has recently placed interim stop orders on the offer and distribution of two managed funds directly to retail investors and in July to three financial firms in response to deficiencies in the funds' target market determinations (TMD).
If ASIC's concerns are not addressed, final stop orders will be placed on the funds. All responsible entities involved have an opportunity to make submissions to ASIC before any final stop orders are made.
The ASIC corporate plan will undertake "targeted risk-based surveillances" as part of its design and distribution obligations reforms project and will take action to prevent potential consumer harm where necessary on key financial products including insurance, credit offerings, and superannuation.
Furthermore, ASIC will analyse consumer experiences concerning home insurance claims, especially disasters, and identify poor claims conduct or unfair practices. This will include engaging with insurers over pricing and unfair claims practices.
ASIC has also listed other priorities including sustainable finance and protecting consumers especially retirees from unsound superannuation products or managed investments and financial advice.
"Companies are increasingly reporting sustainability-related risks and opportunities as these become an important focus for investors and stakeholders," it says. "With sustainability-related investment growing, there is an increased risk of greenwashing."
The ASIC corporate plan released in August 2022 is available here.
Solve for DDO / new Consumer Duty with Skyjed
Skyjed's product lifecycle management and governance tool can help organisations set, monitor, review, record, and meet DDO obligations end-to-end including Skyjed Connect, our automated Issuer/Distributor solution.
Skyjed Connect assists organisations/product issuers in securely sharing and automating the collection of information from their distributors for monitoring and reviewing target market determinations and their metrics and obligations for example.
Skyjed's solution automates product review triggers and record keeping.
Here's what some of our financial customers are saying about Skyjed


Find out how your product teams can be equipped for product governance, and product excellence whilst saving time, automating mundane tasks, and providing rich insights and early warning of strategic or risk mitigation risks for further investigation.
Skyjed DDO and TMD Tool Kit
1. How to develop a Target Market Determination and what to cover.
What goes in a TMD?
Target market description
Distribution conditions
Product Review Triggers
Product Review Frequency
Distribution information
2. Design and Distribution Obligations Checklist
Product governance and oversight ensure that your customers' interests take on central importance throughout your product lifecycle decisions. We have designed a Chief Product Officer's governance checklist for setting out the processes and controls that help you design propositions and products that customers value.
This checklist is especially useful for implementing product governance to meet the requirements of ASIC's Design and Distribution Obligations (DDO).
3. Skyjed's DDO and TMD Masterclass Series.
Checkout Skyjed's Masterclass series including:
Creating Best Practise Target Market Determinations
Solving product distribution challenges for DDO
CEO Leica Ison and Senior Customer Success Manager Sue Sivam-Raja share best practice learnings on how to create Target Market Determinations to ensure they are effective and compliant. Insights include multiple industry roundtables on DDO and how to avoid common TMD mistakes, eliminate ambiguous or broad qualification criteria, and set triggers and thresholds for effective TMD management.
4. Skyjed's Automated Review Triggers workflow solution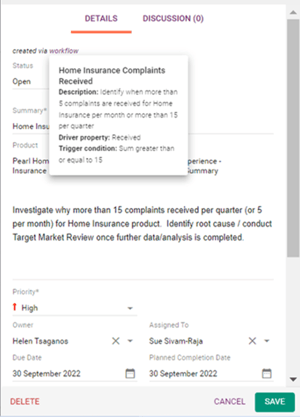 Product monitoring trigger workflows are a way to monitor the strategic or risk events and objectives in your product and will significantly improve your product lifecycle management including early warnings for strategic events including TMD risks, or other important growth levers, competitive intelligence, product performance, and non-financial metrics.
Skyjed's platform can automate triggers in a workflow to make the entire product management process faster, strategic, and more efficient. Triggers are ideal for customer complaints, sales data, cancellations, margin decline, market share decline, and so on.
Review Triggers provide advanced warning that you need to adjust your product strategy and goals. We recommend you set triggers around areas like a number of customer complaints, changes in sales volume, and changes in product cancellations as a minimum for example.
5. Financial Conduct Authority's (FCAs) Consumer Duty is similar to Australia's DDO
The Financial Conduct Authority (FCA) has confirmed its plans to bring in a new Consumer Duty. It will set higher and clearer standards of consumer protection across financial services and require firms to put their customers' needs first.
The Financial Conduct Authority (FCA) regulates the financial services industry in the UK. Its role includes protecting consumers, keeping the industry stable, and promoting healthy competition between financial service providers.
The Duty is made up of an overarching principle and new rules that will need to be followed. It will mean that consumers should receive communications they can understand, products and services that meet their needs and offer fair value, and they get the customer support they need when they need it.
The Duty will include requirements for organisations to:
end rip-off charges and fees
make it as easy to switch or cancel products as it was to take them out in the first place
provide helpful and accessible customer support, not making people wait so long for an answer that they give up
provide timely and clear information that people can understand about products and services so consumers can make good financial decisions, rather than burying key information in lengthy terms and conditions that few have the time to read
provide products and services that are right for their customers
focus on the real and diverse needs of their customers, including those in vulnerable circumstances, at every stage and in each interaction
The Consumer Duty represents the biggest change to the retail market and will lead to material changes in the way in which organisations will have to think about conducting their business with retail customers.
For new and existing products or services that are open to sale or renewal, the rules will come into force on 31 July 2023. For closed products or services, the rules come into force on 31 July 2024.
The implementation of Consumer Duty will require firms to ensure they implement product governance frameworks and effective monitoring tools for the ongoing design, monitoring and review of products and ensuring they meet the obligations required to achieve consumer protection across financial services.
Getting product lifecycle management and governance right with the right tools is critical to success.
Skyjed now comes with an automated sign-up with our free Starter Tier (with no payment details needed) and an array of starter features to get you started including:
A selection of popular ready-to-start product design and product review templates such as Lean Canvas, Launch Ready Review, Product Strategy & Growth, Annual Product Reviews, and more.

Skyjed's templates guide you every step of the way or you can easily customise your own templates in minutes to suit your business goals.

Our AI-powered platform enables you to plan, design, monitor, and review your products with product health check scores, dashboards, and insights.

Collaboration is so easy with your virtual team and includes automated review workflows, automated trigger workflows, actions and comments management, version control, record keeping, and more.
The beauty of Skyjed is that it is flexible to suit your goals whilst enabling product excellence and more time to spend on growth.
When you sign up to Skyjed on any of our tiers, you get access to a selection of best practice Product Design and Audit Templates.
These templates have been created using input from product leaders around the world and are designed to help you meet your specific business goals whilst helping you drive towards product success.
Below is the list of our carefully curated:
Product Design Templates.
Launch Ready Checklist – assess the launch readiness of your product in the early design/test phases.

Lean Canvas – proven 1-page business plan template that helps deconstruct your product concept into its key assumptions and then export it into the one-page Lean Canvas template or standard word/ PDF format.

Product Strategy – outline your high-level plan describing the vision and objectives for your product and how to achieve this.

Target Market Design – versatile template to define your target market, triggers, and review cadence.
Product Audit / Review Templates:
Annual Product Review - This review is an extensive end-to-end 360° review of your product's performance across all 5 of Skyjed's domains of product health. It delivers deep insights into where you have opportunities for growth as well as risks to mitigate and is the gold standard in comprehensive in-market product reviews.

Customer Experience Review - Assess the strengths, opportunities, and shortfalls of your product as you put your customer's experience first.

Launch Ready Review - Assess the readiness of your product in this all-encompassing launch review process before you go live on your next product or product feature.

Lite Product Review - This is a high-level 360° review of your product that you can conduct half yearly or with a more regular cadence.

Product Growth Review - Focus on Product Growth, Revenue, and Innovation to drive success for your product objectives.

Target Market Review - Conduct regular monitoring reviews for consistency and compliance with regulatory obligations
Deriving a Product Health Check score is super easy in Skyjed.
As you conduct your product reviews using any of our Audit templates, Skyjed's powerful AI engine will produce a health check score out of 100 as well as insights into where you have opportunities for growth and areas of risk to mitigate.
Measure your product health check scores easily with our Audit Templates and get started today!
About Skyjed
Skyjed is an AI-powered digital product lifecycle management and governance SaaS platform that acts as the single source of truth for product design, health, performance, and governance.
Skyjed is an ISO-27001 accredited solution. It is designed to drive growth and enable product teams to strategically design and monitor products with automation smarts and faster insights to make data-driven decisions with confidence.
Skyjed's commitment to innovation and our customers has been rewarded with several industry recognitions including Technology of Year – Finalist in the UK Tech & Innovation Awards 2022, Finalist in the AFR Most Innovative Company 2022 and AFR Sustainability Awards 2022 and Regtech Female Founder of the Year 2021.
Experience the unique features of Skyjed:
AI-powered modern product lifecycle management and governance solution

Flexible to achieve different business goals

Pre-built design, monitoring, and review templates or easily build your own

Automated workflow triggers so you can identify opportunities as they emerge or monitor risks before they take hold

Access boardroom-ready product governance and product insight reports and dashboards

Team collaboration with review and approval workflows, actions & comments management, version control, and record keeping

Integrated workspace with product planning and scheduler capability