Digitise your product lifecycle governance to save time and money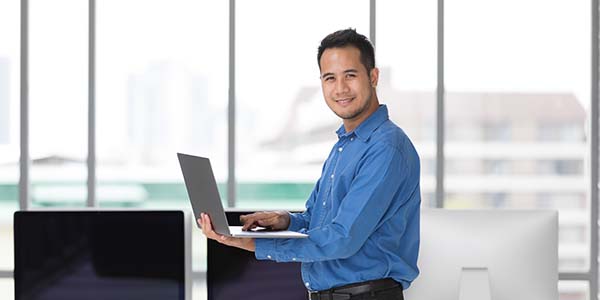 You have updated to agile product development, but lifecycle management lags? With the growing strategic importance of product lifecycle governance and increased regulations, it's little wonder that Chief Product Officers have little time to retool their post-launch product management. Working with Skyjed, your company can achieve a successful product governance compliance - DDO, MiFID II, ESG — demonstrating your company's commitment to high growth and product governance compliance — cost-effectively, in less time.
A recent global survey of product leaders across Europe, the US and AsiaPac found that over 70% said their product management could be working better. Many must rely on disparate systems to piece together strategic growth plans and monitor product risks and compliance. The combination of disruptive change and the increased need for more reporting means from many systems translates into inefficiencies. And the costs in team productivity and effectiveness are high.
‍Now, it is possible to automate your product lifecycle governance.
‍Skyjed provides a suite of intuitive tools for product and compliance teams to transform and improve on — the manual processes previously take hours to complete. The tools are ideal for lifting the standard of your product management or getting ready to monitor your TMD's for product governance eg DDO or MiFID II reporting.
A Product Design and Monitoring workspace that covers the complete toolset for product design and distribution obligations monitoring - create Target Market Determinations TMD, automate monitoring steps, set up product review triggers, reporting and record-keeping to reduce the cost and complexity. Here you can watch a short 8 minute video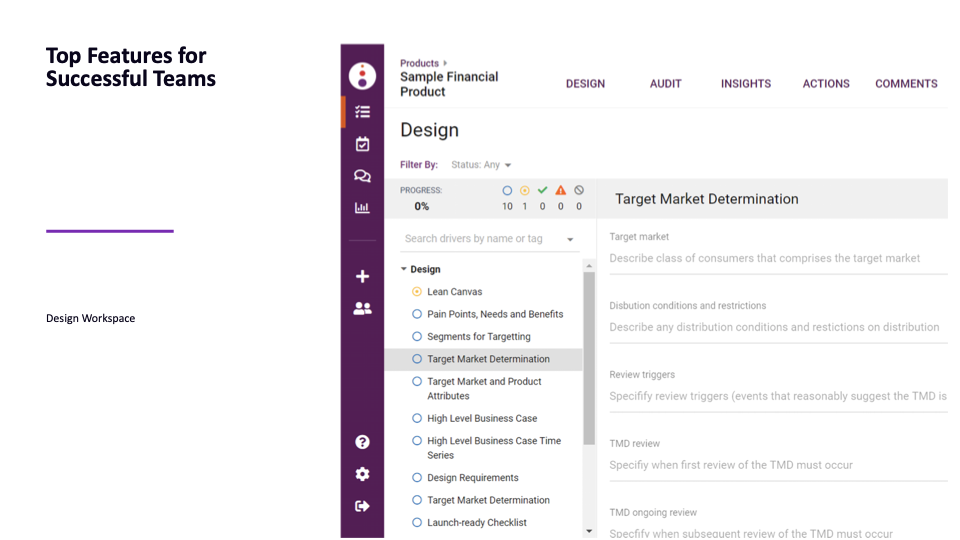 ‍Skyjed's solution integrates easily into your product management and company-wide risk solutions and we encourage you to see automated lifecycle governance as key part of your product management.
Its time to move to a cloud-based product lifecycle management and governance.
Skyjed provides to you the power of an artificial intelligence product lifecycle and governance solution with the cost-effectiveness of a cloud solution. Here are the 5 benefits of digitising your lifecycle governance with Skyjed:
Best practice product lifecycle governance framework built-in.
End-to-end product management - everything you need from product planning to development, go-to-market and lifecycle monitoring of new and existing product portfolios – with automated product design, monitoring, product triggers, reporting, record keeping and built-in action and risk management
Virtual collaboration from anywhere
Skyjed's cloud based product management solution is build by-product management experts and systems engineers for easy collaboration - browser-based, mobile-friendly. They enable to you create a virtual product team in minutes from anywhere around the globe.
Skyjed enables you to get up and to running in minutes with guided tutorials and customer success teams – so you can establish best practices quickly and cost-effectively.
Automatic disaster recovery, best practice data security with ISO 27001 certification and global coverage and scalability to meet dispersed office requirements and regional data sovereignty.
Integration to suit your needs.
Remove the manual data input effort with range options to suit your business needs from CSV uploads to open API and enterprise SSO for your peace of mind.
The range of affordable subscriptions that add real value and suit businesses of all sizes means you don't need complex IT projects or large consulting teams for best practice digital product management and disciplined product oversight. Customers report that using Skyjed lifts the standard of their product management in 90 days through best practice tools, consistency and reduced administration and reporting.
Automation saving time and money
Working with Skyjed, your company can achieve a successful product governance compliance - DDO, MiFID II, ESG — demonstrating your company's commitment to high growth and product governance compliance — cost-effectively, in less time.
A product manager can save 8 hours per week on reporting in the first month. For a team of 10, that over 80 hours are reserved for growth initiatives.
Bonus: Benefit of choosing a Software as a Service solution SaaS:
Dramatically reduced cost of Enterprise grade software

No infrastructure - just internet connection

Simple per user per month charge

No set up fees, no underlying license costs

Roll out in minutes

Scales from 1 to thousands of users

Configurable by users – no hard coding or developer requirements

Enterprise grade security
I‍f you are ready to set up your product monitoring for DDO, and you'd like to save time on product governance - consider Skyjed to streamline your product management and governance.
So if you want to finalise your framework and consider a tool to automate the important functions get in touch. Request a demo and proposal request a proposal here
About Skyjed
Skyjed is product lifecycle and governance platform. Skyjed's Ai-powered end-to-end product platform bring together every data point across the entire product portfolio into a single source of product truth. Skyjed was founded in 2017 and is headquartered in Sydney, Australia. For more information visit Skyjed