Discover Skyjed's Best Practice to Product Sustainability
For too long, we have been adopting production and consumption patterns that violate the laws of nature and have contributed to deteriorate the environment in which we live and do business. As a result, we are increasingly facing sustainability dilemmas.
Take some time to reflect on the way in your organisation products and services are produced/provided and consumed and how this impacts the environment and society.
In most cases, you will see that the impacts are multiple and often interconnected, here are some examples: excessive greenhouse gas emissions, misuse of materials and waste, perpetuation of social inequalities, modern slavery risks in supply chains, biodiversity loss, and others.
If we aim at being competitive and sustainable organisations, we are better off by acknowledging the planetary boundaries and acting accordingly.
From a product lens, this means we need to rethink the way products and services are designed, produced, used and disposed and how organisations are managed.
The challenge
In recent years, we have seen an increase in the number of companies adopting sustainability strategies that impact products and services lifecycles.
On one hand, success is achieved when there is good alignment and strategies, organisational capabilities, resources and management systems are ordered to support the organisation's purpose.
On the other hand, sustainability strategies are more likely to fail, where siloed approaches, lack of collaboration with stakeholders, data gaps, solely compliance-oriented approaches, and others make it difficult for executives to oversee the ESG performance comprehensively.
What's Skyjed's recommended move?
At Skyjed we foster the adoption of Product Lifecycle Governance as a holistic approach to managing products and services throughout the entire lifecycle and embed sustainability considerations that align with the broad organisational strategy. Such an approach encompasses strategic planning, risk assessment, continuous monitoring, and adaptive decision-making.
How can the Skyjed platform help you?
The Skyjed platform enables Product Leaders, Managers and CEOs to capture and use financial and non-financial data as a strategic resource to make informed decisions and drive growth across 6 domains of product health:

Once the data is captured, the Skyjed platform facilitates the continuous monitoring and improvement of the product/service throughout its lifecycle.

Environmental, Social and Governance (ESG) data are crucial for informing sustainability related decisions. The Skyjed's "Sustainability" domain focuses on ESG factors that pertain to the product/service lifecycle and have a material impact on the product/service success. The Skyjed's platform offers a simple and structured framework to enhance the overall product/service ESG performance:

♦ Set up a new product/service/portfolio
♦ Create a team with an ESG focus and start collaborating
♦ Design sustainable products and lifecycles
♦ Connect with distributors, suppliers and relevant stakeholders to exchange ESG data
♦ Monitor ESG goals and manage ESG risks
♦ Make continuous improvement of ESG performance of products and services.

Remember that the end goal is for you to transition the product/service lifecycle into a more sustainable one and support the product strategy with the right insights!

A more sustainable product/service is one that is economically viable and also:

♦ Produced/provided, distributed, consumed and disposed of in a socially responsible way (e.g., using clean energy sources and saying no to modern slavery practices in the supply chain)
♦ Developed with ESG risks and opportunities in mind
♦ Not causing health or safety concerns during the production, supply chain and for consumers
♦ Compliant with sustainability requirements and ESG reporting
♦ Free from greenwashing.



So, where do you start?

Take action towards a more sustainable approach to product lifecycle governance and start using Skyjed's Sustainability tools that are readily available in our Design and Monitor workspaces.

Design Workspace

Here you can get started with designing a socially and environmental new product or service or plan the transition of an existing product/service lifecycle into a more sustainable one.

The Design 'Sustainability' template guides you through the following tasks:
Sustainability Get Started

– ensure alignment to any existing ESG organisational strategy and start planning the ESG priorities for the product lifecycle.

ESG Team

– build a cross-functional team that will be able to help with ESG risks, opportunities, and impact assessments.

ESG Materiality Assessment 1 and 2

– identify what ESG issues emerge in the product/service lifecycle and define the priorities, as per GRI guidelines.

ESG Opportunities

– identify ESG driven market opportunities for enhancing existing products, creating new products or reaching new customer segments.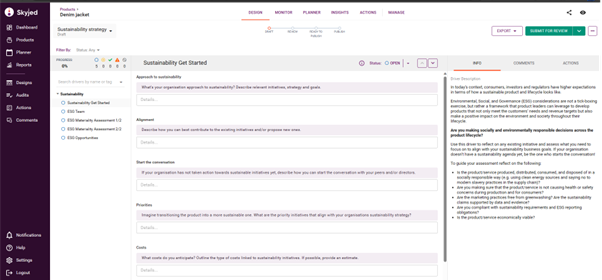 Image 1: Skyjed Sustainability Template
Monitor Workspace
Here you can get started with setting ESG goals, monitoring and improving the ESG performance of the product across its lifecycle.
The Monitor "Sustainability Review" template guides you through the following tasks:
ESG Risks Rating

– identify and rate ESG Risks that can have a financial impact on the product and affect the performance.

ESG Goals and Metrics

– monitor the top ESG goals and related initiatives. These goals and initiatives have a high impact on the product/service growth and success.

Environmental Goals and Metrics

– monitor environmental goals and related initiatives that align with the organisational and product strategy.

Social Goals and Metrics

– monitor social goals and related initiatives that align with the organisational and product strategy.

ESG Data

– keep an inventory of the ESG Data used and plan for data quality improvement.

Avoid Greenwashing Launch Checklist

– self-assess ESG disclosures and prevent the risk of Greenwashing.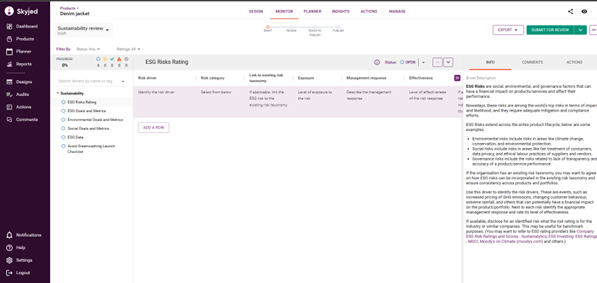 Image 2: Skyjed Sustainability Review Template
What's next?
Contact us today so we can assist you in setting up the Sustainability templates! We also get you started with the wider range of Skyjed's platform features that support you to implement the sustainability strategy as well as achieve your product ESG goals.
About Skyjed
Skyjed's AI-powered end-to-end lifecycle and governance platform is mission control for product management. Bringing together every data point across your entire product portfolio and lifecycle into a single source of product truth, it gives our clients a new perspective to make more strategic lifecycle decisions to launch, monitor, optimise, and win with brilliant products.
Our industry-leading platform has received numerous awards and recognition from clients and industry bodies, demonstrating our commitment to innovation and excellence.
Watch our Skyjed demo
If you want more information Contact the Skyjed team.