Scaling your product growth capability with Skyjed's free Starter tier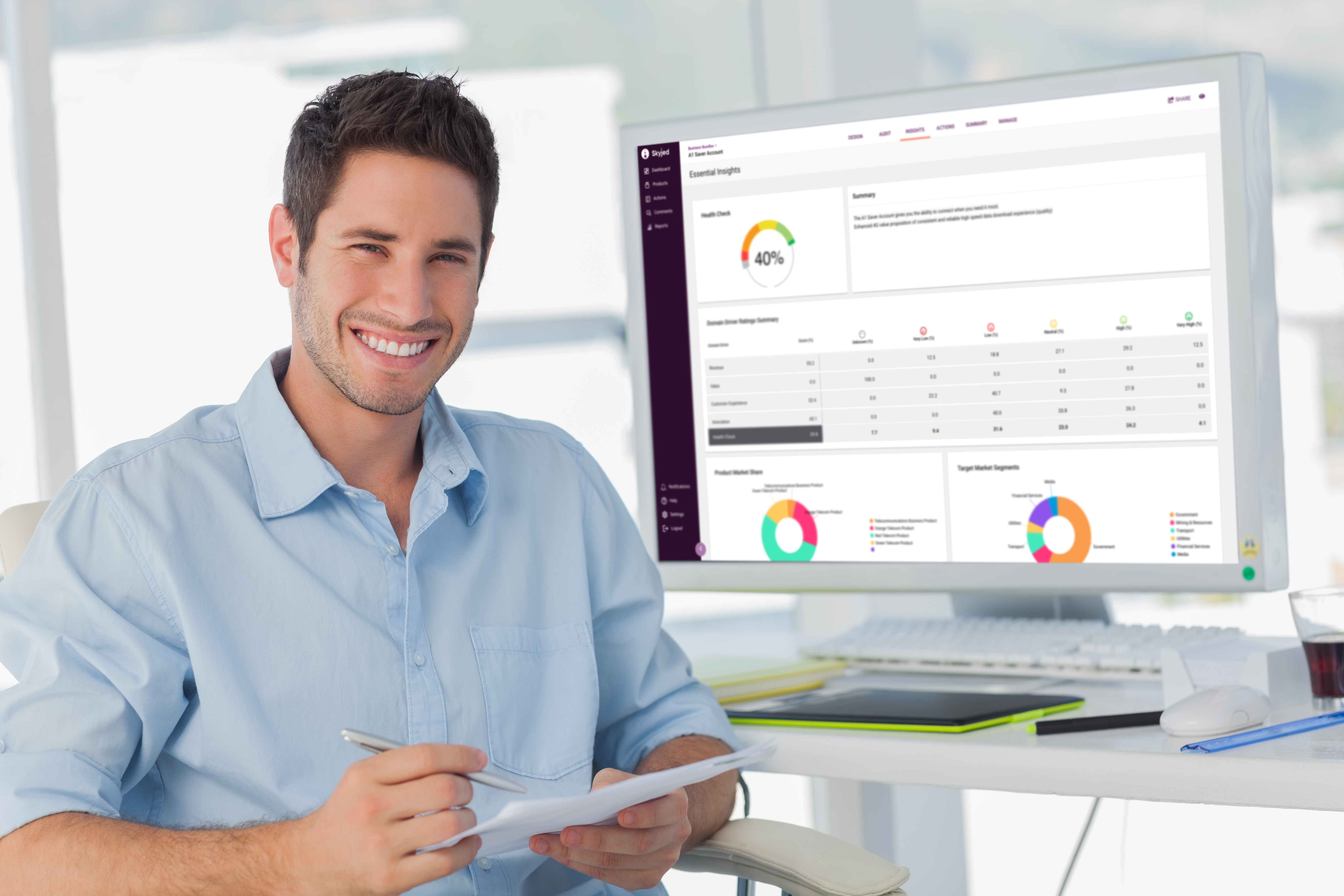 Need a hand scaling your product growth capability or building a team with a cloud-based tool kit and framework to drive product excellence, governance, and growth?
See how you can start in minutes with Skyjed and automate mundane tasks to give back time for strategic action.
Imagine you can complete important product design or review documents including product strategy, lean canvas, product growth or annual product reviews in an automated way that saves you time and drives and enables the insights you need with templates ready that guide you succinctly through the process.
Add automatic planning, automatic document layouts, automatic record keeping and versioning, automated team collaboration and review workflows, automated comments and actions management, automated approval controls, reporting, risk reports, insights and more… imagine….
Imagine you can start this in minutes with easy team colloboration and reviews and complete this in hours or a few days at most versus weeks and weeks of work with a template that guides you every step of the way in a cloud-based platform?
Couple this with Skyjed's patented product health check score that indicates where your areas of risk and where your areas of opportunity exist, you are well equipped to strengthen and enhance your product strategy.
The answer you ask…. Skyjed
With Skyjed, you can start creating your product framework documents in just a few quick simple steps with our guided templates.
Skyjed now comes with automated sign up with our free Starter Tier (with no payment details needed) and an array of features to get you started including:
A selection of popular ready to start product design and product review templates such as Lean Canvas, Launch Ready Review, Product Strategy & Growth, Annual Product Reviews and more.

Skyjed's templates guide you every step of the way or you can easily customise your own templates in minutes to suit your business goals.

Our AI-powered platform enables you to plan, design, monitor, and review your products with product health check scores, dashboards, and insights.

Collaboration is so easy with your virtual team and includes automated review workflows, automated trigger workflows, actions and comments management, version control, record keeping and more.
The beauty of Skyjed is that it is flexible to suit your goals whilst enabling product excellence and more time to spend on growth.
However, one of my favorite features is that when you complete your first annual or quarterly product review, and you commence your second review (which is scheduled with reminders sent to you) it automatically presents the information to you from the last published review. No more time spent trying to find where it is…
This allows you to review the most recent information and reflect if any thing has changed since the last review. You only need to update where there have been changes and you don't spend half your time trying to find or look up the previous review outputs.
Skyjed's pre-built Product Review templates guide you to consider and input key areas of product health. For example, the annual product review which is our most comprehensive guides you through 30 information input drivers across 5 domains of product health.
Some examples include:
Revenue – Product description, value proposition, pricing, competitor and channel analysis, product share, revenue, and sales.
Value – drivers of cost, margin analysis and supply chain.
Customer Experience – customer journey assessment, customer complaints, product experience and product pain points.
Innovation - technology trends, innovation, growth and product roadmap, industry dynamics and product SWOT analysis.
Regulatory - product obligations, regulatory trends, target market review and modern slavery review.
Take a peek at an example of a Annual Product Review in Skyjed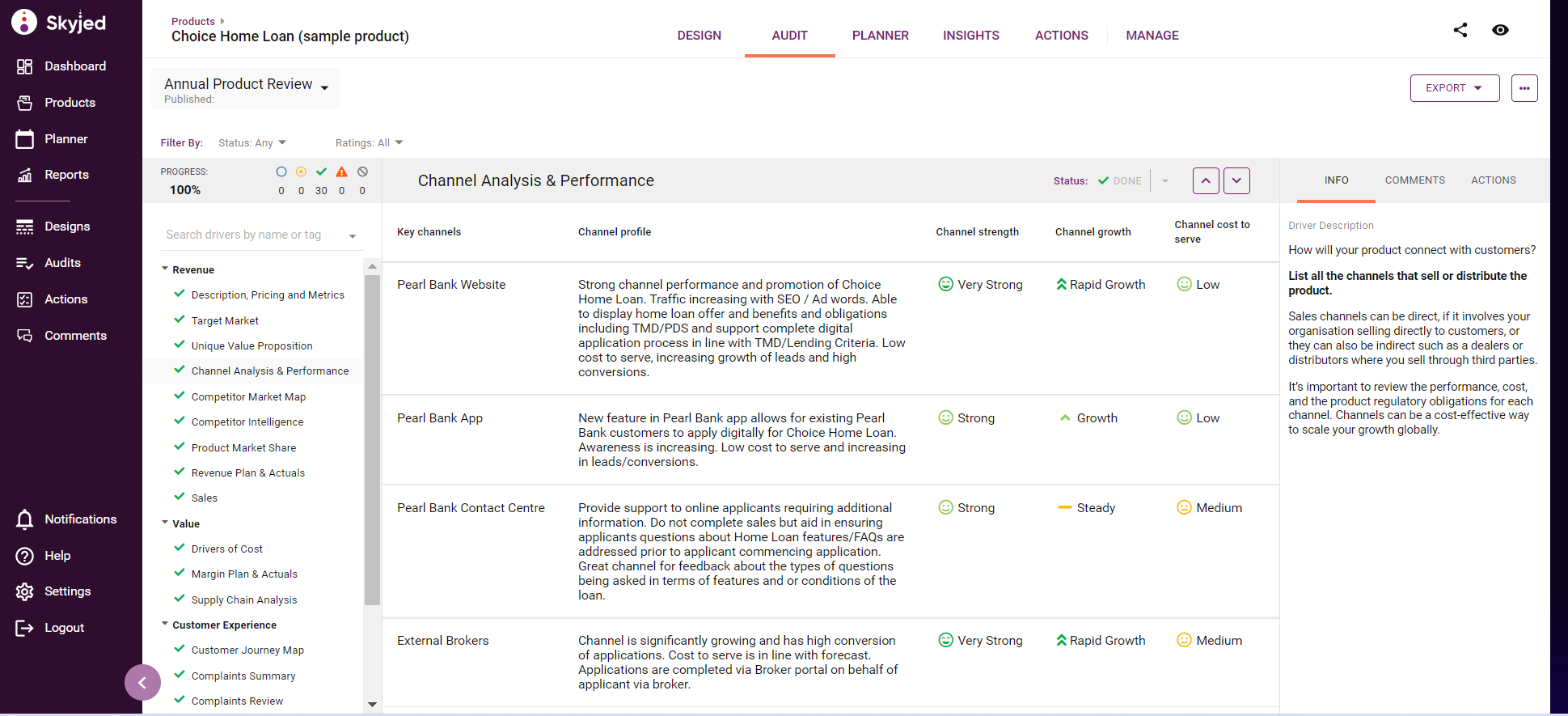 When you sign up to Skyjed on any of our tiers, you get access to our best practice Product Design and Audit Templates.
These templates have been created using input from product leaders around the world and are designed to help you meet your specific business goals whilst helping you drive towards product success.
Below is the list of our carefully curated:
Product Design Templates.
Launch Ready Checklist – assess the launch readiness of your product in early design / test phases.

Lean Canvas – proven 1 page business plan template that helps deconstruct your product concept into its key assumptions and then export it into the one-page Lean Canvas template or standard word/ PDF format.

Product Strategy – outline your high-level plan describing the vision and objectives for your product and how to achieve this.

Target Market Design – versatile template to define your target market, triggers and review cadence.
Product Audit / Review Templates:
Annual Product Review - This review is an extensive end to end 360° review of your product's performance across all 5 of Skyjed's domains of product health. It delivers deep insights into where you have opportunities for growth as well as risks to mitigate and is the gold standard in comprehensive in market product reviews.

Customer Experience Review - Assess the strengths, opportunities, and shortfalls of your product as you put your customer's experience first.

Launch Ready Review - Assess the readiness of your product in this all-encompassing launch review process before you go live on your next product or product feature.

Lite Product Review - This is a high-level 360° review of your product that you can conduct half yearly or with a more regular cadence.

Product Growth Review - Focus on Product Growth, Revenue and Innovation to drive success for your product objectives.

Target Market Review - Conduct regular monitoring reviews for consistency and compliance to regulatory obligations
Deriving a Product Health Check score is super easy in Skyjed.
As you conduct your product reviews using any of our Audit templates, Skyjed's powerful AI engine will produce a health check score out of 100 as well as insights into where you have opportunities for growth and areas of risk to mitigate.
Measure your product health check scores easily with our Audit Templates and get started today!
Get Started today with free Skyjed Starter Tier
About Skyjed
Skyjed is an AI-powered digital product lifecycle management and governance SaaS platform that acts as the single source of truth for product design, health, performance, and governance.
Skyjed is an ISO-27001 accredited solution. It is designed to drive growth and enable product teams to strategically design and monitor products with automation smarts and faster insights to make data-driven decisions with confidence.
Skyjed's commitment to innovation and our customers has been rewarded with several industry recognitions including Technology of Year – Finalist in the UK Tech & Innovation Awards 2022, Finalist in the AFR Most Innovative Company 2022 and AFR Sustainability Awards 2022 and Regtech Female Founder of the Year 2021.
Experience the unique features of Skyjed:
AI-powered modern product lifecycle management and governance solution

Flexible to achieve different business goals

Pre-built design, monitoring and review templates or easily build your own

Automated workflow triggers so you can identify opportunities as they emerge or monitor risks before they take hold

Access boardroom-ready product governance and product insight reports and dashboards

Team collaboration with review and approval workflows, actions & comments management, version control and record keeping

Integrated workspace with product planning and scheduler capability
Download our Product Monitoring & Reviews Playbook to learn more