The Who, What, Where, When & How To Stakeholder Management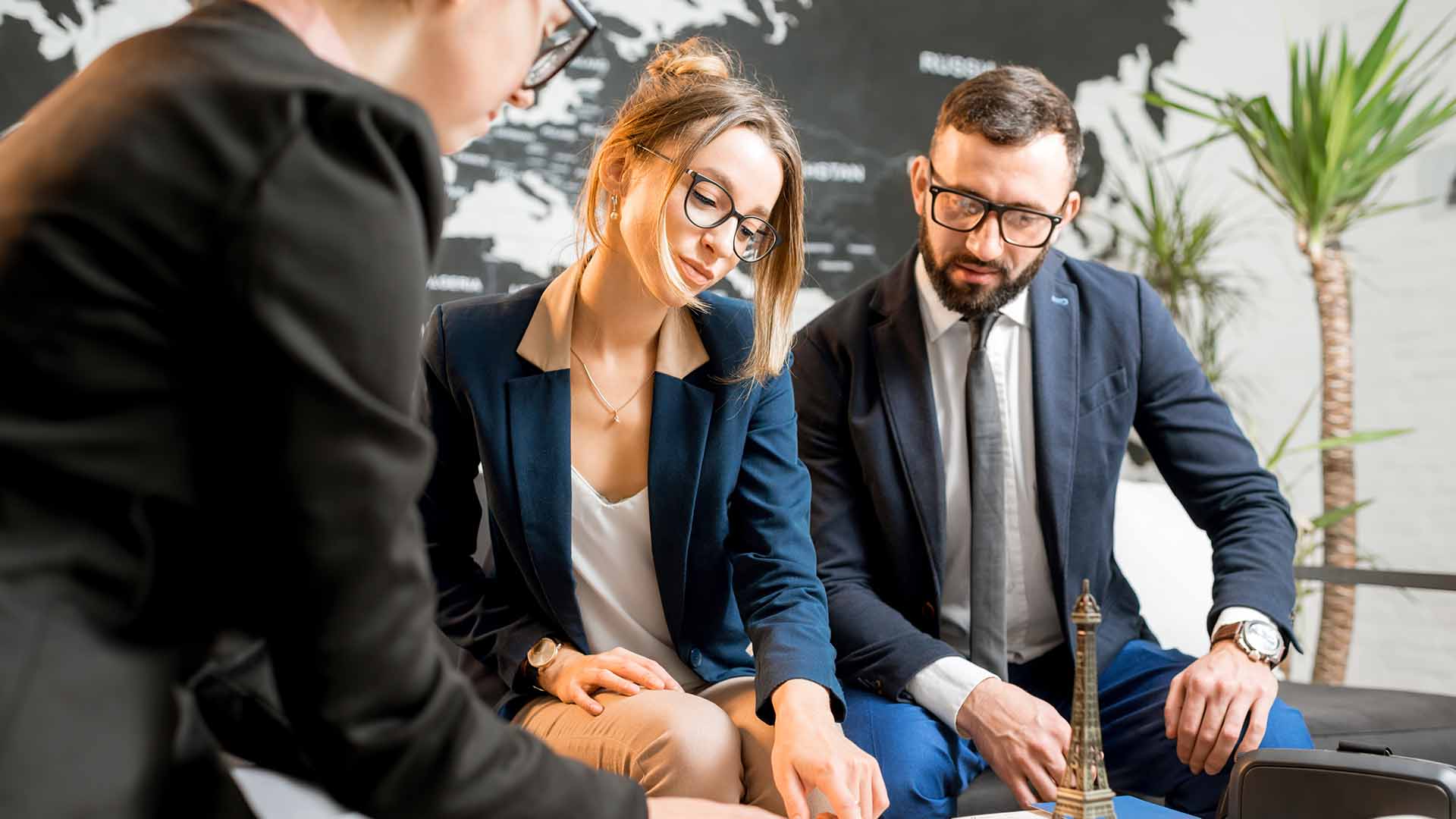 We asked you answered. Our recent LinkedIn Poll uncovered that for 68% or 4.08 in 6 product leaders, 'Resources & Stakeholder' challenges keep them at night. This includes stakeholder management, team alignment, collaboration, changing priorities, and poor prioritisation.
In this first article in our series addressing top PM challenges, we will explore tips for managing stakeholders, keeping team members aligned, and collaborating with ease.
Stakeholder management is critical to the role of Product Managers. As the PM, you have end-to-end accountability and is the voice that listens to all the stakeholders, regardless of which one is "louder".
WHO are your stakeholders?
Identifying your stakeholders is the first step to determining the best way to manage them. Ask yourself, what are this stakeholder's core objectives, and motivation and how would the work I am leading impact them (positively or negatively)? Can they influence product decisions or can they stop me from launching or creating roadblocks? Do they have an interest in the product and its success?
Product leaders in their day-to-day will come across many external and internal stakeholders. Of course, customers are stakeholders too, but they will not necessarily show up by your desk every day. There are five main groups of stakeholders
Technology /

Engineering team (developers, designers, analytics)
Executives (leadership and management)
Sales
Marketing
Compliance and Risks
Your stakeholders will be more likely to listen to you if you justify your decisions with data (for example, user feedback, usage reports, sales details, or competitive information).
WHAT are you working towards?
Alignment is your number one goal when it comes to stakeholder management. It is the first step to building a team that works. Without alignment, your stakeholders may be working towards different goals.
Alignment should be centred on three key areas of the product:
The Vision – Ensure everyone has the same 'North-Star'. What is the desired outcome of the product, service, or feature?
The Outputs – What is the product supposed to do? How is it supposed to work?
The Outcomes - How are users supposed to feel about the product? How does the product or service add value to their lives? Where does it fit in their lives?
WHEN do you tailor your approach?
A great product manager knows exactly who they're dealing with and how to best approach them. You need to tailor your approach every time. Each group of stakeholders has its own pain points and objectives. Remember that just like you, they are measured for success and want to look great in front of their boss and peers.
Consider:
What problems are they trying to solve?
What are their objectives?
What could their motives be?

Do you have joint goals or related goals?
Typically, these stakeholders groups will want:
Developers or Engineers: They want to know the product vision and how their work contributes to the end goal
So, when speaking with them:
be clear about what you want the product or service to do and why
identify how the features will benefit the customer
don't micromanage, don't tell them how to do their job – they love to figure things out themselves. But be available and approachable
Executives: Their core interests lay in the strategy and the big picture. They want to know how the product will contribute to the company's success
So, when speaking with them:
Keep it high level, don't get into the details unless they ask
Be outcome-focused and results-driven
Show enthusiasm and positivity
Tell a story around the product
Sales: They care most about selling more and the sales process including the customer journey. So, they're interested in how the product or new feature will give them a competitive edge
So, when speaking with them:
Always position it to address how it will help them make more sales
Use evidence (if available) to show them how it will help the team's sales numbers
Take their suggestions seriously – sales have direct access to customer feedback. But make sure you test any assumptions before adding new features to the roadmap
Marketing: They want to know the unique features of the product and its core benefits. They also need to know the customer journey and the target market as well as budget and timelines. They can then use these to build a story that resonates with the target market
So, when speaking with them:
Get them involved as early as possible
Identify the target user persona and the product-market fit
Explain how the product is designed to add value and change customers' lives
Empower them to develop a compelling story around the product
Compliance: They want to know if the product is meeting product governance requirements, and care most about making sure the product is compliant
So, when speaking with them:
Start collaborating with them as early as possible
Explain how the product meets the requirements
They want to know that you understand what the regulatory requirements are and where possible breaches may occur
HOW do you hold stakeholders accountable?
As the product manager, your aspiration is to lead the stakeholders to create a better product together. Unless they report directly to you, you can't tell stakeholders what to do, but you do need to influence them and encourage them to follow your lead. You rely on their work, expertise, and support to progress the product.
Effective stakeholder management begins with embracing the right attitude. See your stakeholders as equal partners, and take an interest in their perspectives, ideas, concerns, and underlying needs. Build connections with your stakeholders, trust, and encourage collaboration. Focus on building relationships with your stakeholders so you can get their perspective, understand their concerns and constraints and in this way find the solutions you need.
The key is to build trust, try these techniques:
Empathise – Once you understand their perspectives, ideas, concerns, and objectives, you'll be able to tailor your position in a way that resonates with them
Practice active listening – Actively listen and cultivate an open mind
Speak and act with integrity – say what you believe is true, admit your mistakes and stay true to your word
Get to know the people – Have lunch or coffee together virtually or in-person
Involve people in product decisions (not just feedback) – get them involved in the journey but don't make the error of people-pleasing
Increase your product management expertise
WHERE do you involve your stakeholders?
Different stakeholder groups provide invaluable expertise. It's ideal to involve your stakeholders in the important product decisions. There are generally two ways to go about this. You can either make a decision and then try to sell it to your stakeholders after. This can prove many challenges, lengthy, and requires a lot of to-and-fros, negotiation, and persuasion.
The second option is to bring all the stakeholders together in the same room or video call and decide collaboratively. This capitalises on the group's diversity and collective knowledge and ensures everyone has the same understanding and is aware of what the other stakeholders think and their perspectives.
In theory, this sounds like a smart and efficient idea as you're speaking to everyone at once. But it can be sometimes difficult to control and turn into a steering committee unexpectedly.
To make this process a success, it's important to align and prepare everyone prior to the meeting. Prompt your stakeholders to provide feedback and their expertise throughout the entire process. Get them involved while the work is in progress and work through key concerns, issues or considerations raised.
For example, in Skyjed you can create different teams and funnel specific templates aka documents their way before it proceeds to the next stage.
Clip 1: Creating dedicated teams.
You can also assign or tag specific team members throughout and prompt them for feedback and information.
Clip 2: Assigning comments and actions.
Another useful feature to determining your stakeholder group's point of view is by looking at the Comments history. Here you can filter by team member or stakeholder and can quickly see at a glance their comments, and perspectives.
Image 1: Filtering comments by stakeholders.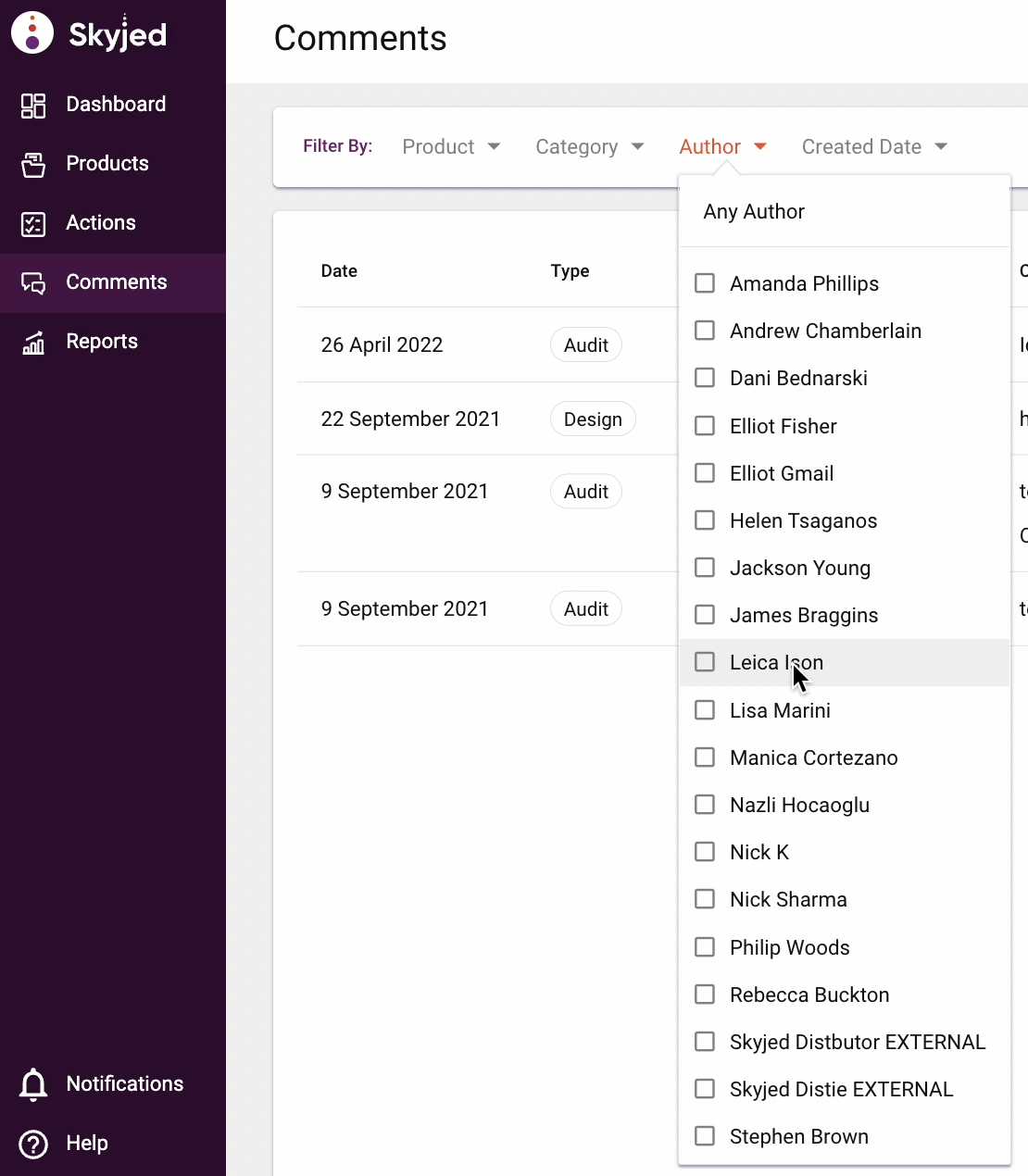 If you'd like to test drive Skyjed in action, contact us to book a trial.
Resources:
Azad Zahoory, Sep 2020, 'Product Management Skills: Stakeholder Management', Product School, accessed 1st May 2022.
Roman Pichler, June 2020, 'Stakeholder management tips for product people', Romanpichler.com, accessed 1st of May 2022.
Phase, Feb 2022, 'The ultimate guide to stakeholder management for product leaders', Phrase.com, accessed 1st of May 2022.
About Skyjed
Skyjed is an all-in-one product lifecycle management and governance SaaS solution that empowers product teams from sunrise to sunset.