What is a Modern Product Governance Framework? And how to Create one.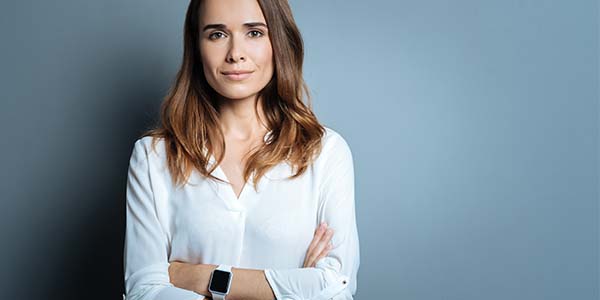 For many product leaders, there is a sense of reality that the workload is never-ending. There are many reasons for that. The nature of the product role itself - wearing many hats, and the fact that product lifecycle managers need to be detailed and strategic. Despite being high achieving leaders - the tools for product lifecycle governance haven't changed in many years.

There is no ignoring the reality that product regulation and ESG are topical issues. The onus is on product leaders to manage how they respond to these essential requirements. Companies need to be aware of this trend in a compliance world and consider how to manage it. Product managers can be at the forefront of all this by adopting a modern product governance framework. Product governance is the oversight of your product portfolio. A product governance framework is the process, tools and mindsets that set the standard for your company's product oversight.
Governments all over the world have passed product governance legislation, including Australia, Europe, and the United States, to collectively improve consumer outcomes and, more broadly, in response to the United Nation's Sustainable Development Goals.
In addition to some common examples such as product monitoring and setting target market determinations for financial products, good product governance also includes monitoring modern slavery in your product's supply chain and climate-related risk in a product.
Best practice product governance deals with how you can use it in the day to day decisions in your product teams. This includes new product development and monitoring the lifecycle of in-life products. In this article, we share a product framework and automation tips to save you time.
Definitions to note
The pillars of product governance: The pillars of modern product governance are phases, stages, checkpoints and roles and permissions, and a governance forum.
Product Governance Framework: These are the processes and controls used to design, launch, monitor, optimise throughout their lifecycle to ensure they meet commercial, customer and regulatory requirements.
Product Lifecycle: is the movement of a product from design to eventual sunsetting phase and exit.
Phases of product governance are design, distribution, monitoring and improvement.
Product Lifecycle process steps: are a structured series of steps - it doesn't matter what you call them as long as they are end-to-end, for example, ideation, shaping, launch, monitoring and improvement.
Checkpoint: This is a gate to control movement to the next step.
Product Triggers: are an effective tool for product leaders to keep on top of product strategy and get early warning of customer issues or strategic events.
Approval controls: assist product managers in improving the quality of their decision-making. Approval control is the review to determine an approval outcome. The outcomes like approval, request changes or comments.
Governance Forum: - is the monthly forum lead by Head Product to oversee the product governance framework. Works best when cross-functional teams attend to collaborate.
Culture: is the shared values and norms that shape the mindsets in an organisation.
Lifecycle owner: plays an essential role in product governance. The key and single person accountable to manage a product strategy throughout its lifecycle. A product strategy must always have an owner.
Template Library: A library of hundreds of automated and simplified templates in Skyjed for product governance and innovation. The templates and continuous monitoring tools help with product management governance.
Automation: The automation of any product governance task or process in a simple workflow tool. Watch this video walkthrough of example
The Target Market: is the group of customers for whom the product is design. Product managers bring to life-solving customer problems with technology or a product.
Product Governance Playbook: contains a description of the plays and strategies used by product teams. It is about how to execute and get things done.
What is in a product framework?
There is a global trend to codify product management. Product governance is not one size fits all, and each product portfolio is different. No process is linear, but you will move through four main phases: design, distribute, monitor and improve. By taking on these four phases, you will have the context you need to make your lifecycle governance implementation successful and manage ongoing requirements.
Design
In this phase, you'll learn how to better understand customer needs. Then, you'll move through discovery, experimentation, shaping a product and ultimately meeting your design and distribution obligations. The design phase is about ideation and shaping new products on the fly, finding new possibilities for existing products, and your ideas will evolve into a commercial solution. Finally, you'll build your team, get smart on your regulatory challenge, and make choices about distribution strategy and conditions.
Distribute
Here you'll prepare to get your idea to market and how to maximise its impact – across your selected distribution channels to maximise commercial success and customer value. First, you will map your distribution conditions and review triggers.
Monitor
In the monitoring phase, you'll oversee your product strategy with your custom life cycle team, make sense of a vast amount of data, and identify opportunities for improvement and early warning of risks.
You'll monitor trigger thresholds, review your TMD and product performance. Then, you'll keep iterating, refining, and making changes until you're ready to exit the product from the market.
Continuous Improvement
Now, this is where you iterate and improve. You'll figure out how to plan and re-plan to meet your performance metrics and refine your product business model. You will keep the customer at the heart of the process and spend adequate time monitoring triggers and design and distribution obligations.
A Product Governance Framework Example
Product governance is indispensable, but no one enjoys the hours of preparation required for annual product reviews or updates to the Governance Forum.
Here is an example of Skyjed's automated solution for product governance. With our no-code setup and workflow builder, you can go from 0 to product governance ready in as little as 3 weeks. The degree of difficulty is low. Ready for the world of product compliance? Take a look at the highly structured series of deliverables and checkpoints across the end-to-end lifecycle.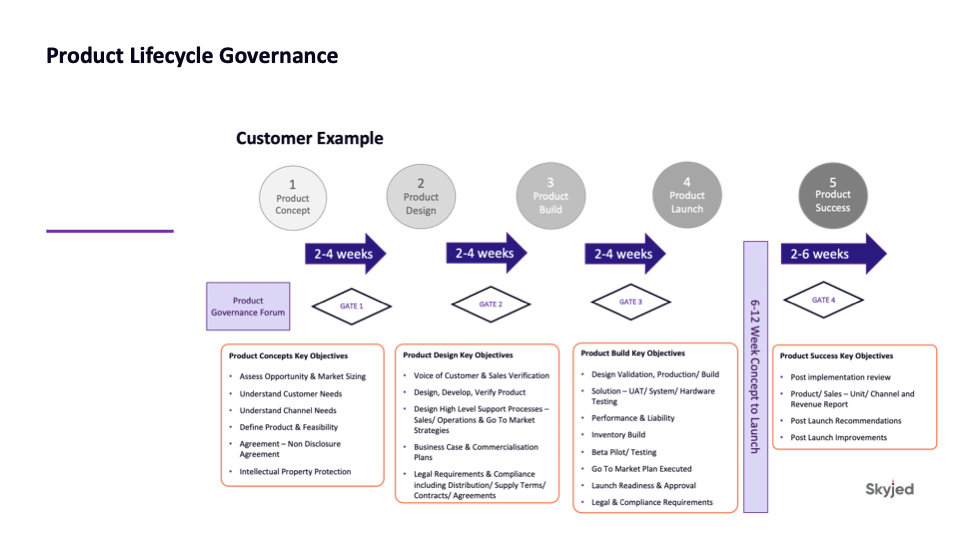 How to create a modern one using templates
You can implement this governance framework and get going without an army of product governance managers - by leveraging the no-code tools in Skyjed like the list below
product design templates with a marketplace of templates for commercial and regulatory requirements
product monitoring and annual review templates
workflow builder to set product triggers in thresholds
bell notifications so you never miss a risk
event scheduler to schedule your one-off and annual product reviews
real-time access to monitoring insights
automated reports for senior briefing management to save time
The top features of this digital product governance framework are:
Stages - doesn't matter what you call them; the critical point is to ensure the settings are end to end. That means you start at a concept or ideations tag through monitoring and optimisation to eventual exist. This example has 5 stages.
Checkpoints - between each stage, you need a checkpoint. The checkpoint provides you with go, no go or holds decisions. You also need precise definitions of what each of the findings really means. We have all experienced a project that didn't get formal approval - but people still kept working on it.
Governance Forum - lead by Head of Product, ideally meets monthly and collaborates with marketing, risk and legal teams.
Target timeframes - setting target timeframes for each stage of your product governance gives product managers a goal to aim for and helps you improve your governance framework. We recommend an annual review of the governance framework.
Product Lifecycle Owner - this means every product strategy needs an owner - at every stage of the lifecycle. The most crucial role is to lead product design and ongoing monitoring.
Master modern product management governance with Skyjed
Skyjed streamlines your product governance with powerful governance tools, reports and continuous monitoring workspace as a foundation to understand product lifecycle across all distribution channels.
Skyjed offers flexible, customisable templates and a workflow builder for your Product Triggers to help get advanced warning of your product governance risk, assign roles and includes your product governance framework documentation.
"Skyjed automates all governance requirements, which means you spend less time on manual tasks and administration of product governance and more time on growth and innovation."
- Andrew Chamberlain, Chief Customer Officer at Skyjed.
As one of our financial services customers explains,
As product management in financial services has become more complex and regulated, investing in technology to support the product lifecycle has increased. As product managers are responsible not only for the decisions they make today but are required to understand and, in some instances, remediate decisions made in the past. Skyjed provides us with a platform where we can now record, track, and monitor these decisions and leaves us with strong record-keeping for future product management teams. Barbara O'Connor Nash Head of Product, Great Southern Bank
Additionally, it has a built-in tool to create your templates without coding - if you have already made your TMD - don't panic - you can simply upload them. As a practical example, we uploaded over 60 TMDs that had been created in a word document into Skyjed workspace in less than 2 hours with complete version control and record keeping.
You can confidently store and track your product triggers and have an entire audit trail in one place. It doesn't matter if you have one Product or 1000 products and distributors - you can be up and running quickly.
So if you want to modernise your framework and consider a tool to automate the essential functions, get in touch. Request a proposal here
About Skyjed
‍Skyjed is a product lifecycle and governance platform. Skyjed's Ai-powered end-to-end product platform brings together every data point across the entire product portfolio into a single source of product truth. Skyjed was founded in 2017 and is headquartered in Sydney, Australia and London the United Kingdom. For more information, visit Skyjed