Why digitising product lifecycle management is critical to success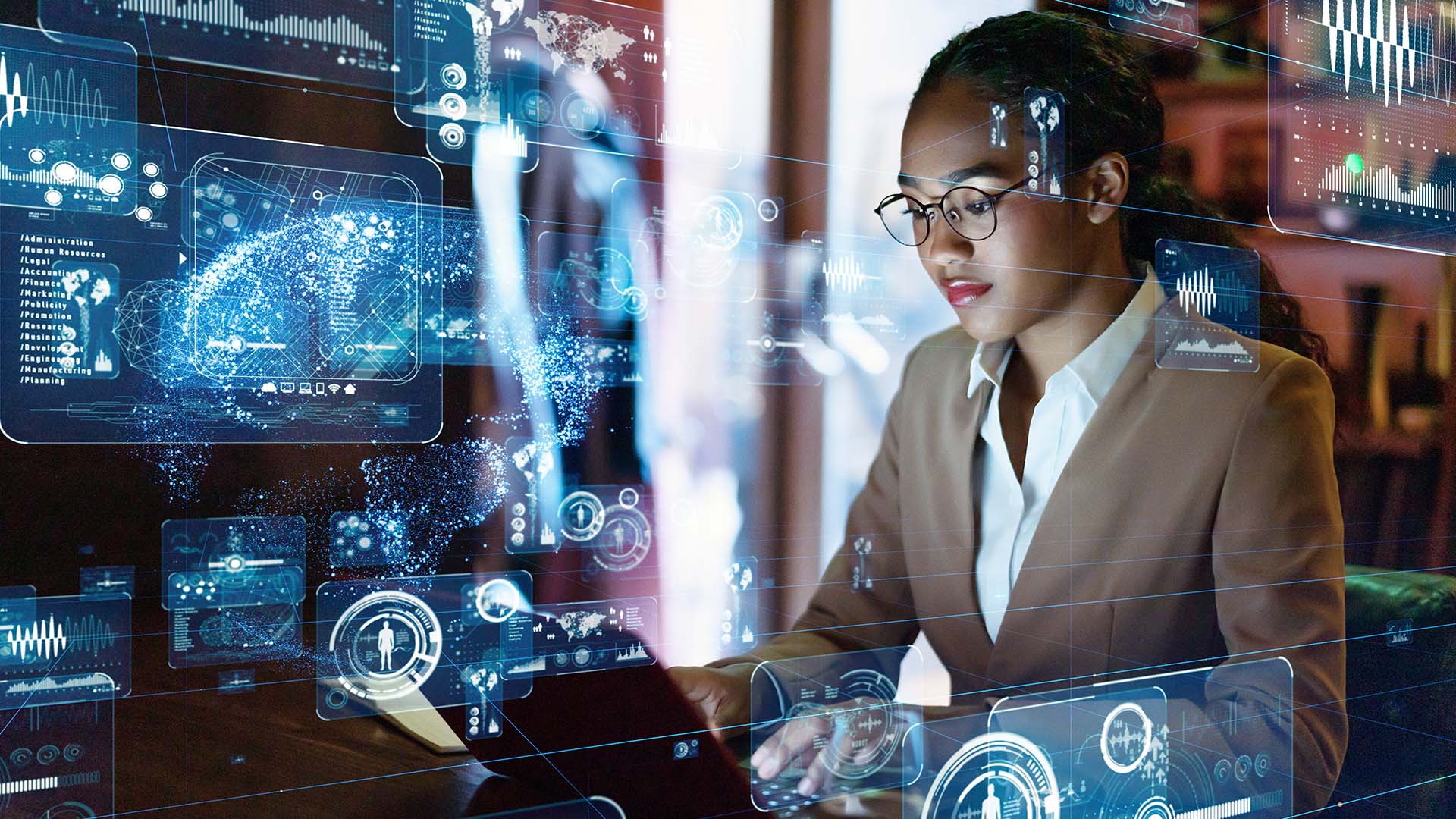 Digitising product development and lifecycle management are essential to help drive growth and keep ahead in the game. It's important to think about how to digitally transform your product lifecycle management and governance activities, and the existence of a product tech stack in your team.
Technology cycles are accelerating. Customer expectations are shifting and increasing. The role of the product manager has grown with considerable importance over the last couple of years. Much of this is due to the growing importance of using different forms of data in decision making, the increased customer focus in all parts of the product and customer journey, the continual development of different ways of working, and collaboration requirements when dealing with multiple stakeholders.
Yet, product managers still lack the tools to overcome the daily headaches and hurdles with more ease. According to Gartner*, "80% of product managers still rely on basic, and oftentimes ineffective, productivity tools to do their jobs". But despite the prominence of technological challenges in their day to day, our recent poll on LinkedIn in April 2022, uncovered that only 8% of all 341 respondents deemed 'Technology' as a primary challenge for product leaders. Technology factors for the purposes of the poll comprised of 'inadequate tools and technology to help streamline processes, improve productivity or manage product information documents efficiently'. We can assume that these technological challenges are expected and part of the job, despite their prominence in daily working life experienced by product leaders across the globe.
Unlike product managers of the past, who were primarily measured on executing the delivery of a product, the product manager of today is essentially the CEO of the product. They must have broad knowledge in order to make various domain decisions and recommendations. The modern product manager wears many hats - not only are they the custodian of the customer and the product, but they also need to ensure the product is meeting all of its obligations in terms of business performance, regulations, customer satisfaction, and support/delivery working across many cross-functional teams and diverse functions.
Digitising product development and product lifecycle management are necessary to gain an advantage.
Most PMs are still voicing, they don't have fit-for-purpose PM tools to enable them to work more effectively. However, I can assure you, that products are built differently today. Data, data, data triumphs everything which has added a big load to the PM function (more data is great, but also complex due to the lack of tools to manage it well).
Today we have access to so much more quantitative and qualitative data to measure, analyse, and develop insights that inform our product and customer strategy and priorities - gone are the days of submitting a data request and waiting weeks in the hope you may get 10% of what you needed or needing to request a big sum of money to undertake customer research. You may also be lucky to have had an analyst support you with all the number crunching, data location, and interpretation.
Coupled with the fact that the majority of PMs now spend less time writing very detailed long requirements or specification documents like they use to. Instead, they are iterating with different teams and continually gathering data, and feedback, and developing a roadmap of more regular releases with less complex user stories and requirements. There are very few product managers that are using software specifically for product development, lifecycle management, and product governance.
Having the right tools can positively impact a product manager's ability to work smarter around product quality and monitoring, speed to market, and the overall effectiveness of their new product or existing product processes.
Adopting a digital-first approach is a crucial enabler that can help to unlock the right insights and levers for product growth, strategy, and governance. This is further supported by the Product Focus Industry Survey in 2021, where it was highlighted from hundreds of written comments that product management roles, tools, and processes are inconsistent across the business and are a key challenge for many.
It's clear from numerous studies that employee productivity has a direct impact on business growth and profitability. With this in mind, why are there still many product teams that are not adopting a digital-first approach when it comes to their product lifecycle management and governance? Why is 'technology' not a top challenge for product leaders, when it's clear that improving productivity can drive growth and profitability? Perhaps it's a matter of raising awareness, understanding its value, or making it known just how much technology can impact product performance. Whatever the reasons, it's a point that must be added to a product leader's agenda. So, let's start with the product tech stack...
Have you defined your product team's tech stack?
Having a defined product tech stack is essential for product teams to navigate more effectively through the daily requirements and roadblocks of the product lifecycle process of today. It's important to understand the needs of your product team coupled with organisational requirements, then work out what digital tools should be used to enable the team to be more effective, and productive.
A product stack or tech stack is defined as all the tools, platforms, and software your product teams need to use to design, launch, optimise, monitor, and report on products and services. One key component that you need to ensure as part of your product stack is also how you collaborate and manage, schedule, report, manage risks, and trigger actions or reviews within your product workflow and your delivery team and stakeholders.
It's important to keep a prioritised focus on defining the product team tech stack so it can continually improve and adapt or grow if needed. Empowering your teams with the right tools to get the job done will help them to build the right product, as tech stack should involve everything.
What are some of the considerations of a product tech stack?
Other than budget, some of the key considerations or components for a product tech stack to solve include:
How can it work or does it work within your product framework and organisational ecosystem
Communication and collaboration
Product design
Product documentation
Data
Reporting
Planning and scheduling
Reminders
Roadmapping
Risk management
Automated triggers
Experimentation / Research
Monitoring and reviews
User stories
Approval controls and history management
It's important there may be a number of solutions needed to solve these considerations. In order to determine the biggest priority to tackle first, product leaders need to listen to their teams - what gaps are there in their toolset? What are the current limitations of the team when you see how they work? Can their processes or ways of working be improved, made smarter, or reduce friction? Are there solutions that solve the current pain points and gaps with software?
Optimising your existing product framework and digitising your product framework are core to enabling your product teams to work smarter for today and tomorrow.
Where to start?
We've prepared a detailed checklist of the key features and considerations to watch out for when deciding on your all-in-one product lifecycle management and governance platform. Download our checklist.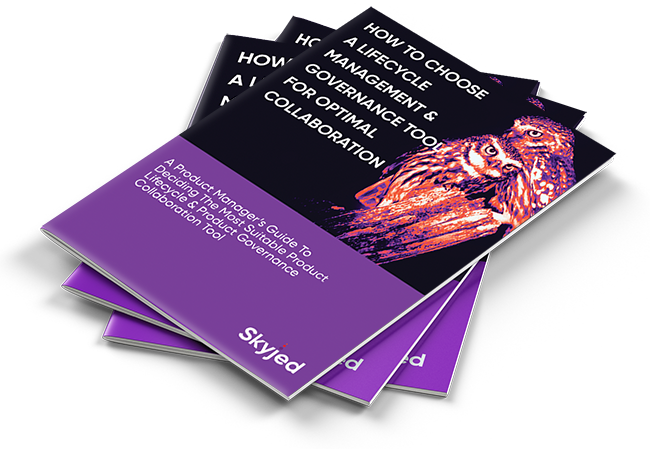 About Skyjed
Skyjed is an all-in-one product lifecycle management and product governance solution that can support your product teams with a digitised product lifecycle and monitoring framework. Contact us for a free demo or trial today.
Specifically, Skyjed can help you with the following:
1. Automate your product growth management
Product teams are more strategic and save time with Skyjed. By bringing together product design, lifecycle monitoring and compliance in one seamless workflow, Skyjed provides product teams with access to holistic reporting and includes the strategic elements of lifecycle management.
PM teams can use Skyjed to design, launch, govern, monitor product metrics and targets, make improvements, identify risks and opportunities and create reports for stakeholders. While other product management tools and standard dashboards focus on new product development or customer engagement; tools like Skyjed add other vital areas to lifecycle monitoring, templates, reports, and regulatory requirements to help you make more strategic decisions.
2. Set and approve new product designs
All product teams have the 'Why' a product is created and critical design choices for customers, and business goals like revenue, or differentiation. Few teams have a tool to manage the version control and approval of the product design, like commercial assumptions and legal and regulatory requirements.
Skyjed's Design workspace is where you use a collection of Design Drivers to build out your product's design, set sale conditions, and identify product review warning triggers. Ready-made templates streamline mission-critical design processes and improve productivity.
You can easily collaborate with your agile teams to identify and document your Lean Canvas product design, product strategy, revenue goals, and design and distribution obligations from one intuitive product design workspace.
3. Monitor and measure your product lifecycle
After setting your product strategy, executing is essential, and managing your quarterly reviews and plans to track progress using a holistic set of metrics.
Skyjed helps you track the essential metrics using features that save time such as a planner review schedule and product triggers that can be set up in minutes.
Product Triggers
Using Skyjed's trigger monitoring workflows, you can set up an automated warning system that alerts you when a trigger threshold has been met, and a product review is required.
Product Review Preparation
Annual or quarterly product reviews no longer mean downing tools for 3 weeks and late nights pouring over spreadsheets and sales reports.
By choosing Skyjed's Annual Product Review to conduct your annual product review, you are automatically presented with a comprehensive set of information input drivers that guide you through the process end to end. No more figuring out what data you need to find or not having a history. You can also schedule reviews in advance with automatic reminders.
Automation of Approvals and Keeping Records
SAY GOODBYE TO EMAIL TRAILS. Long email trails to prove product approvals are a thing of the past with Skyjed. Approval gates can be built into the design and audit (monitoring and review) workflows that will not allow an item to be published until it has been reviewed and approved by a designated approver or group of approvers.
The up-to-date product information is easily accessed in the product and will always be available as it once published that version will always remain. The product governance dashboard lets you view the critical governance metrics for a single product, a portfolio, or an entire organisation. You can easily see which products are at the design stage, how many product reviews are incomplete or overdue, and what risks have emerged. This frees up time and allows you to focus on what you do best - innovation, strategy, and growth.
4. Improved product reporting
The result of using automation for your product designs and ongoing monitoring and reviews is that it becomes streamlined and all in one place to see the history of the product and its lifecycle from launch approval through to actions that were set from annual product reviews.
Product teams have an opportunity to start using digital technologies and be empowered like never before. Product monitoring and lifecycle governance are becoming a point of differentiation to lift the standard of strategic decisions and growth.
If you are setting your strategic product growth plan and want to set your team up for success, save time and learn tips to be a better product leader, Skyjed's guide will help.
*Gartner, 2019, Branded Roles Product Manager Survey, accessed 13th of May 2022.