What agile teams can do after launch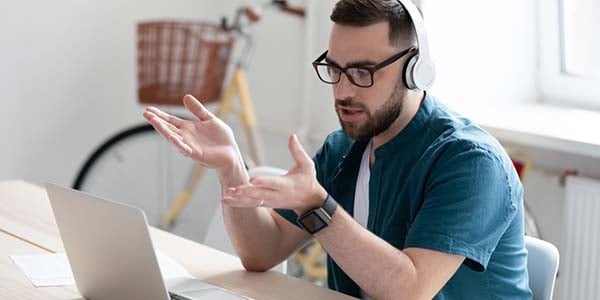 Agile provides a great framework and suite of tools to support business teams in new product development. However, once these products are launched in the market, a flexible product governance framework for managing growth and compliance often falls away, to the detriment of the business. Good governance ensures your product is fit for purpose, provides value to your customer and meets regulatory obligations. Good governance sets a foundation for long-term growth.
Product governance has just gotten harder.
The challenge of collaboration between product development, lifecycle management and compliance teams has always existed. However, this is more challenging as we move to remote and virtual working. Many global surveys for years have shown that - silos, unclear roles, competing objectives and ad-hoc reviews lead to low product growth and unproductive product teams.
Based on my years of leading product growth and lifecycle teams, I've developed a simple product governance framework to help product managers make better decisions and direct successful product growth and compliance. Best practice post-launch product management sets a product design and monitoring framework to ensure successful and timely decisions as the market or regulation changes . Setting the foundations of a continuous monitoring and improvement framework will not only break-down silos - it will streamline and improve how your report on emerging risks and course-correct for long term product success.
So what is involved in an end-to-end product governance framework:
What is in a product framework?
There is a global trend to codify product management. Product governance is not one size fits all, and each product portfolio is different. No process is linear, but you will move through four main phases: design, distribute, monitor and improve. By taking on these four phases, you will have the context you need to make your lifecycle governance implementation successful and manage ongoing requirements.
What are the steps to set this up using digital product governance
You can walkthrough a modern product governance framework in this short video that covers design, launch, monitor and optimise steps and automated tools.
Step 1: Set a product governance calendar
In times like these having a product vision and strategy is essential. The reality, however, is that the market changes and new regulations like modern slavery and design and distribution obligations impact on a product strategy.
To keep on top of these changes reviewing your product end to end will help ensure your product is fit for purpose and meeting customer needs. In a product governance calendar, you can schedule a routine of annual product reviews, triggers and notification with your business teams.
A product design and monitoring framework and governance calendar will set the foundation for long term success.
Step 2: Design your product
In this phase, you'll learn how to better understand customer needs. Then, you'll move through discovery, experimentation, shaping a product and ultimately meeting your design and distribution obligations. The design phase is about ideation and shaping new products on the fly, finding new possibilities for existing products, and your ideas will evolve into a commercial solution. Finally, you'll build your team, get smart on your regulatory challenge, and make choices about distribution strategy and conditions.
Tools for new product design and launches include templates for your target market determinations for existing products. Everything you need to manage your product portfolio designs and sale conditions.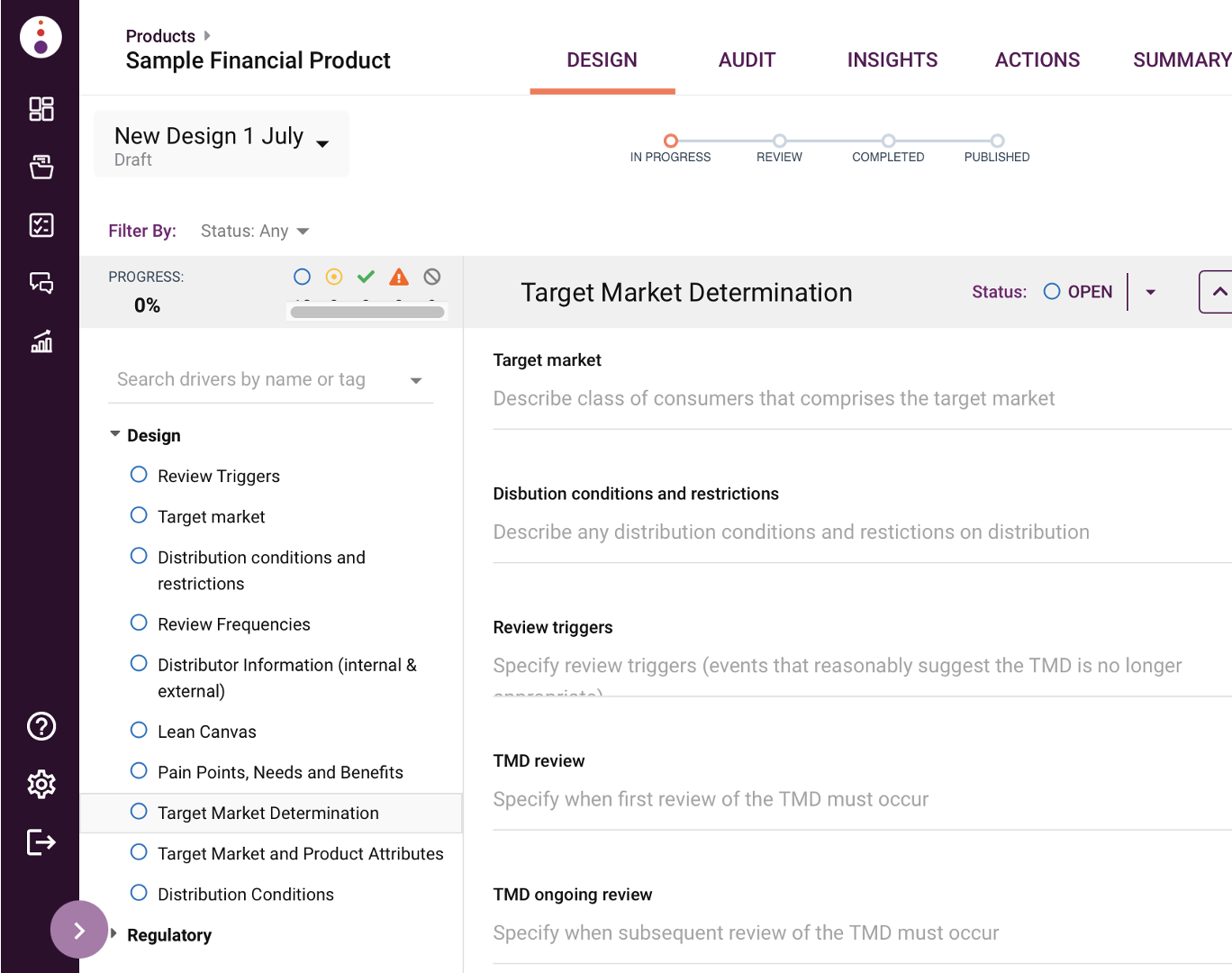 Step 2: Consistently monitor your product
Product leaders now need to review all products with structure and routine to ensure they remain fit for purpose, meet customer needs and regulation obligations. A product monitoring framework should give visibility across the end to end product value chain and support meeting regulatory obligations.
Skyjed product lifecycle, risk and governance tool comes with product governance and monitoring framework built-in and ready to go. It is unique as it steps you through your product monitoring and generates reports including a product health-check score and product risk profiles.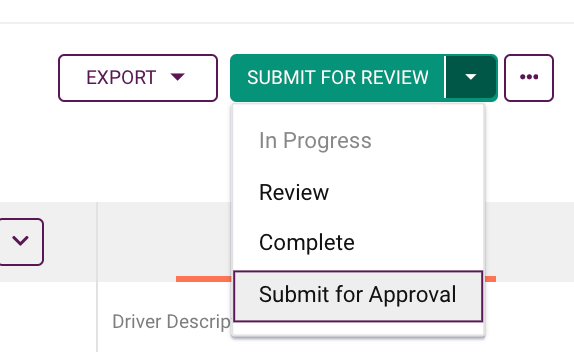 Step 3: Action and continuous improvement
If you are finding it difficult to focus and set your priorities or track your risk areas, we recommend setting two tools
1. Product Triggers offer a strategic way - no coding required - to automate how you monitor your product lifecycle.
A Product Trigger can be created in 1-2 minutes and indicates whether a product fits the purpose, meets the needs, and provides value as intended within a product strategy.
Review triggers are events like customer complaints or spikes in sales data that reasonably suggest the product strategy is no longer appropriate. A review trigger also signals that a product strategy requires review and improvement action.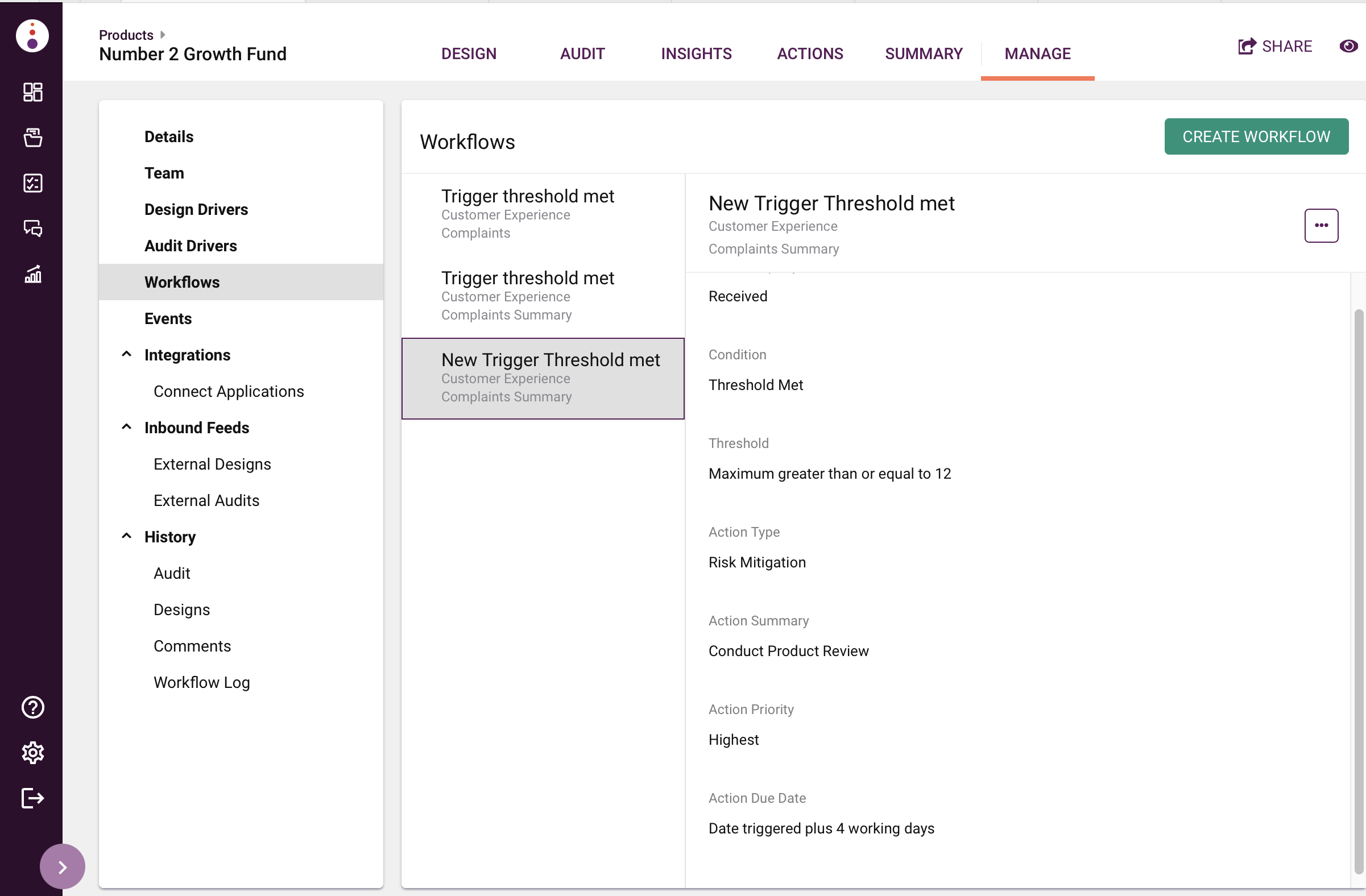 2. Setting actions. Use 2 types of action plans - strategic and risk mitigation. Set these actions, assign to a team member and track the actions. Setting risk actions helps you update management on emerging threats and increase your chances of identifying risks early. This means you can reduce the impact and intervene early.
Adding the Skyjed health-check score means you don't need to have a truckload of reports to get management or the Boards attention and support. For executives and boards, it brings transparency and forward-looking insights.
What are the tips of how to lead your product after launch for success?
Collaborate and invite a cross-functional team

Start a disciplined product governance calendar
Set triggers with workflow builder to monitor triggers and set action plans to improve

Start using automated software to reduce the time it takes to design, monitor and prepare reports

Keep on top of non-financial product risk and address emerging social and governance issues like climate-related risk and modern slavery
Product lifecycle governance is a critical function in any product-led business.
"Product governance at scale is a hot topic right now. We are seeing a lot of businesses adopting an agile approach for new product development, but facing challenges building the bridge between agile development teams and product lifecycle and compliance teams. Investment decisions are being based on the wrong drivers, growth opportunities are being missed, the risk isn't being sufficiently identified, and products which should have been exited years ago are still taking up valuable resources within the business". Leica Ison Founder of Skyjed
In a software tool like Skyjed, you can wake up in the morning from anywhere in the world and jump into your product workspace. At Skyjed we have created a Product 360 workspace where you can create product design, monitor end-to-end and complete an AI-based health-check of their product in minutes not weeks, identifying areas of risk or untapped growth opportunity.
Skyjed does all the heavy lifting for you and uses sophisticated tools and algorithms, built on decades of experience and proven strategic framework, to provide product managers with an edge in managing they are in-market products. Its saves time on reporting and governance meetings and makes it easier to assign and track actions.
About Skyjed
Skyjed is product lifecycle and governance platform. Skyjed's Ai-powered end-to-end product platform bring together every data point across the entire product portfolio into a single source of product truth. Skyjed was founded in 2017 and is headquartered in Sydney, Australia. For more information visit Skyjed