How to automate your annual product reviews with workflows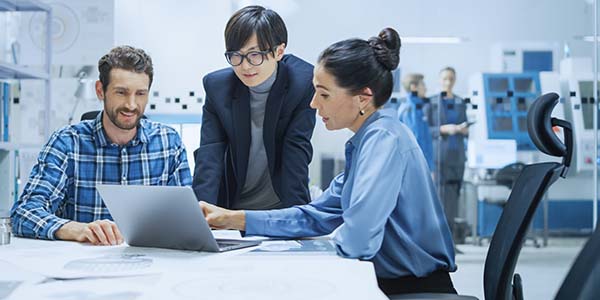 As Product teams become more agile, automation plays a key role in improving product monitoring and day to day activities. The FCA has recently warned insurance firms on the need to be ready to implement new product governance reviews and address shortcomings in their oversight of products. A modern product lifecycle governance software solution that automates your annual monitoring and product value reviews offers opportunities to reduce the cost and complexity of implementing the new product g rules. Product monitoring automation software is key to demonstrating that you consider customers' needs in your product reviews - across each product.
This is a great time to adopt a digital solution for your product governance and value reviews and gain productivity benefits. Skyjed's customers can conduct granular annual checks at a product level, not a broad portfolio level - because it's all automated in a time saving digital product governance solution.
"The added benefit of modern software as a service SaaS solution means you have speed and ease of deployment, and there is no need to employ an army of product governance managers. Manually monitoring your products and tracking the customer value of each product means you are at risk of missing reviews - or carrying the burden of extra business cost.
- Andrew Chamberlain, Chief Customer Officer at Skyjed.
You can use simple and automated workflows as a tool to lay the foundations of conducting your reviews, report and have compliant record-keeping - in less time. This means product managers can spend more time on understanding customer needs and less time on compliance, which leaves more time to deliver revenue growth. When a product manager leaves your business - you have all the critical knowledge and complete history of the entire product lifecycle and reviews for handing over in minutes.
Why automate your product reviews?
A product lifecycle monitoring solution that automates your product monitoring and reviews powers the productivity of your product and compliance teams. A solution like Skyjed means reducing product managers' time on administrative tasks and reporting decks. At the same time, you get a consistent company-wide digital workspace to collaborate and a complete comprehensive review of each product's risk and opportunity areas. These tools will help you bring your product governance to life and make it more efficient and meaningful.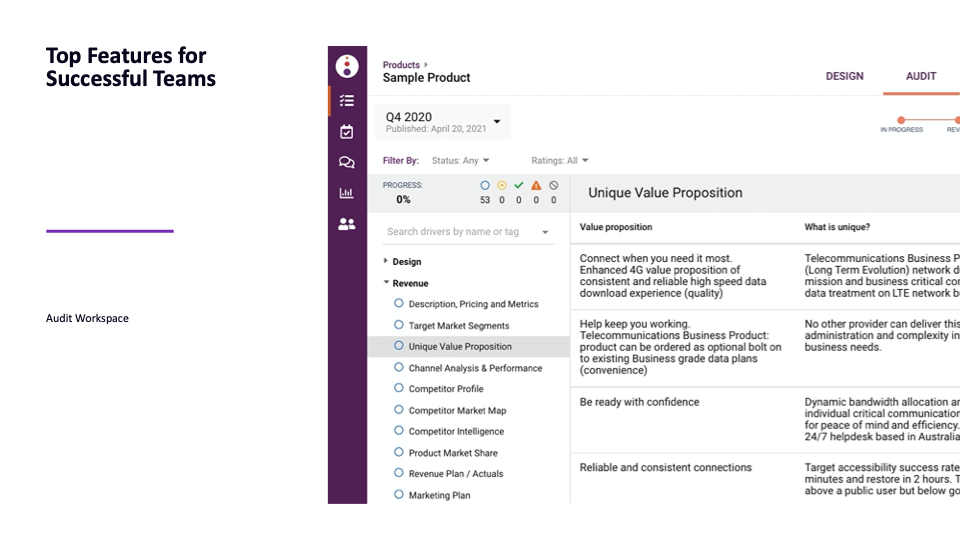 Increase consistently - remove gaps
Product lifecycle governance software that uses simple workflows will improve the decision-making of your product managers and show that you are always focused on customers' needs in your approach to product management and lifecycle governance.
An automated solution like Skyjed makes sure your product monitoring and reviews run seamlessly throughout the year. This means you have all your reviews scheduled with a colour coded event scheduler - get reminders when a review is due. A wide selection of best practice product review templates is available in the template library for you to select in minutes. This means you can be confident that your review is best practice - even if you have varying levels of product management expertise in your business.
Streamlined reviews
Demonstrate that each and every product has been reviewed using our event scheduler and instant record keeping. The complete history of your product reviews are saved, stored and can be exported to PDF for seven years. With Skyjed, you will spend less time chasing down product review information on emails or shared drives - and have your product review information in one place.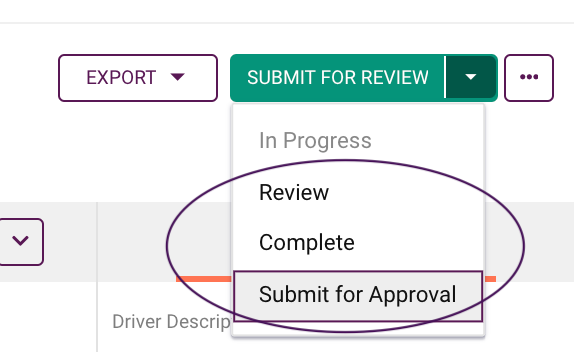 Save time and highlight risk.
Using disparate systems, excel, PowerPoint not only means your product managers are wasting time on administrative tasks - an automated product review solution frees up their time to spend on product strategy, devising strategic recommendations and innovating around the customer.
With automation in Skyjed, you are alerted when you are scheduled to conduct a product review, and if you have hit a product review trigger, you are warned that you have reached a threshold in the product. This workflow builder for product triggers means each product manager can create product triggers in minutes and be alerted when you get into the risk zone.
Accountable and up-skilled product managers
Rather than attending large meetings to discuss product reviews, you can use an automated workspace and invite cross-functional teams to review, input and comment.
The Skyjed workspace includes all roles, permissions and approval controls already automated. This means you will always have a single point of accountability for each product strategy and responsibility for the annual product review and ongoing decision making using Skyjed roles and permissions.
Faster reviews - saving time and money
Rather than spending hours in Excel and PowerPoint, you have all the information you need in Skyjed design and monitoring workspace. Schedule your initial and ongoing annual product reviews in Skyjed's product event scheduler, so you never miss a review and demonstrate frequent reviews. Skyjed's solution extends to offering cost-effective ways to share information between product issuer and distributor seamlessly. This means you monitor your distribution channel and get that information back into the hands of product teams to complete a review.
Life standard of product reviews using a marketplace of templates
Use Skyjed's monitoring audit workspace to review your products where you can adopt our product review templates or create your own in minutes. This means you will have confidence that you are carrying out comprehensive and practical reviews.
Use Skyjed 5 Domains - 5D's of product health to review your product - this establishes what 'good looks like and the metrics or indicators that product managers and executives should consider in carrying out their annual product reviews. By analysing across the 5D's of product decision-making - Revenue, Value, Customer Experience, Innovation and Regulatory - you can compare each product's health and performance more effectively. Read more about 5D's here
Reporting and benchmarked product health scores
Use Skyjed Ai product health score to get a data-driven view of product reviews and not just rely on product managers gut feel or experience/views. Skyjed comes with data-driven insights and automated reports so that product managers and compliance teams can make better decisions when reviewing customer value, pricing and product innovation.
Collaborate and challenge assumptions
Skyjed's cloud-based product monitoring solution is built by product management experts and systems engineers for easy collaboration - browser-based and mobile-friendly. They enable you to create a virtual product team in minutes from anywhere around the globe. Skyjed promotes collaboration between stakeholder teams and helps break down organisational silos. Create a customer product lifecycle team in minutes for each product. This means you can share information in real-time, challenge product assumptions, and get senior management input into decisions using Skyjed's collaboration features, product controls, roles, and permissions.
Customer success by your side
Skyjed's advanced customer success and onboarding framework let you get up and running in minutes with guided tutorials and dedicated customer success teams. So you can establish best practices quickly and cost-effectively. Up-skill your product teams with your design and monitoring workspace - best practice tutorials, video tips and walk-throughs and your dedicated learning showcase. The Skyjed digital workspace also includes in-built guidance and information on conducting the best proactive product review at every step of the way.
What to look for in a digital product governance automated solution
Product governance automation offers many benefits - it is a step-change in your business using a solution like Skyjed. Here are some things to look for, and we have provided more information for Chief Product CPO and Chief Information Officers CIO in this article here :
best practice product governance framework built-in

virtual collaboration from anywhere

fast deployment

advanced infrastructure

integration to suit your needs

return on investment

built by product governance experts with experience

cost-effective software as a service model

A marketplace of product design and monitoring templates
Automation saving time and money
Working with Skyjed, your company can achieve a successful product governance compliance - FCA annual reviews, DDO product design and distribution obligations, MiFID II, ESG pathways — demonstrating your company's commitment to high growth and product governance compliance — cost-effectively, in less time.
A product manager can save 8 hours per week on reporting in the first month. For a team of 10, that over 80 hours are reserved for growth initiatives.
Bonus: Benefit of choosing a Software as a Service solution SaaS:
Dramatically reduced cost of Enterprise-grade software

No infrastructure - just internet connection

Simple per user per month charge

No setup fees, no underlying license costs

Roll out in minutes

Scales from 1 to thousands of users

Configurable by users – no complicated coding or developer requirements

Enterprise-grade security
I‍f you are ready to set up your product governance and monitoring reviews, and you'd like to save time on product governance - consider Skyjed to streamline your product management and governance.
So if you want to finalise your framework and consider a tool to automate the essential annual product reviews, get in touch, request a demo and proposal request a proposal here.
About Skyjed
Skyjed is a product lifecycle and governance platform for growth and compliance. Skyjed's Ai-powered end-to-end product platform brings together every data point across the entire product portfolio into a single source of product truth. Skyjed was founded in 2017 and is headquartered in Sydney, Australia and London, United Kingdom. For more information, visit Skyjed