Product Monitoring Series Part 2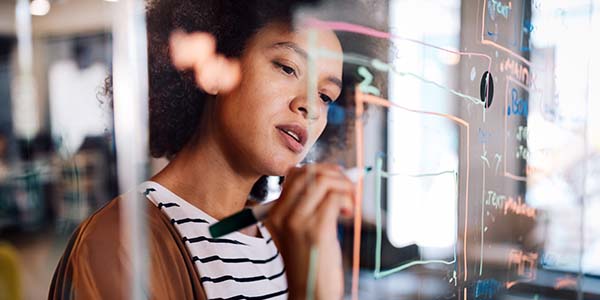 Simplify Product Monitoring with Workflows
Part 2 of the Product Monitoring & Review Series looks at how product teams can transform their processes using product monitoring software with automated workflows and product reports to save time. This is especially useful as regulatory environments tighten and compliance requirements increase for product managers. The consequences for non-compliance are dire and can result in a significant penalty.
The challenge for many product teams is setting aside 3 weeks of preparation time to prepare for annual product and compliance reviews. These days the need for product reviews has moved beyond a focus on product strategy and performance. It's now essential to include product or portfolio level disclosures on other dimensions - for example, we require monitoring and reporting on legal and regulatory obligations and ESG metrics.
So how can you streamline your traditional, manual effort on product reviews and digitize the workflow to save time and make more strategic lifecycle decisions?
The automation of product monitoring and review in the one modern product lifecycle management platform did not exist before Skyjed. In this article, we'll walk you through an example of a Monitoring plan in our product monitoring software, how product triggers are set, and thresholds to conduct best practice reviews.
Skyjed offers a set of tools - no coding required - to help you automate the routine processes into the workflow in your Skyjed design and monitoring workspace.
Streamlining your product monitoring and reviews in Skyjed is simple, and you can import your product documents in minutes to get your product reviews done and generate recording keeping. No long lead times or complex integrations.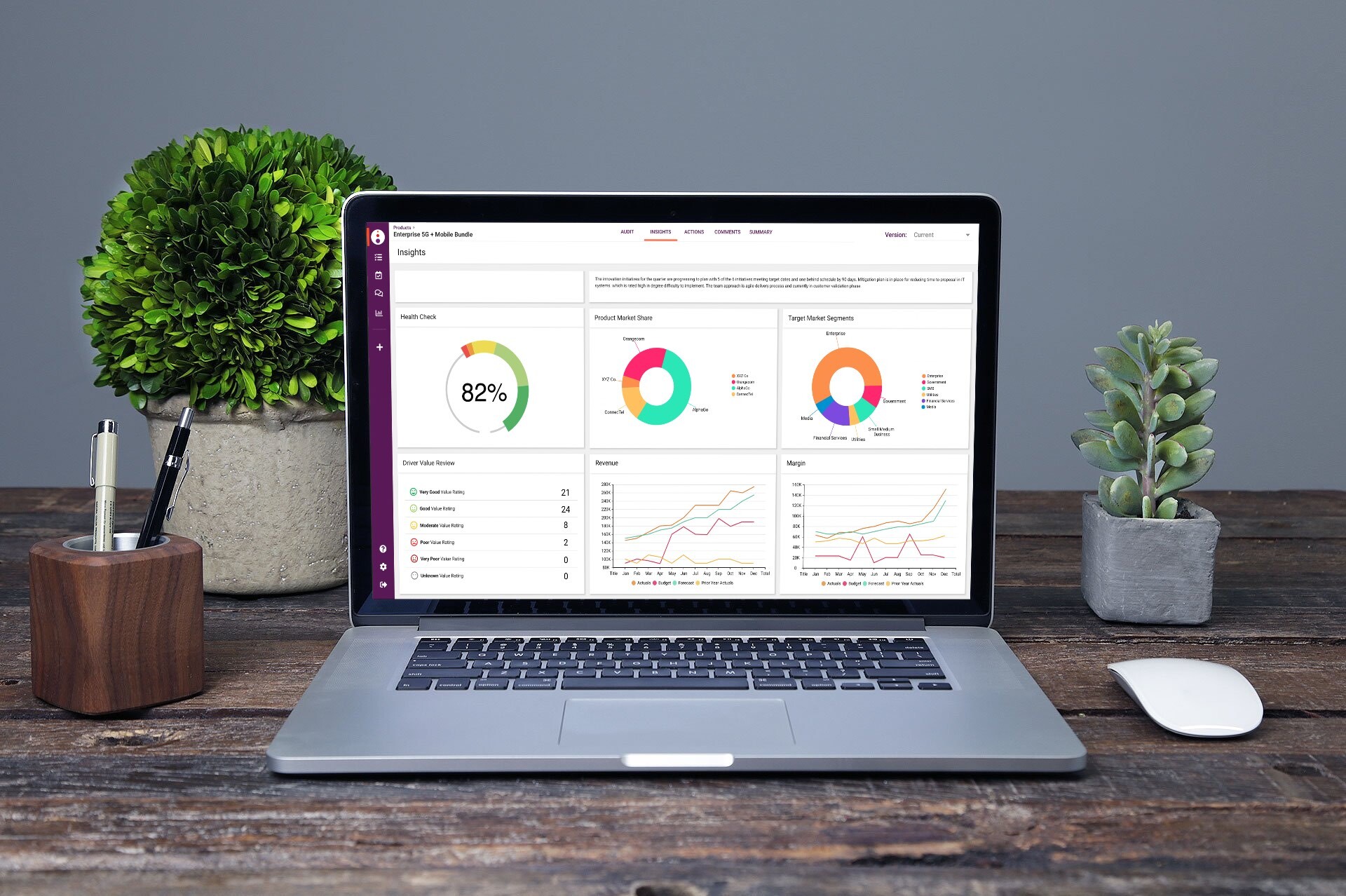 Tools to streamline
Product monitoring workspace

- in Skyjed, you can create a product design and use a monitoring workspace all in one place to launch, monitor and optimize your product.

Triggers workflows

- a workflow builder enables you to set product triggers and thresholds at a product and portfolio level, instantly notifying you when you hit specific

Event schedule

- this is where you schedule strategic product events like initial and annual product reviews, receive notifications and alerts when they are due.

Virtual lifecycle team

- create a team to collaborate on your product strategy and monitoring to save time spent in meetings and administration

Reports and recording keeping

– data analytics, product reports with version control, and full audit trail of all product reviews with approval comments.
So what are some of the benefits of using these tools?
Strengthen the product monitoring to grow
Get automatic alerts when your product reviews are scheduled for completion, so you never miss a due date

Use trigger workflows to do your monitoring and alert you when you hit the threshold

Turn triggers into action with actions. You can prioritize and assign and track across your team to get things done

Get real-time visibility into important areas like customer complaints, sales, and product insights across product distribution channels.
Streamline product management and governance events
Reduce jumping between different reports with one product design and monitoring workspace.

Create, assign, and get real-time updates on essential compliance events and strategic and risk actions

Get product insights and one-click reports on key performance metrics and compliance for speed and strategic insights
Eliminate time-consuming governance meetings
Increase collaboration between product, sales, and compliance teams by creating a virtual product team

Use actions and comments to engage your team and stay focused on product strategy

Export reports with one click to take to internal meetings or product forums and save time on preparation.

Keep everyone aligned with no reporting effort with single product reporting and insights across the entire lifecycle
Mitigate the risk of non-compliance or trigger events
Use product risk reports to share with compliance teams to save time on risk reporting.

Automate processes with continuous monitoring tools to reduce gaps and double up from manual processes.

Keep a time-stamped audit trail for all product designs, conditions, reports and decisions in one place.
Let's look at completing product monitoring and annual product reviews
Product managers can now take accountability to lead product strategy and report critical metrics and annual product reviews. Product teams that stay ahead of the curve by adopting digital automation tools for product monitoring, reviews, and ESG reporting can save 50% of time spent on reporting and reduce the lead time required for annual product reviews.
With this in mind, here are steps a product team can take to stay ahead of the curve concerning product monitoring & reviews.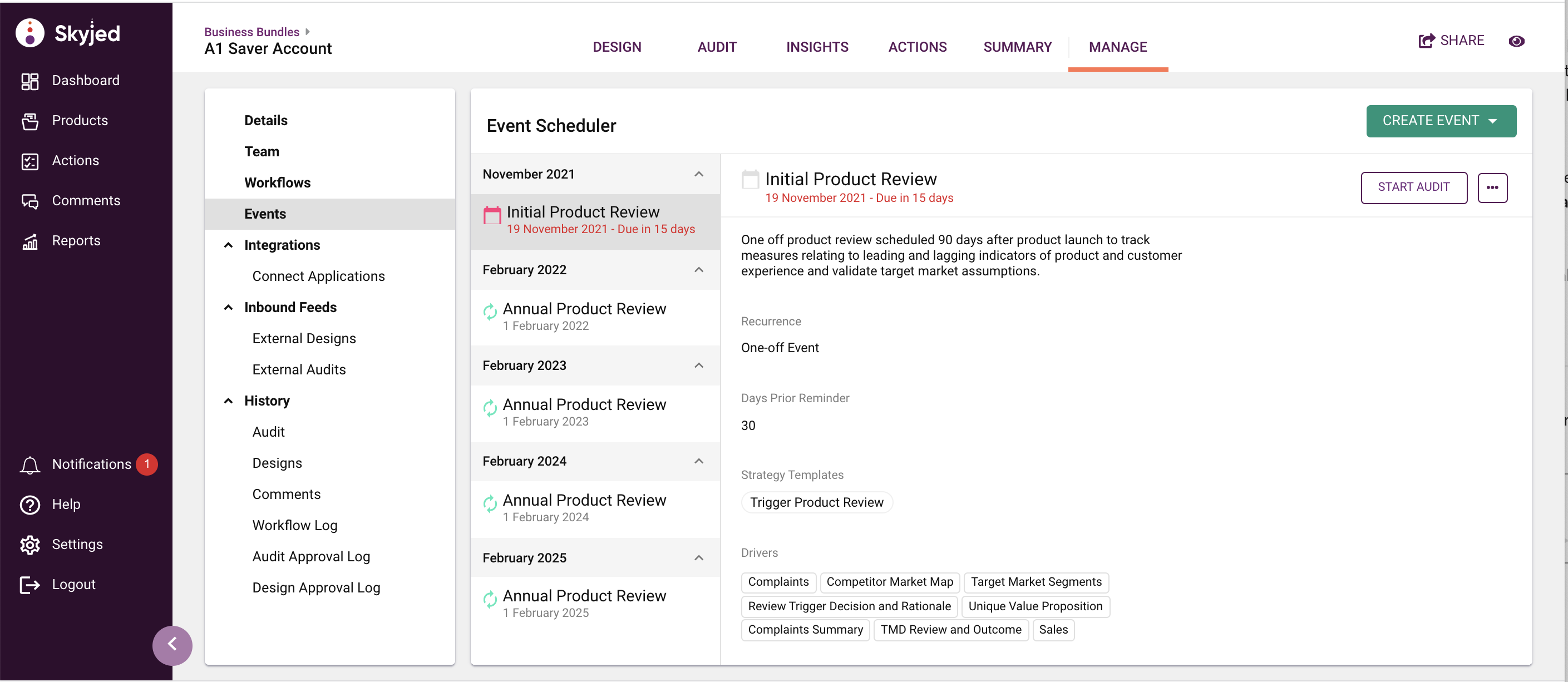 Image: Event Scheduler ensures all steps are actioned.
Product design is vital.
Any organization must take time to design a product in a way that is based on customer needs and a broad array of regulations. Regulatory requirements are important to ensure you provide fair value to your customers. Product design makes a big difference. Remember that whilst your customers are critical, they are not your only consideration in product design. Mapping out your product's legal and regulatory requirements is now a critical step that must not be missed. You can easily capture these in Skyjed's product design templates, assign them for approval, and securely retain the data for record-keeping.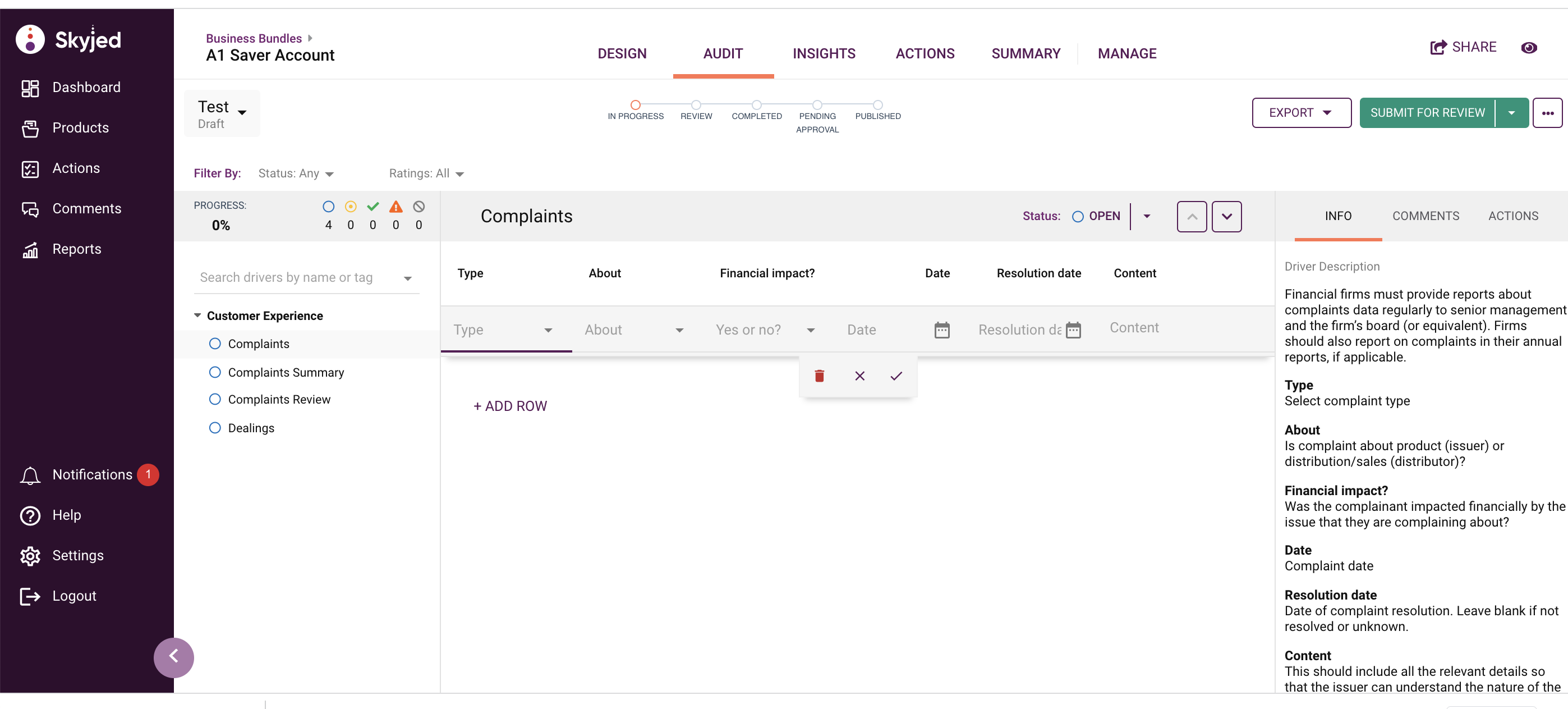 Schedule and communicate annual monitoring events
Whilst it is critical that you stay consistently up to date with product trends, success comes to life when you use a monitoring workspace. Remember your job is to demonstrate both growth and compliance by adapting and transitioning your product strategy and plans. Set your annual product management and governance schedule for initial and rolling annual product reviews. Select from a library of best practice product management templates for end-to-end lifecycle management – for example, growth review, compliance review, competitor analysis, sunsetting review, templates to improve product margin. The advantage is that you can select templates based on your business goal and be ready for monitoring in minutes with consistency across all products in the portfolio.
Set product level triggers
Ensure your product managers are using triggers to set and monitor trigger thresholds. Triggers are an effective tool for product leaders to keep on top of their product strategy and get early warnings on emerging customer issues that may lead to regulatory breaches. Skyjed makes it easy for you to set up workflows based on specific triggers.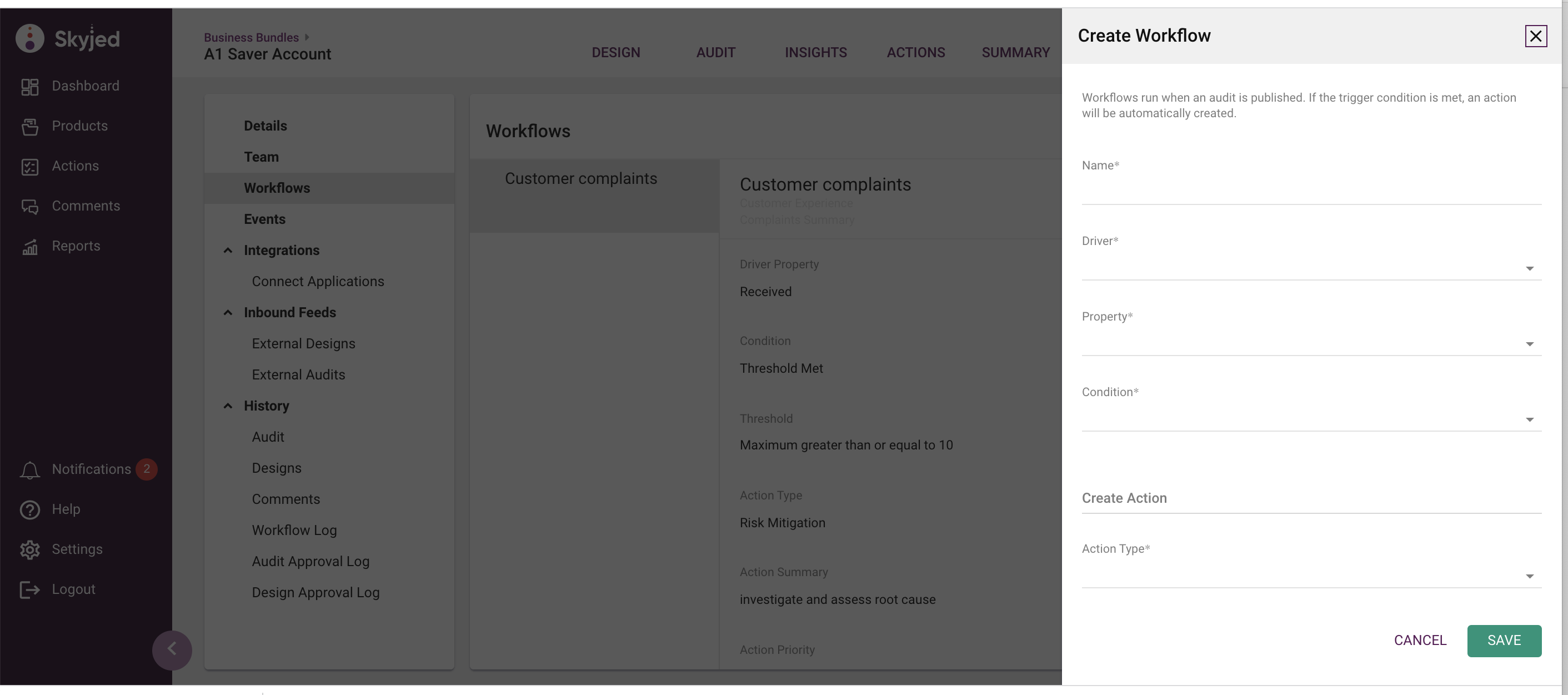 Image: Creating a Workflow in Skyjed
For example, customer complaints, cancellations, or sales data. You can set the thresholds at the product level across hundreds or thousands of products and get automatic notifications and alerts in your Skyjed workspace. Remember that product leaders are ultimately busy and relate to the need for regular alerts to ensure efficiency.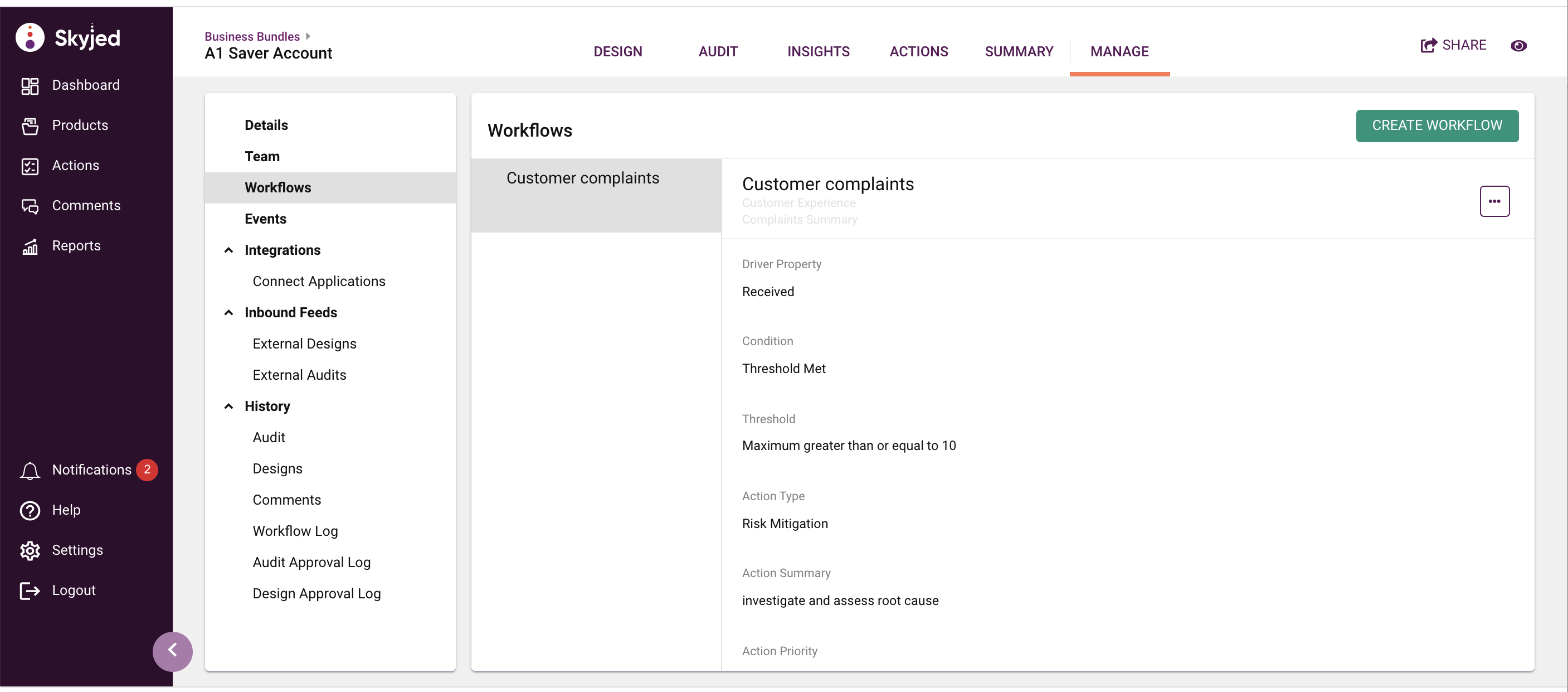 Image: An example of a Workflow setup for Customer Complaints triggers.
Engage and report with seamless record-keeping
Ensure you consistently track broader product metrics against portfolio and organizational performance, and visualize it for reporting. Product governance and ESG is not just an 'add on'. Tell the narrative around your product strategy and health using automated insights and reports to lead the engagement across your business and with external stakeholders. This saves a vast amount of time previously spent on manual reporting in different systems and excel sheets.
Use insight dashboards. Use AI.
A visual report tells a thousand words. From both an internal update and Board meetings, even external stakeholders. Use product level insights - including trigger reporting and organization-wide perspective across product portfolios with clear metrics, trends, and thresholds. These reports demonstrate how your product is performing and when you need to optimize.
AI and analytics can help you sort through complex product data for a clearer reporting outcome, including the use of health-score analysis and comprehensive insights that would usually take weeks to prepare, available in minutes with Skyjed.
What's to come
In part 3 of this series, we'll provide you with a step-by-step guide for product monitoring and a checklist to ensure no steps are missed.
Product Monitoring Series for Product Teams in bite-size parts.
Part 1: What is product monitoring and why is it important
Part 2: Simplify your product monitoring with workflows
Part 3: Product monitoring steps and checklist
About Skyjed
As we've outlined in this article, streamlining your product monitoring and review processes with product monitoring software can dramatically help product managers deliver growth and save time. But Skyjed isn't just a product monitoring software, it is an end-to-end product lifecycle management and governance platform that supports product managers across five domains.
There are no other tools in the market that acts as product monitoring software and provide the same comprehensive product lifecycle management, health score checks, enables collaboration, just to name a few of the many benefits that Skyjed brings.
Traditionally, mentioning product monitoring software conjures up images of the platforms and various software used to set review reminders, schedule emails, and include links to other external software like Excel.
Skyjed brings it all together; the one platform and source of truth.
Discover how Skyjed can be used as a product monitoring software and help product teams tackle the challenges of product lifecycle management and governance.
Get started for FREE on our Starter Premium or request a DEMO here.