Why aren't Product Managers more concerned about Product Governance
How an automated solution can help with the monitoring of your Target Market Determinations
In our recent LinkedIn Poll in April 2022, we received 341 responses from various Product Management groups about the top challenges experienced by product leaders, product managers and anyone working in the product landscape.
We uncovered much to our surprise when we delved further into the data that only 1 in 6 Product Managers ranked External Factors as their number one challenge. Whereas for 2 in 6 Chief Product Officers and Heads of Product, it was the number one challenge that "kept them up at night". For the purposes of the poll, external factors was defined as product governance, regulations, shifting consumer preferences, product discovery and compliance.
For Product Managers, the biggest challenge was 'Resourcing and Stakeholders' with 5 in 6 Product Managers selecting this as their number one challenge. This is in line with the sentiments across the globe in various industries. It would certainly be a contributing factor as to why other challenges are not ranked as high given the serious resourcing challenges and difficulties with stakeholder management. An issue that's even more prominent today given that product management is growing rapidly in many organisations, in the spotlight, yet faces a big gap in the labour market (which is exciting for product people but also hard at the same time for organisations feeling the pinch!).
I know that at first glance, and based on the conversations I've had with peers, the thought of product compliance or product governance may not depict excitement. Often, the first impression of product governance and compliance is that it is complex, dull and requires specialist skills. However, I can assure you in today's way of working product governance is exciting, no doubt there can be challenges but tackle them and you will be rewarded. It will enable you to be well equipped to monitor and optimise your product's performance, risks and obligations. I know when I am well armed with all of the information I need (the good, the bad, the ok, and the ugly) whilst some of it can be difficult I feel comfortable and reap the rewards, armed with the complete picture of the landscape, I can make strategic decisions that are based on data and insights. With the insights on external factors, I know I am not going in blind and can work with the team to pick up the serious gaps (if any) and use these insights to further optimise product performance.
To me that is exciting and the true essence of what we are tasked to do as Product leaders…. Make it happen, turn around the bad and optimise everything we can for customers and our product's life… or if needed, end the product if it's not meeting the customer or business expectations.
So, I would like to turn the thinking around product governance. Make it exciting…. It's your tool to arm you with the knowledge to make your best next move. Remember this knowledge is positive power, giving you the data and insights and prioritisation of what to do next.
So what is product governance?
Product governance refers to the active oversight of ongoing product-led growth strategy, compliance, risk management and the protection of product trust.
Product oversight requires access to reliable data, active monitoring, and collaboration across the business.

An introduction to product governance frameworks
A trust-centred product framework puts your customers at the centre of product lifecycle management and helps to proactively mitigate product-related (non-financial) compliance risks and financial risks.  
A framework is a great way to make sense of and communicate your product governance. You can achieve product success and compliance with these five principles:
End-to-end life of product oversight

from design, distribution, and post-sales to sunsetting.

A holistic review of product portfolios 

covering a 360-degree product view that covers financial, non-financial and operational health indicators.

Continuous monitoring and auditing 

of the underlying drivers of product performance and health in a rolling quarterly or annual schedule of product reviews to find opportunities and emerging risks.

Product managers as the single point of responsibility for a product strategy 

with connections across the entire organisation to break down silos.  The product manager engages and works with stakeholders on product monitoring and action plans.

Continuous improvement 

with point-in-time health checks and action plans to address product trigger points and assist strategy correction when faced with disruption and business model pivots.



Plan a product governance framework for all life stages – let's use a Target Market Determination for example for your products or portfolio.
The product governance process should sit across ALL products – both new and existing products.

Ensure you have both a Design and Audit workspace for new and existing products. 

Agile has a continuous improvement cycle for new product development and managing a product backlog. Complement that with two steps: 

Use a  

Product Design workspace

  to set your product design and requirements. For example, with your Target Market Determination (TMD).  The TMD is an emerging tool to specify your regulatory conditions for product design and distribution. A TMD template is a concise document that describes your target market, distribution obligations and triggers that alert you that your product is not fit for purpose. 

After setting the TMD you are then ready to

monitor & review  the TMD and product

.   The 

Audit workspace

 

automates your monitoring and review

 and puts the customer at the centre by monitoring your target market determination (TMD).

Setting a  

rolling annual product monitoring schedule

  and  

product trigger points

  are the next steps.

Make customer trust a core metric of your product management team. 

Engage and Report product health effectively throughout the organisation. 
There is a trend toward shorter planning and review cycles of strategy correction in 2021 and 2022.  Effective review cycles will help you be more strategic.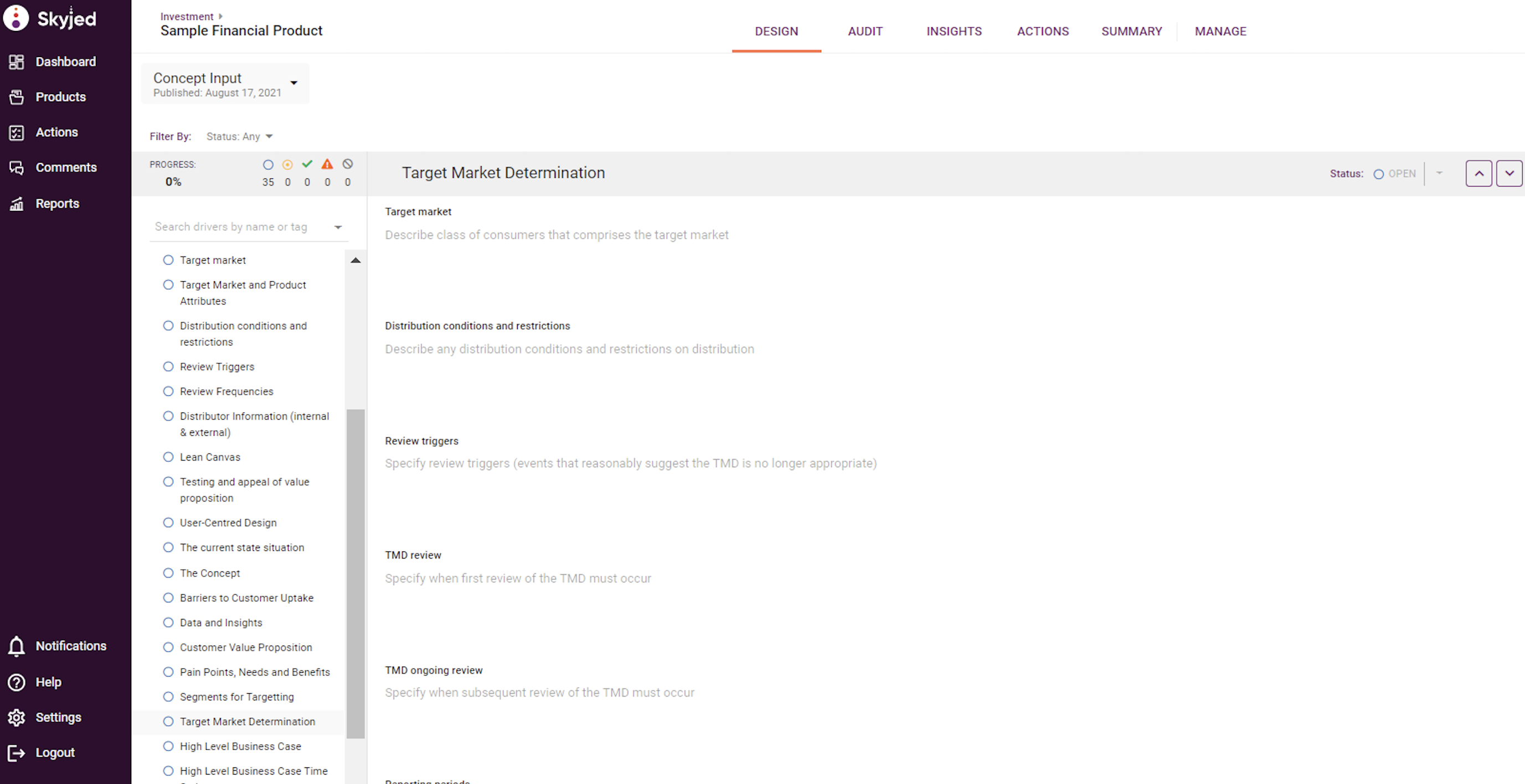 Skyjed's platform enables product managers to easily design, monitor and review their products and streamline the workflow of monitoring and reporting.  The Skyjed  monitoring workspace includes all the automated tools  you need to schedule and conduct your initial and rolling annual product reviews.   At this point, product triggers are a useful tool to be alerted of issues in your product. Skyjed's workflow tool enables you to  automate the monitoring of review trigger points.
When a trigger threshold is met or exceeded, action is automatically created and you, the product owner will receive a notification. 
The end result is automated processes to make product lifecycle management and governance more efficient.  It means faster and better strategic product decisions.   
So if you want to implement, refine or finalise your product governance framework consider a tool like Skyjed. Get started for free today. We can have you up and running and trialling Skyjed with your own data within a few days.
About Skyjed
‍Skyjed is a product lifecycle and governance platform. Skyjed's AI-powered end-to-end product platform brings together every data point across the entire product portfolio into a single source of product truth.  Skyjed was founded in 2017 and is headquartered in Sydney, Australia.
For more information and guides about how to keep on top of external factors check out our recent blog and includes:
The key areas and metrics to monitor in the external domains of Revenue, Regulatory, Customer Experience, Innovation and Value

A comprehensive framework for product governance overlaid your product lifecycle management activities

Research tactics to get the data you need to monitor external factors

Link to download our A-Z Product Discovery Guide.